Hi there friends! We're back with yet another amazing and super useful blog of ours which we can bet that you all are going to love reading as much as we did when we were working on it. We cannot wait to share everything that you guys need to know in order to make the most of our free yet highly editable Leicester Square, London, billboard mockup PSD file but before we start sharing the tips and tricks to help you all make your projects even more successful, we would like to take a brief moment and thank you all for the love and support that you shower as with and for always making sure that your friends, family members and colleagues are also reading our blogs and making the most of them too.
Recommended: 135+ Free Outdoor Advertisment Branding Mockup PSD Files
We're sure that most of you guys have heard about Leicester Square in London, but those of you who do not know about the tourist spot in detail but would like to explore it for business purposes, make sure that you all read the blog till the end in order to know more and design better. Okay so, Leicester Square is known as the beating heart of London's West End. According to an observation, the Square happens to welcome more than 2.5 million visitors every week – which means that when you have such a huge number of people coming into a place, the chances of you getting seen as a brand are higher as well. Right? So, allow us to share how you can work on stunning designs of billboards to display at Leicester Square.
In order to make your billboard campaigns work just fine for you, it is important for you to know and understand what you expect from those campaigns otherwise, you won't be able to yield the results that you are hoping to get. For example; the first thing that you need to know and then eventually determine is the type of billboard(s) that you want. Now, there are multiple types of billboards that you can choose from such as:
Directional Billboards
Traditional Billboards
Digital Billboards
Mobile Billboards
Painted Billboards
3D Billboards
Then the next thing that you need to do is to get to know your audiences and know them well so that you can deliver your brand's message in more effective ways. Because your billboards will get the very thing done that you expect from your target audiences which is also known as a call to action (CTA). For example; you would either want them to visit your to-be-launched shopping mall or you would want them to download your app or you would want them to make a purchase online to get discounts, etc.
Recommended: 60+ Outdoor Signage Mockups
That being said, we would now like to talk about the design aspects of the billboard designs. You would want to keep the design and the copy of your billboard simple and clear but also meaningful. You also need to know that you don't have to use (really) long sentences to say a thing or two but, in fact, use minimum words to deliver the maximum. Your caption or the main message should be short and crisp and if you cannot come up with something super catchy and attention-grabbing, go back to your campaign's big idea and see if you can grab a couple of words to incorporate them into making a hashtag and then use the very words for the caption of your billboards.
The colors must be simple and you have got to ensure that you are making the most of the white space as well so that you can create a focal point in the design to make it stand out. Also, of course, only go for high-res. Images for the billboard designs and *never* settle for anything that won't look nice up there.
That is all for today, you guys! We hope that you not only had a really great time reading the blog but that you will also get your hands on our Leicester Square, London, billboard mockup PSD file right away and start working on your upcoming projects. We would also like to encourage you guys to share your feedback with us and while you are at it, don't forget to share the blog with your favorite colleagues, friends students, etc. as well so that they can also make the most of our tips and tricks along with the mock-up PSD file that we have shared in the blog today.
We'll see you guys next time with something more fun and exciting to read and work on until then keep creating magical designs for yourself and for the businesses that you are associated with.
Free Leicester Square, London, UK Billboard Mockup PSD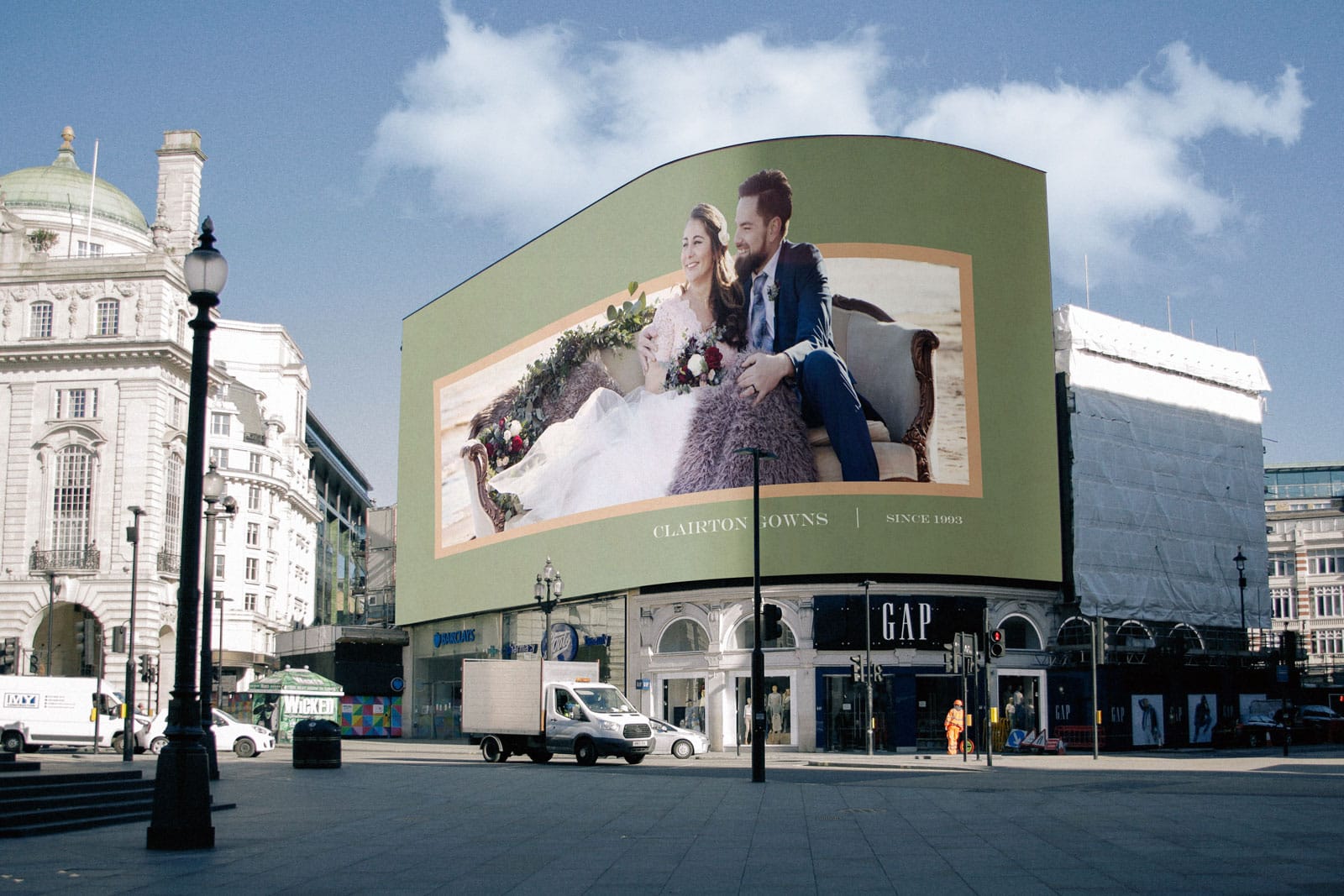 Available Format: Layered PSD with smart object insertion
License: Free for commercial usage
Zip File Includes: Billboard Mockup PSD
Note:
1. PSD Corner Building Billboard Mockup is allowed for sharing online (A Must Linkback to this page)
2. Layers are hidden to decrease the size of the file kindly unhide and place your design on a red-colored layer.
3. Say thanks if you like or share/tweet with your friends.
Download Billboard Mockup
More Free Hoarding Mockups: