Hi everyone! We hope that you guys are having a great time reading our blogs and that you are super excited to check out what we are about to share with you all today. But before we do that, we would like to take a moment to thank each one of you for the love and support that you guys have sent our way and we hope to receive more of that in the future too.   
As you guys know that we enjoy working on and talking about the out of home advertising (OOH) strategies and materials in order to help you guys make the best of the designs that can be ever made so that you can always put a good show for yourself as well as for your clients too. And for today's blog, we decided to share this brand new, free yet highly editable parking lot billboard mock-up PSD file with you guys. We can bet that you are going to have a great time working on it so let us get started!  
Although we know that many businesses have finally realized that in order to make the most of whatever they are doing, they need to be accessible to their audiences literally everywhere but we can tell that there are still many people who do not feel super confident about trying out anything that caters to the out of home advertising. That could be due to multiple reasons, alright? For example; lack of knowledge or the will to take risks which is quite understandable. Then comes the lack of resources and budgets or not having a foolproof strategy to even make a plan that can help you make informed decisions. And lastly, you do not really feel the need to do anything exciting and you are just there to sell your products and offer your services and go back home to come to work the next day and repeat the routine.   
In all the above mentioned instances; the only thing that suffers the most is the business you are trying to run and while we are not the party poopers you might be thinking we are, we have some bad news for you guys. When you do not have the passion to do something interesting for your business, you fail and it becomes almost impossible to start from the scratch even if you have learnt all the tips and tricks to do better this time around, you know.  
Recommended: 135+ Free Outdoor Advertisment Branding Mockup PSD Files
So, what must you do in order to ensure that whatever you are doing only gets you the results that you wish to have and you won't fail? Maybe you will get there slowly but you won't fail? Well, it is super simple. All you need to do is to work on an effective strategy and then make it work too. Now, how to do that? There is no one way of doing great things; always remember that but you must be willing to do things that you want to do. Because otherwise, you will only see your competitors or businesses that started way after you become more successful than ever.  
In order to initiate the process of doing great things, you first need to know what others are doing. And when you are conducting that research, you also need to figure out what your target audiences expect from you because if you are not aware of their needs and demands, chances are that you won't ever be able to provide them with the solutions and then you will be replaced by someone with a great strategy, engaging communication and of course, a product or service that is nothing but perfect.   
Recommended: 60+ Outdoor Signage Mockups
To make sure that you are being heard and seen, you need to be everywhere that is relevant to your business and especially make the most of the OOH advertising. We are sure that our free parking lot billboard mock-up PSD file will let you make stunningly attractive and meaningful designs just like that so, allow yourself to be as creative as you want to be and get to work! 😉  
That is all for today! We hope that you not only enjoyed reading the blog but that you are going to work on a couple of amazing parking lot billboard designs for yourself and for the businesses that you are associated with. Don't forget to let us know what your creative and design journeys were like in the comments section and while you are at it, we would also love to see you guys share the content with your graphic designer friends, favorite colleagues and students, etc. as well. We will see you guys next time with something more fun and exciting to work on – until then keep creating magical designs.  
Free Parking Lot Billboard Mockup PSD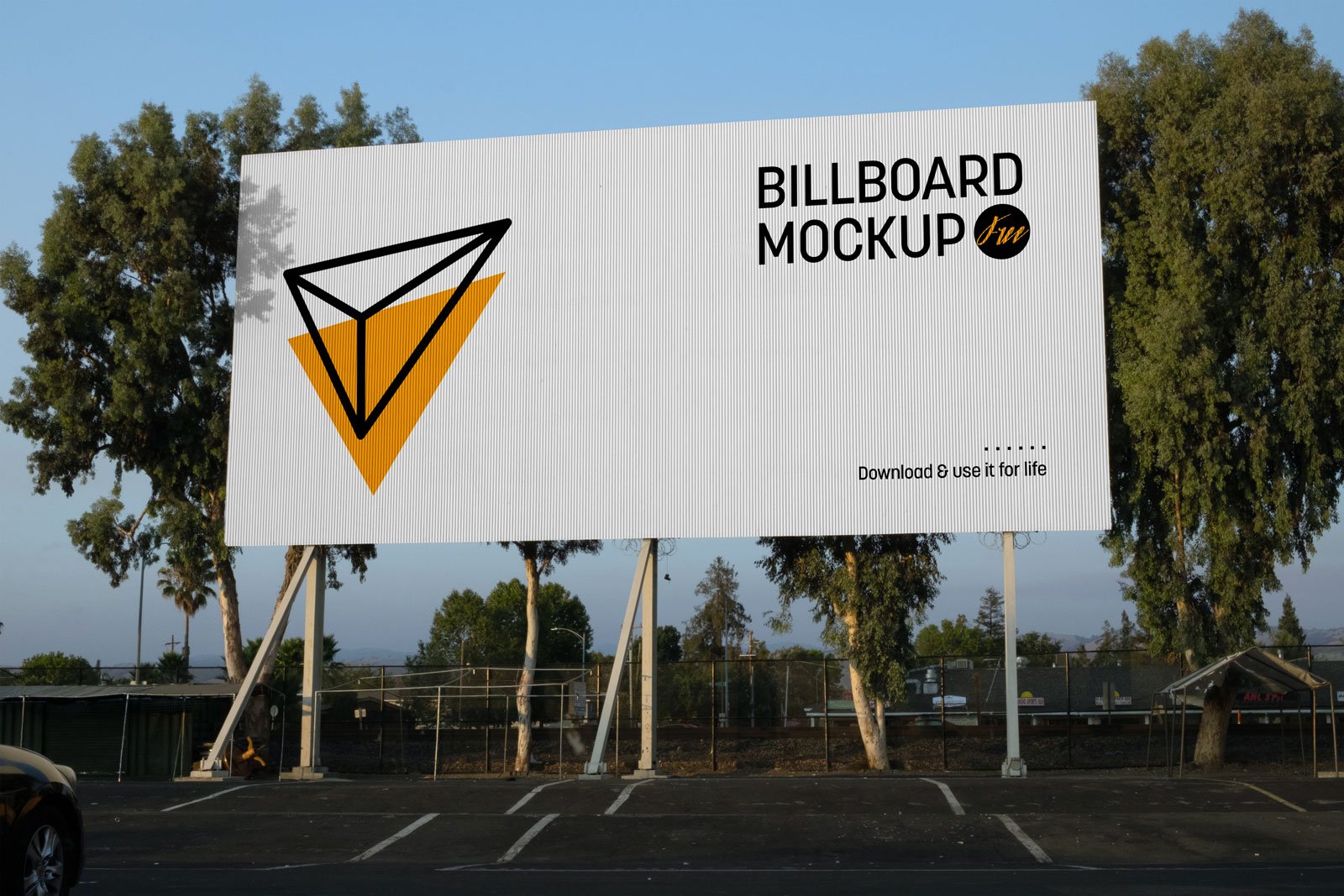 Available Format: Layered PSD with smart object insertion
License: Free for personal & commercial use
Zip File Includes: Parking Lot Billboard Mockup PSD
Note:
1. PSD Billboard mockup is allowed for sharing online (A Must Linkback to this page)
2. Layers are hidden to decrease the size of file kindly unhide and place your design on red colored layer.
3. Say thanks if you like or share/tweet with your friends.
Download Billboard Mockup PSD
More Free PSD Hoarding Mock-ups you would love to download: