Hi there, hello there! We are back we yet another amazing and super interesting blog of ours and we can bet that you all are going to love reading it. Because not only does it feature our free yet highly editable airport information lightbox mock-up PSD file but along with that, we are also going to be sharing with you some tips and tricks that can help you make the best designs of the airport information lightbox for your design projects. We can't wait to share everything that you guys need to know in order to start working on your designs but before we do that, we would like to take a moment and thank you all for the love and support that you send our way and for not only making sure that your friends, family members and colleagues are reading our blogs but making the most of them too. And we really hope to see more of that happening in the future as well.
Recommended: 60+ Best Free Signage Mockups
If you guys are one of our regular readers, then you must have read our previous blogs which featured airport signage mock-up PSD files and tips and tricks for you guys to follow so that you can always create effective designs no matter how big or small the project is, that you are working on. For our today's blog, we wanted to share more easy-to-follow tips that can help you design airport information lightboxes efficiently.
We are sure that you guys would know that the airport information lightboxes are basically designed and displayed at the airports at strategic locations for not creating a visually appealing informative display but the signage also guides the travelers as well. And when travelers know that they won't have to be dependent on other people for information at the airport(s), they will be able to travel more freely while also enjoying the experience that life offers to them. Make sure that you guys read the blog till the very end in order to make the most of our free airport information lightbox mockup PSD file.
Okay so, first things first; you need to define your objectives for the airport information lightboxes that you are about to design. When you have defined the purpose of your lightbox, you will be able to convey that information in a more effective manner. For example; an airport information lightbox can have flight information displayed on it, any and every service that the airport happens to offer as well as the directions.
Once you have defined the purpose of your airport information lightbox, you would want to gather all the relevant and necessary information that you would like to display on those lightboxes. For example; if you have chosen to display flight information on your lightbox, then you must have all the data related to the flight schedule so that you can display it. Then, if you have decided to use the lightbox for directions, then you would want to put the airport maps on it and if you want to display emergency procedures or airport services on your lightbox, then obviously you would like to display the contact details and instructions which can be followed by the travelers in case of their flights are delayed or if they happen to get lost at the airport and can't find a way to a certain spot.
Recommended: 50+ Vintage Hotel Signage Ideas
Although airport information lightboxes are installed at strategic locations at the airports for an airport that has yet to be launched and made available for the public, you would like to choose a location within the airport from where the information lightboxes will be easily visible and accessible to all travelers.
To design the airport information lightbox, you would want to consider the size and orientation (portrait/landscape) for the display. Use clear and concise typography which will make it easier for all the travelers to read what is displayed. Keep the font size large enough for it to be seen and read from a distance and consider incorporating a color scheme that is visually appealing and easy on the eyes. Don't ignore the hierarchy, it's crucial and extremely important for something like an airport information lightbox. You can also use icons or symbols to convey information quickly and effectively.
That is all for today! If you liked reading this blog, feel free to share your feedback with us in the comments section. And while you are at it, don't forget to share the blog with the people that you work with / care for. We will be back with something more exciting and fun to read and work on until then continue creating magical designs for yourselves and for the businesses that you are associated with.
Free Airport Information Lightbox Sign Mockup PSD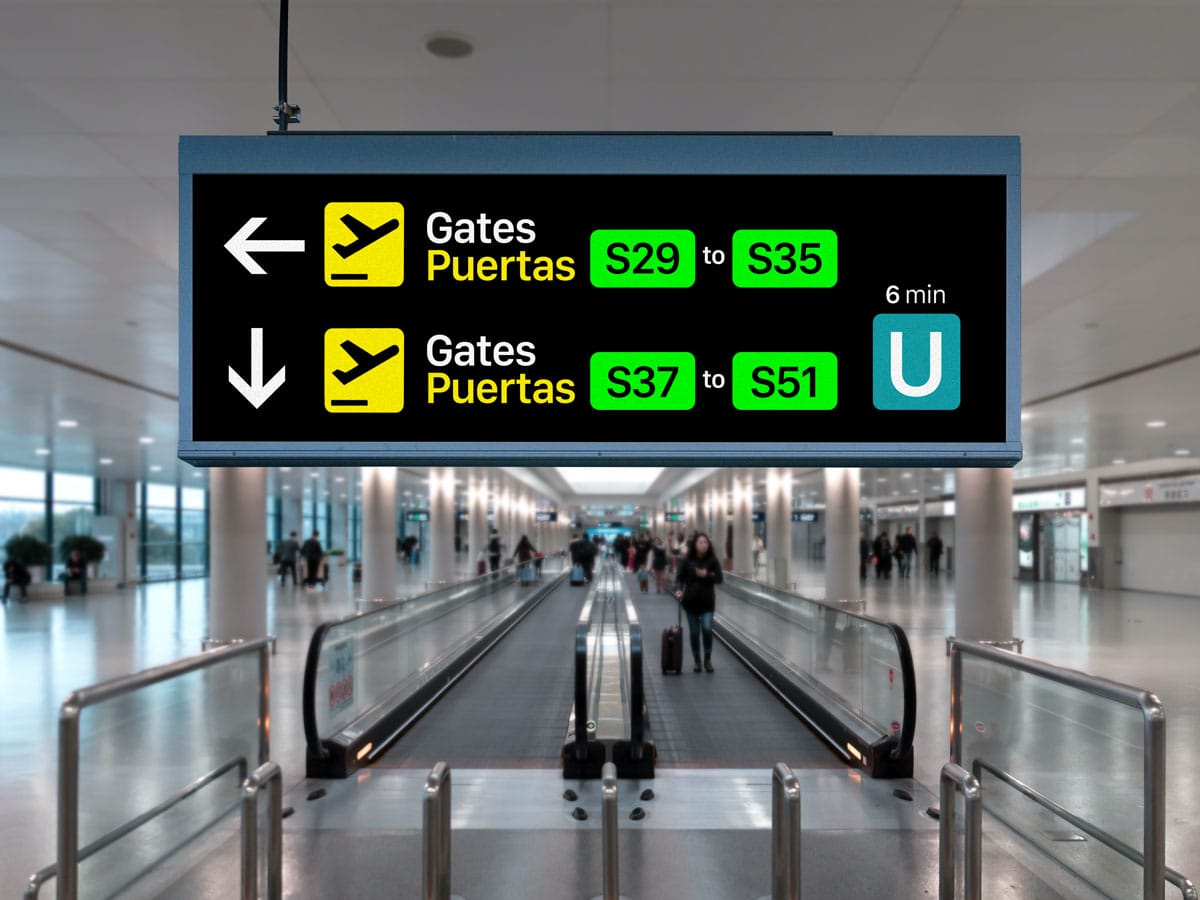 Available Format: Photoshop PSD
License: Free for personal and commercial usage
File Format: WinRAR
Mock-up Resolution: 4000 x 3000 px
Artwork Size: 2736 x 921 px
Note:
1. Free Airport Sign Mockup is allowed to share online (A Must Linkback to this page)
2. Say thanks if you like or share/tweet with your friends. That means a lot to me.
3. And don't forget to follow or subscribe to receive more high-quality premium freebies & awesome articles only.
Download Airport Signage Mockup
More Free Sign Board Mockup PSD Files: