Hi there, you guys! We hope that your work life and life, in general, are treating you fine and that you are having a nice time reading our blogs and making the most of our free yet highly editable mock-up PSD files. For today's blog, we are going to be talking about our free backlit board mock-up PSD file and how you can use it for your upcoming design projects for your personal and commercial clients. But before doing that, we would like to take a moment to thank you guys for the love and support that you send our way and for always sharing our blogs with the people that you love and care for. And we would love to see more of that happening in the future.
Recommended: 60+ Best Free Signage Mockups
Like every promotional content piece or platform that exists and is utilized to work on, backlit boards are another way to catch the attention of your target audiences. So, to help you guys understand the whole process of designing the backlit boards and using them to promote your messages, it is very important to work on a creative and design strategy first. For example; you need to know everything about the business and what its values and commitments are in order to proceed to the next step which is to know your target audience well. Because if you don't know them well if you are not aware of their needs and demands, you won't be able to put something different on the table.
Once you have gotten to know your target audience, the next step in the process is to work on the messages that you want to communicate to them. Make sure that you know the language they use for communication so that when a message goes live from your end, they are not only able to comprehend it well but they are willing to take action too – and that could mean anything, really. From visiting your newly launched shop to following you on your social media platforms or subscribing to your newsletters, etc. You can get many, many things done if you know what you are doing and if you are doing it differently than the brands which are already in the market doing their own thing.
Recommended: 50+ Vintage Hotel Signage Ideas
For the technical part of creating backlit board designs, it is important you guys use suitable materials which are compatible with the backlit boards. There are various materials available in the market ranging from fabric, and acrylic to polycarbonate. But you have to see what you want to get for your backlit boards as the choice of materials can majorly impact the overall look and feel of the boards too so, make sure that you make informed decisions. In addition to that, the size of the backlit boards also matters a lot because you are not only creating the designs for those audiences who will be in close proximity of the signage but you also want your potential audience at a distance to have a look at your branded message too.
In the next step, you also have to ensure that the colors and other visual elements complement the look and feel of the backlit board designs. To achieve this goal of yours, you will have to create high-contrast designs so that they can stand out among the crowd while also catching the attention of your primary and secondary audiences. We would also want to mention here that a design that works well and is liked by the masses is the one that is clutter-free and makes the most of the white space too so while you would want to incorporate the design elements from the brand's visual identity and guidelines, you might also want to experiment by following the idea of keeping the canvas all nice and clean.
Before we conclude the blog today, we would also like to say that you can always say the maximum by saying the minimum so maybe try that out too and see what is working for your brand and what can be revised for the upcoming campaigns, etc.
That is all, folks! We not only hope that you enjoyed reading the blog today but that you will also share your valuable feedback with us in the comments section down below. And while you are at it, don't forget to share the blog with your graphic designer friends, favorite colleagues, students, etc. as well so that they can also get their hands on our free backlit board mock-up PSD file and utilize it for their upcoming projects, etc. We will see you guys next time with something more fun & exciting to read and work on. Until then, keep reading our blogs and sharing them with your near and dear ones.
Free Backlit Sign Board Mockup PSD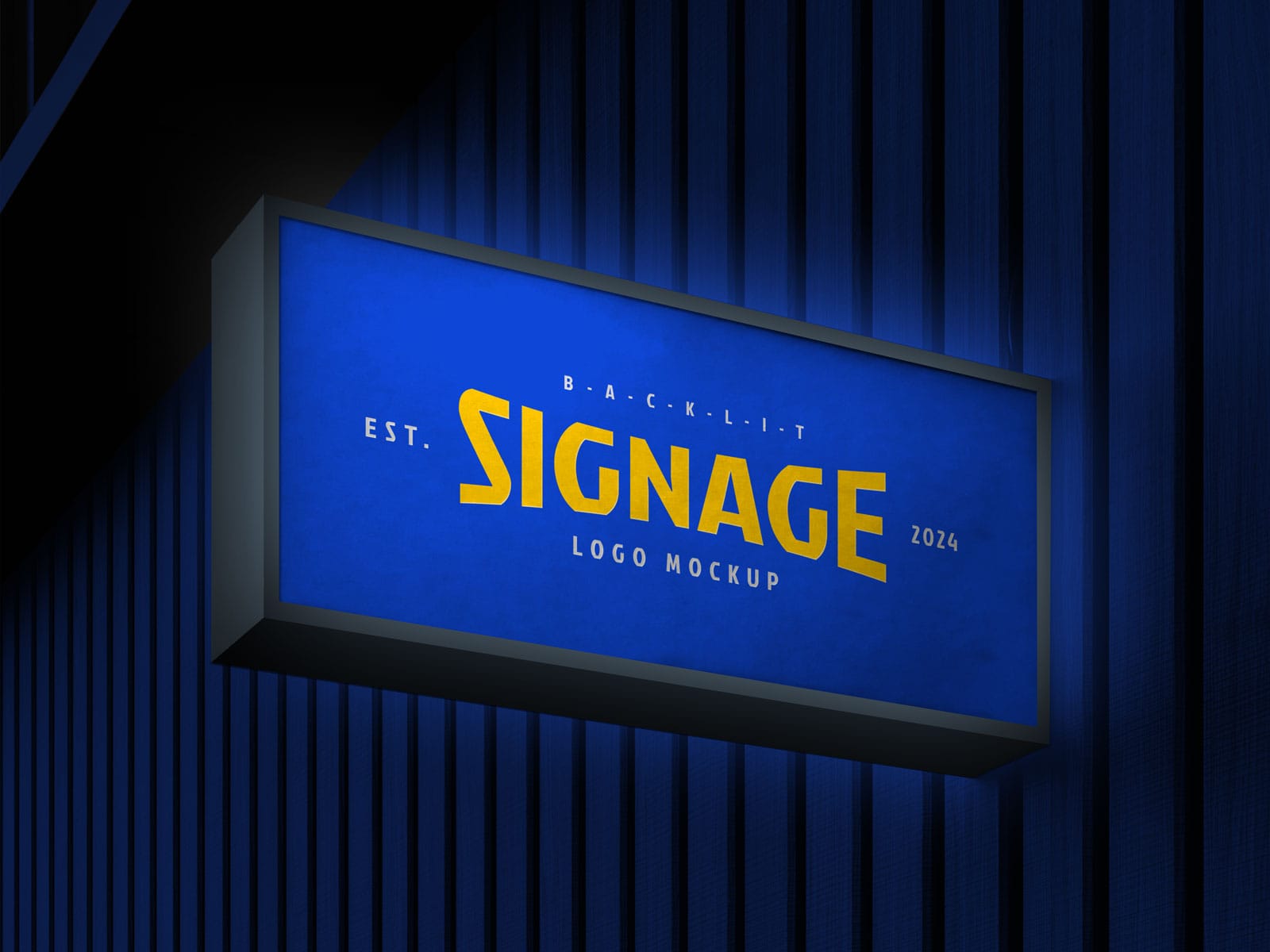 Available Format: Photoshop PSD
License: Free for personal and commercial usage
File Format: WinRAR
Mock-up Resolution: 4000 x 3000 px
Artwork Size: 2700 x 1250 px
Note:
1. Free Sign Mockup is allowed to share online (A Must Linkback to this page)
2. Say thanks if you like or share/tweet with your friends. That means a lot to me.
3. And don't forget to follow or subscribe to receive more high-quality premium freebies & awesome articles only.
Download Sign Board Mockup
More Free Sign Board Mockup PSD Files: