The movies that bring us closer to reality, make us feel at home, make us giggle and laugh are the movies that are always remembered & even after years we would keep coming back to the movie shelf, finding the movie and tune it again. Animated movies are total fun and family movies in which glee, joy, happiness, sorrow and every sort of sentiments are beautifully executed, it seems like we are living with those funky animated characters and they are the part and parcel of our own world. That's how the illusion is greatly built up by the makers of animated movies; they want to provide the best entertainment to the fans universally.
Which animated movie you just saw lately? You must have had learnt a lesson, as all the animated movies are backed up by an inspirational meaning and motive so that people would keep that in mind, mostly such movies have audiences that are either too young or just stepped out of their teenage. So it is very important that a moral message would leave a good benchmark in the minds of little brains.
If we see blast from the past, Rio earned great deal of appreciation by the viewers, it earned thousands of fans who are hoping to see another new yet innovative part of Rio again, here comes happy and good news, Rio 2 is all set to be showcased on April 11, 2014 in USA, what a delight it would be to see animation, adventure with a classic blend of comedy to make us laugh? The cast of Rio is again all hooked to the next part, Rio 2. The story is yet so different and exciting like the previous one. The plot of RIO 2 sticks around the main characters, Jewel (Anne Hathaway), Blu (Jesse Eisenberg) and their three lovable kids; they are undertaking a voyage to the Amazon that would be thrilling, brave and astonishing.
During the terminus they coincidently happen to meet up with few characters that are candidly wild, and are voiced by Oscar nominee Andy Garcia, Oscar/Emmy/Tony-winner Rita Moreno, Grammy winner Bruno Mars, and Tony winner Kristin Chenoweth. The main happening takes place when Blu comes confronts his father-in-law. Now the rest of the story you have to eyeball yourself on its release day.
Today I am presenting before you a post of 2014 Rio 2 characters icons that would be a real treat to Rio's fans. You can make them your wall decals, set any of them as your display picture, or make them your adorable avatar, print them out and put into frames too, it depends how you want to make these icons work. Have a look at the collection!
Subscribe us for more Free Icons, free PSD and free Vectors.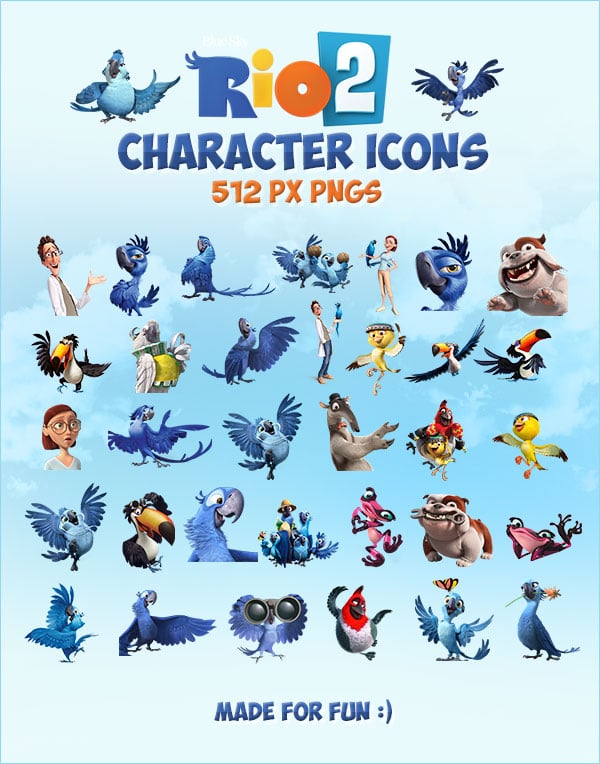 License: Free for non-commercial use
All Characters are © by Bluesky Studio &  Twentieth Century Fox Film Corporation.
Rio 2 Icons 
Consider making a donation if you like my freebies

More Awesome Free Icons: