Why do I need more fonts, you ask, when I already have hundreds of them? Why do designers keep inventing and designing new fonts when there are already so many fonts in the market?
If you think like that then I'll ask you why do you need to buy a new pair of jeans tailored for the latest fashion? Why are designers inventing new types of clothes when there are already enough designs out there?
Website design, fonts, photography, and things like that are akin to fashion. They keep on evolving and this is what makes them alive and interesting. So if you are searching for some new, cool fonts we recommend you go for Font Town.
Font Town is your go-to place to download free fonts on the Internet. There are several methods you can use to navigate the site. Below I show you one of them.
First of all I clicked on the "Search" tab on the top of the page and landed on their search page. The page looked like as displayed in the screenshot below.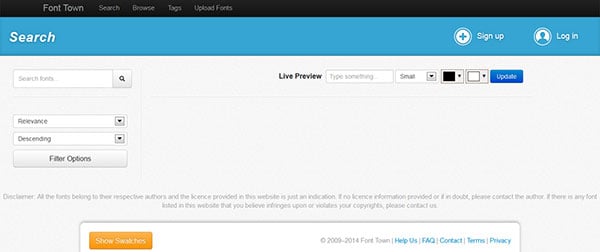 As you can see there are several options here.
The search bar on the top-left is the place where you can enter the name of the font you want to search.
The options in the top-right are for live previewing. You can enter a text there and the displayed fonts will show that text. I mean your text will get written in the displayed fonts. Then you can select the size in which you want the fonts to be displayed. There are three options to choose from here – Small, Medium and Large. Then there are two colors. The screenshot above shows them as black and white. The first color (black above) is for the color of the displayed font. The second color (white above) is for the background of the displayed text. You can change them as per your needs. Click on the color and a color palette will appear. You can choose and set the new colors through it. Let me demonstrate all this to you with an example.
I first of all entered the word "basic" in the search bar and the website displayed me several fonts containing the word basic in them.
The screenshot below illustrates this.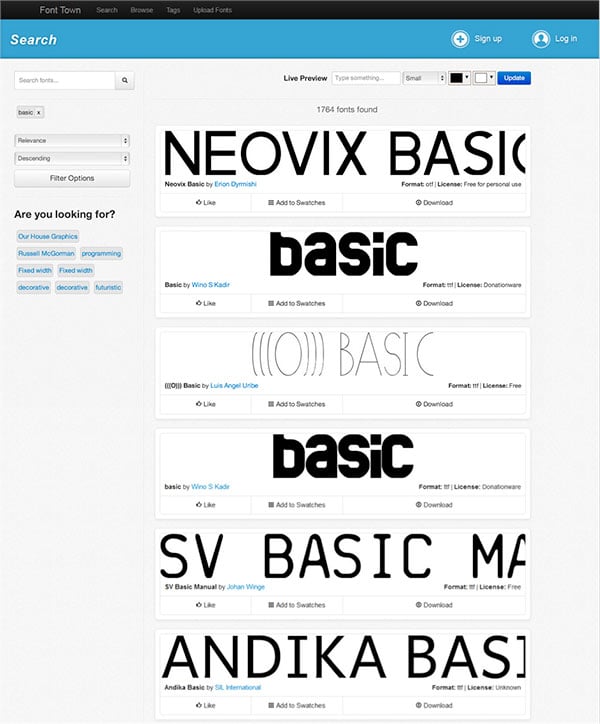 Now I can use the options in the top-right to write my own text and adjust my own colors.
So I wrote the word "Tom" in the live preview option and all the fonts displayed on the screen were now displaying the text Tom in black and white colors. Then I decided to tweak the colors and hence I selected the pink color for text and light purple color for the background. Of course you are free to choose any colors you want and can make your own selections.
The final results looked like as shown below.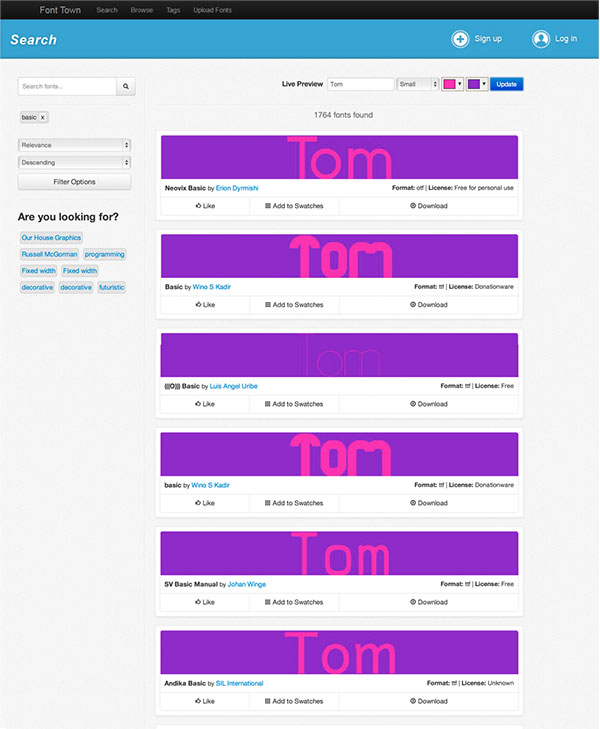 Go and take a look at the site and let me know what you feel in the comments below.