Hello there friends! We are back with yet another super interesting and informative blog of ours and of course, a free mockup PSD file too which will help you create awesome designs for your personal and commercial projects. But before we start talking about what we have created for you all, we would like to thank you for your positive feedback and suggestions and for also sharing our content with the ones you love.
Okay so, we are going to be asking a serious question and you guys can share your answers in our comments section down below. Do you know why most of the people love to shop online? Now, this is something that so many of us know about shopping online that it is convenient but what makes it interesting is a whole set of other cool things too for example; you get to see more items available online than you would see in the stores. Then there are vouchers and discount codes that are designed for online order only.
In addition to that, you will get your favorite stuff delivered to you which saves time, efforts as well as fuel money as well. Another thing about online shopping is that you really know what you want and you can get done with the check-outs and all but what happens at the stores is that you get distracted and end up adding more to your trolleys that you actually want. Do you know what else makes online shopping more fun? The 24/7 availability. No matter where you are and what you are doing, you can place your orders in like minutes and voila, you are all set.
There are other benefits of online shopping as well like you can literally send gifts to your loved ones as well as in you will just add your own address or card etc. for the billing and the business will take it from there and that is one of the main reasons why we love to shop online and we are sure that you would have your own personal favorite reasons too that make you do it all online.
Keeping in mind the needs and demands of the customers that are sitting online waiting to purchase something, businesses also have to make delivery boxes as well so that they can pack their stuff in them and have that shipped. And we wanted to make it easier for the business owners (both small scale and large scale ones) by creating a free delivery box mock-up PSD file and here we are. Now, many people would be of the view that a plain box would be enough for their online delivery packages but that should not be the case and here is why:
Everything that leaves your warehouse / stores etc. and reaches at a destination must say one thing or the other so that your customers can feel a connection between you and them. Another way of saying it is that anyone who engages with you should not feel that they are dealing with robots of some sort who do not know how to communicate, you know? It is always a great idea to talk to your audience in a way that they feel that you care, and you would want to hear from them etc. It is simple, does not require a lot of efforts too and works like a charm.
Also, let's just be honest with each other, do you not save packaging materials that you happen to get from your favorite stores etc.? Like shopping bags, boxes, even cartons and tags too? We do that and we do that because they are pretty and we like to hoard them and honestly, we just cannot be the only ones. So, how about creating a packaging design that your customers can't let go of? This might sound exaggerated but there are people who literally get stuff from an online store *only because of the packaging (and no, we are not talking about ourselves here but oh, well…).
You must be wondering what you can do to create stunning delivery boxes designs that can also increase your sales as well and here are a few things that you can do to make that happen effectively:
You should be wanting your customers to come back to you even after weeks of them purchasing something and that can be done if your contact information (website, social media handles, phone numbers etc.) is mentioned in the packaging. In addition to that, there has to be a conversation starter on the box itself, maybe a Call to Action (CTA) to click a selfie in the dress that they just bought or a review request on the website and stuff like that.
Make the delivery box fun, add colors if you may to make it more lifelike and trust us when we say this: your audience will fall in love with your business just like that. So, what are you waiting for? Get your hands on our free delivery box mock-up PSD file today and start creating interesting things!
Free Delivery Shipping Box Mockup PSD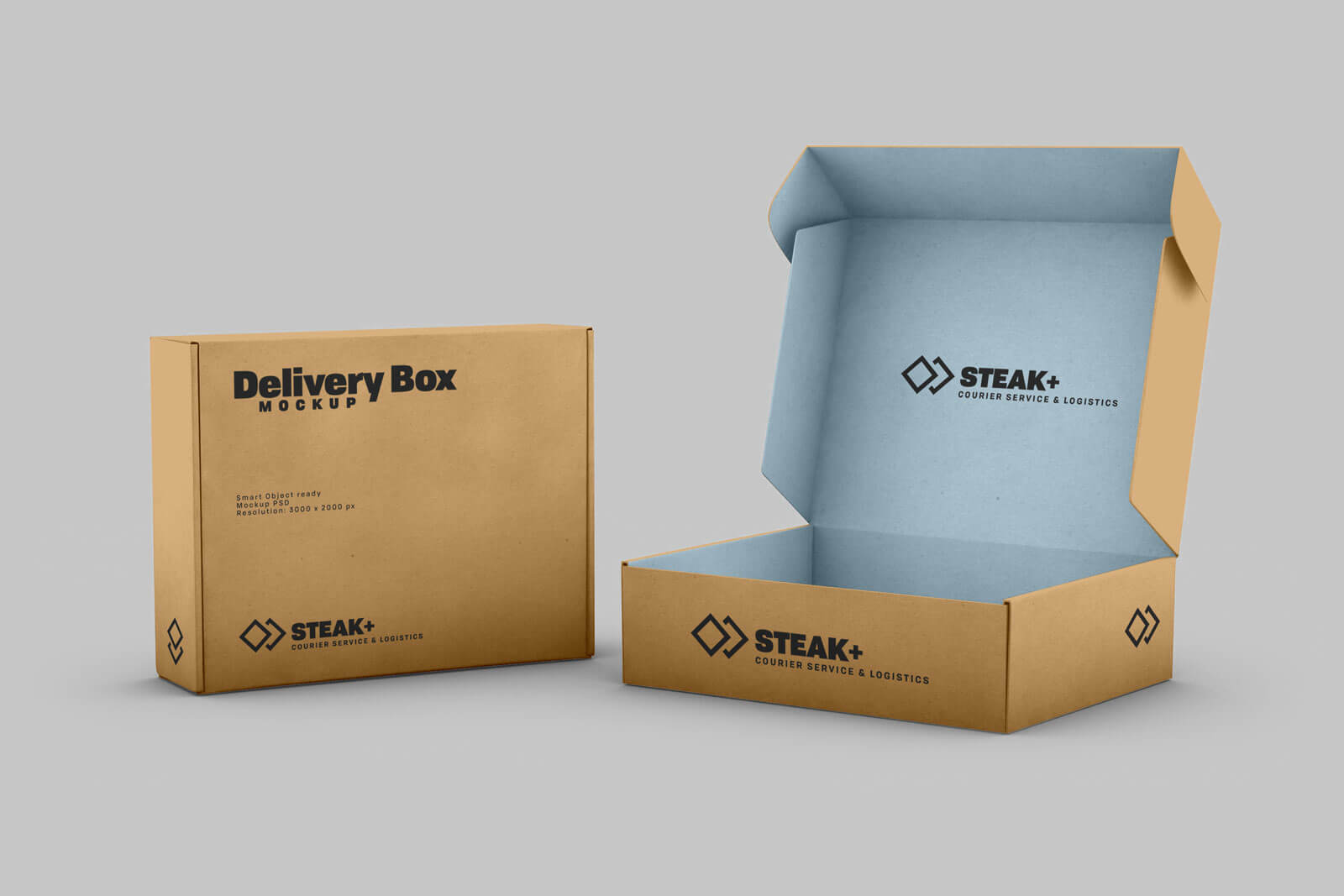 Available Format: Layered PSD with smart object insertion
License: Free for personal and commercial usage
RAR File Includes: Free Delivery Shipping Box Mockup PSD
Mock-up Resolution: 3000 x 2000 px

Note:
1. Free Box Mockup PSD is allowed to share online (A Must Linkback to this post)
2. Say thanks if you like or share/tweet with your friends. That means a lot to us.
3. And don't forget to subscribe to receive for more high quality premium freebies & awesome articles only.
Download Delivery Shipping Box Mockup
More Free Product Mockup PSD Files: