Hi there everyone! We hope that you all had a great time reading our previous blogs and that you are very excited to check out what we are about to share today. We can bet that you are going to have an amazing time making the most of our free yet highly editable poly mailer mock-up PSD file that you can use for your personal and commercial design projects. But before we start sharing everything that you need to know in order to make your designs the most perfect ones, we must take a moment to thank you all for the love and support that you send our way and for also sharing our blogs with the people that you love and care for. And we hope to see more of that happening in the future too.
Recommended: 30+ Free Envelope Mockups 2022
If you are someone who loves to shop online or happens to receive packages in the form of PR and more, then we are sure that you would know how a nicely designed poly mailer can make your day. These plastic packaging envelopes not only come in handy when one needs to send a package or two but another great thing about these envelopes is that they are also super safe to use too mainly because of the fact that they are made using moisture-resistant polyethene. And you know what's more exciting than that? The fact that you can reuse the poly mailers several times even after you have received your orders/packages.
Now that we know that poly mailers are pretty useful, and not just for businesses but also for customers or end users, we are going to be sharing a couple of design tips that you guys must follow in order to make the best designs. Also, make sure that you guys have read the blog till the end to make creative and informed decisions.
First things first; you need to decide on a mailer design for starters and keep the design versatile so that you can incorporate it into other dimensions once your ideas get approved from the client's end or even internally for that matter. Then you need to pick a color for the background, we suggest white color as it looks striking when it comes to poly mailer designs but if you have other fun colors present in your branding designs such as yellow, purple, or even orange for that matter, then you must go for them too. Also, avoid going for really dark colors for the background as they won't look eye-friendly and can also trigger fear instead of triggering happy emotions.
Recommended: 30+ Free Stationery Mockups For 2022 Projects
Know that your poly mailer(s) will promote your business to the ones who do not know about you yet but once they come across a fascinating poly mailer design, they will surely check out about you in detail and will either become a direct customer or a supporter who is all set to promote your brand in their personal and professional circles. So, to make an attractive and powerful design that is also effective in every sense of the word, you need to incorporate your artwork into it. We suggest that you go for shapes and colors instead of using imagery that includes people, faces, etc. or you can use your logo in a bigger size than you would usually use for your other printed communication. If you plan on adding text in your poly mailer design, make sure that you do not use a lot of words instead, go with one-liners; that are to the point, witty, and can also catch attention instantly.
In addition, you also need to use the back side of the poly mailers to add your business information such as your official website address, your email address, and your contact number on it along with your postal address on them or tips/instructions for the end customer for example; if you are a courier company, you might want to add this on your poly mailer that the customer must not accept the mailer if the seal is broken or if there is any other visible damage.
Recommended: 30+ Free Envelope Mockups 2022
That is all for today, you guys! We would love to hear your feedback on the blog and in general too and while you are at it, don't forget to share the blog with your graphic designer friends, favorite colleagues, students, etc. as well so that they can create stunning designs for their upcoming projects. We would also like to encourage you guys to send in your special requests as well and we promise to be right back with your requested content and more super soon. Until then, keep creating magical designs for yourself and for the businesses that you are associated with.
Free Poly Mailer Mockup PSD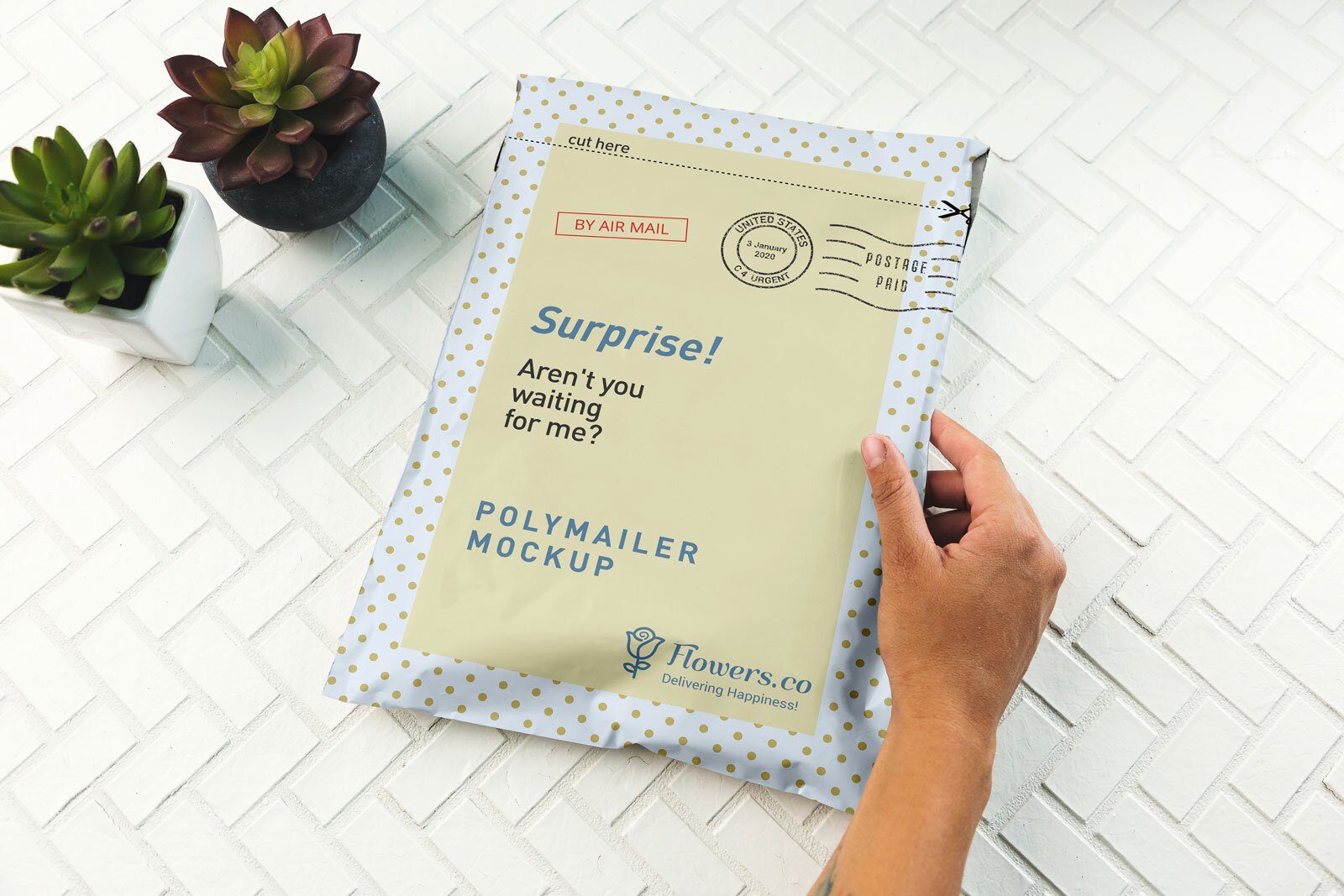 Available Format: Photoshop PSD
License: Free for personal and commercial usage
File Format: WinRAR
Mockup Resolution: 4500 x 3000 px
Note:
1. Free Poly Mailer Mockup is allowed to share online (A Must Linkback to this page)
2. Say thanks if you like or share/tweet with your friends. That means a lot to me.
3. And don't forget to follow or subscribe to receive more high-quality premium freebies & awesome articles only.
Download Poly Mailer Mockup
Recommended: