In the cyber world where new things hit the web like bolts from the blue, we also become hasty and active to access them all in first place. People now expand their online business stores and they use all the more different strategies and schemes to get their flooded stores noticed and hence grab more and more visitors to their shopping stores.
Shopping has become a "feel at home" business now a days as around the websites you will find a new shopping store in every nook and corner. It has becoming more popular with the changing times. People are now too full of activity with their schedules and monotony that they want to get their required goodies online just on a click far. These goodies vary from dresses to shoes and accessories, from bags to books and groceries, from gadgets to other electronic stuff. Now there is an extensive assortment accessible from which anyone can get accommodated.
In the E-commerce websites they offer discount packages and use all sort of attention clinging tactics. You have to make sure that you offer quality things entrusting people with excellent products so they would keep coming back to your stores over and over again.
One thing you must keep in mind is to add up all the possible vital elements in your Ecommerce website can make it more attractive and appealing to the visitor. In order to generate & boost up the revenue, stunning icons play a gigantic role. People usually don't look into the details rather they focus on the "time-saving" strategy that is to see the pictographic or visual images.
There should be "click & purchase" sort of buttons in the E-commerce platform so not much of a time is taken and the buyer does not feel lethargic or flipping to the content page to page. The developers ought to give it a deep consideration to design an "easy to operate" Ecommerce shopping store to save the valuable time of the consumers. I designed 25 free E-Commerce icons set which you can put up on your Ecommerce websites. Do share your experience after using these E-commerce icons set in your personal or commercial projects.
Free E-commerce Icon Set Includes:
1 Dollar icon, 10% Discount icon, 24/7 Support icon, Add to cart icon, Add to shopping basket icon, cart icon, carton icon, Decrease in sale icon, Delivery Icon, Dollar Icon, Dollar Sack Icon, Euro Icon, Free Badge Icon, Gift Box Icon, Increase in sale icon, Payment notification icon, pound icon, safe key icon, shop close icon, shop open icon, shopping basket icon, sold icon, undo shopping icon, undo shopping item icon, yen icon.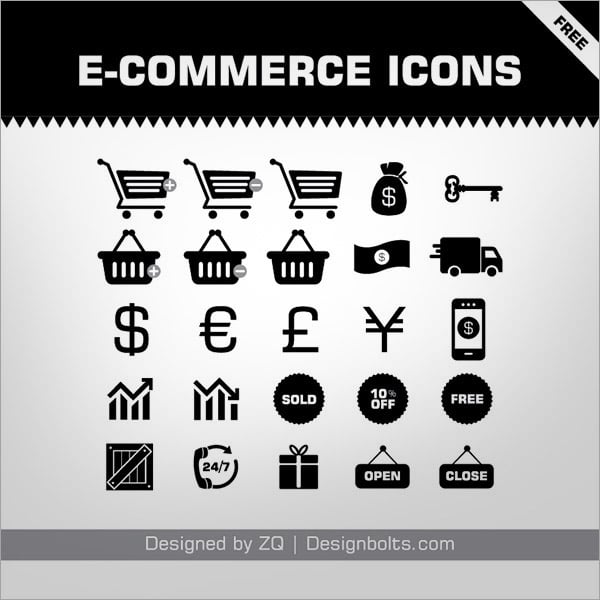 Free E-Commerce Icons Set:
Available Size: 48, 72, 128, 256 px
License: Free for personal use only + (Link Back to this Icon Set)
Ecommerce Icons Set 
—————————————————————————————————-
Premium Version for only $ 2.00
Available Format:  Vector (.ai) file
Available Size: 48, 72, 128, 256 px
License: Creative Commons Attribution 3.0 Unported License
[paiddownloads id="53″ return_url="https://www.designbolts.com/thank-you/"]
—————————————————————————————————-
Check out some Amazing Social Media Icons: