Hello there friends! We knew that you were waiting for a new blog and a mock-up PSD and we are here with both. But before we start talking about the stuff that we have created for you guys; we would love to ask you this question: how many of you enjoy doing the dishes? Allow us to share this with you that we love doing the dishes. It is not just therapeutic, but we enjoy doing it more than we enjoy doing any other chores. And now, that you know what we have designed, let's get started!
There are many different products available in the market that are used for the dish washing purpose like soaps, liquids and powders and customers purchase the products that are not harmful for the skin, that do not cause any harm to the environment and also smell good. Other important factors include the price, quantity and availability as well but the most important of them all is the packaging itself.
All the existing brands that are being used today were also standing at that point where the first goal was to impress the audience by bringing something new & exciting to the table. And now we are here when the dishwashing products also offer that they can kill bacteria and germs from the utensils etc. – you see? That's the gap that the new businesses found and it attracted their existing and potential customers through it.
We know that this happens almost every time that whenever you and your team members sit to brainstorm the ideas on a new task, you are asked to think like the customer. We do that too as it helps us in getting to know the business / brand better but it also helps us in understanding the fact that if we are going to spend our hard earned money on something, it should better be good.
Recommended: 30+ Premium Quality Product Mockups
Keeping that in mind, we make sure that from the container / packaging design to the colors of the fonts, everything is nothing but perfect. And to help you guys work and produce art works that are bound to stun your team leads and clients, we have created this free dish washing powder plastic bottle mock-up PSD for you. It is free but it is also highly editable and it you will have a great time working on it. Since the end goal is to stand apart from the crowd, allow us to share a few design tips here:
Dish washing products exist as a separate category and to ensure that they attract the customers nicely and that the sales are good too, there are certain guidelines that are considered as a standard path way and it is always a great idea to follow them. For example; the main purpose of any dish washing product is to remove food from your utensils which also include table ware so that the dishes, glasses etc. can be reused. But if you are offering more than just that, then you and your brand will grab the attention of your potential customers and they will end up paying for the product.
Recommended: 80+ Best Packaging Mockups
And you can do that, how? Well, it is simple and effective. First things first, gather all the pointers that make your dishwashing product (powder) different from the ones that are already available in the market. Do you have anything different to offer? If yes, that is going to be great. If not, change your narrative and change it in such a way that it makes you look different (also, know that your product must do what you claim it can do!). Your creative copy and one liners will help you building the ground.
Your next step is to create a color palette for the product or use the ones that already exist like green, white and red or green, white and black. Or you can also use orange, red, yellow and black. The color blue (navy blue, light blue) with white and red also make a good combination when it comes to creating a dishwashing packaging design. For the cap, we will suggest you keep it in white color as it adds more to the aesthetic beauty of the bottle or use any color that compliments the design.
As far as the design of the bottle itself is concerned, keep it user friendly and by that we mean, keep it easier to grab, hold and use (while the person will already be doing the dishes). We will also suggest you guys to keep the bottle design simple as making it an intricate design might actually hinder the whole process of using the product.
And that is all for today! We hope that you will find this blog and our free dish washing powder plastic bottle mock-up PSD useful and will also make stunning designs too. Let us know in the comments below if you have any questions and don't forget to share your feedback with us!
Free Dish Washing Powder Plastic Bottle Mockup PSD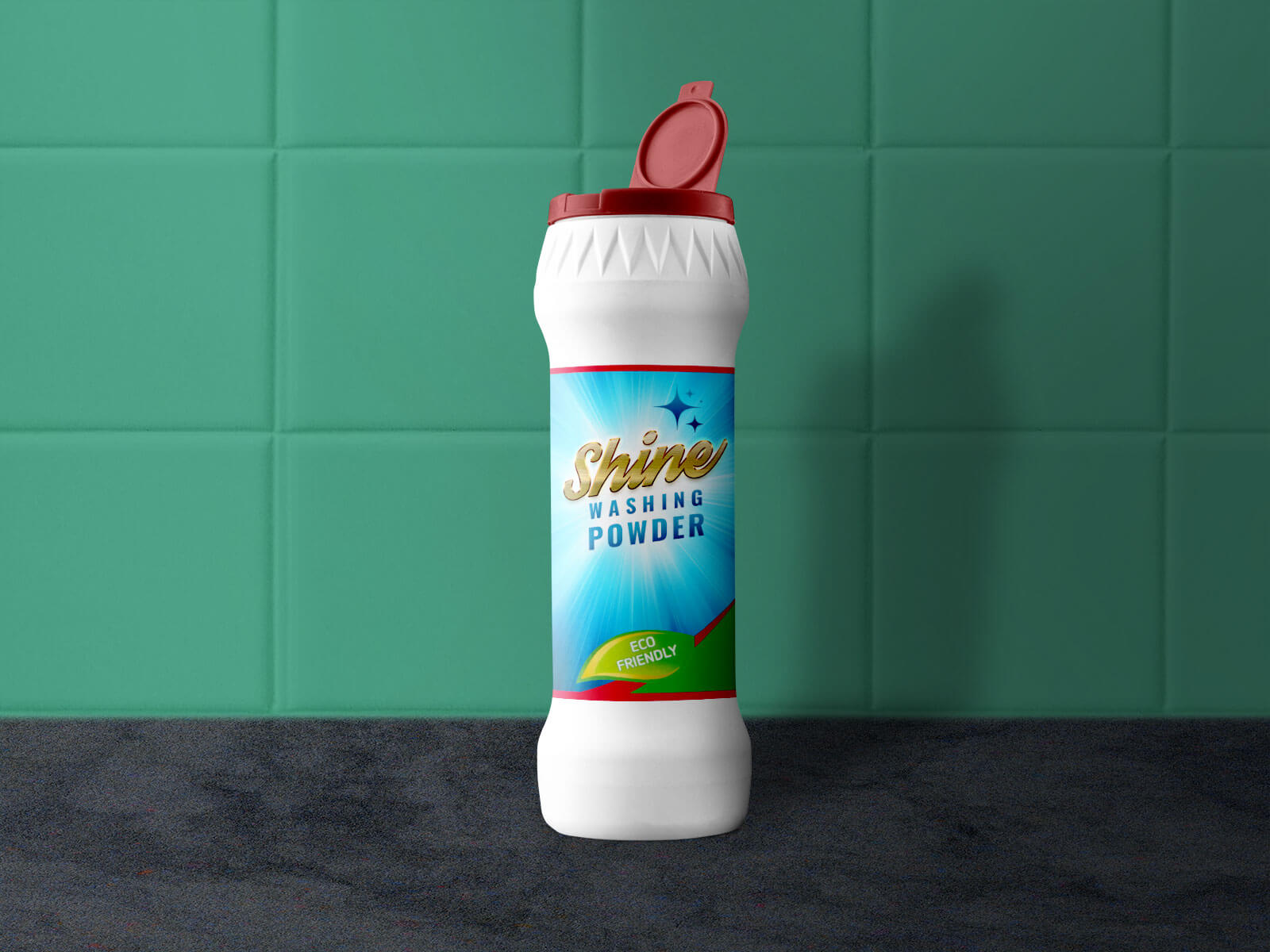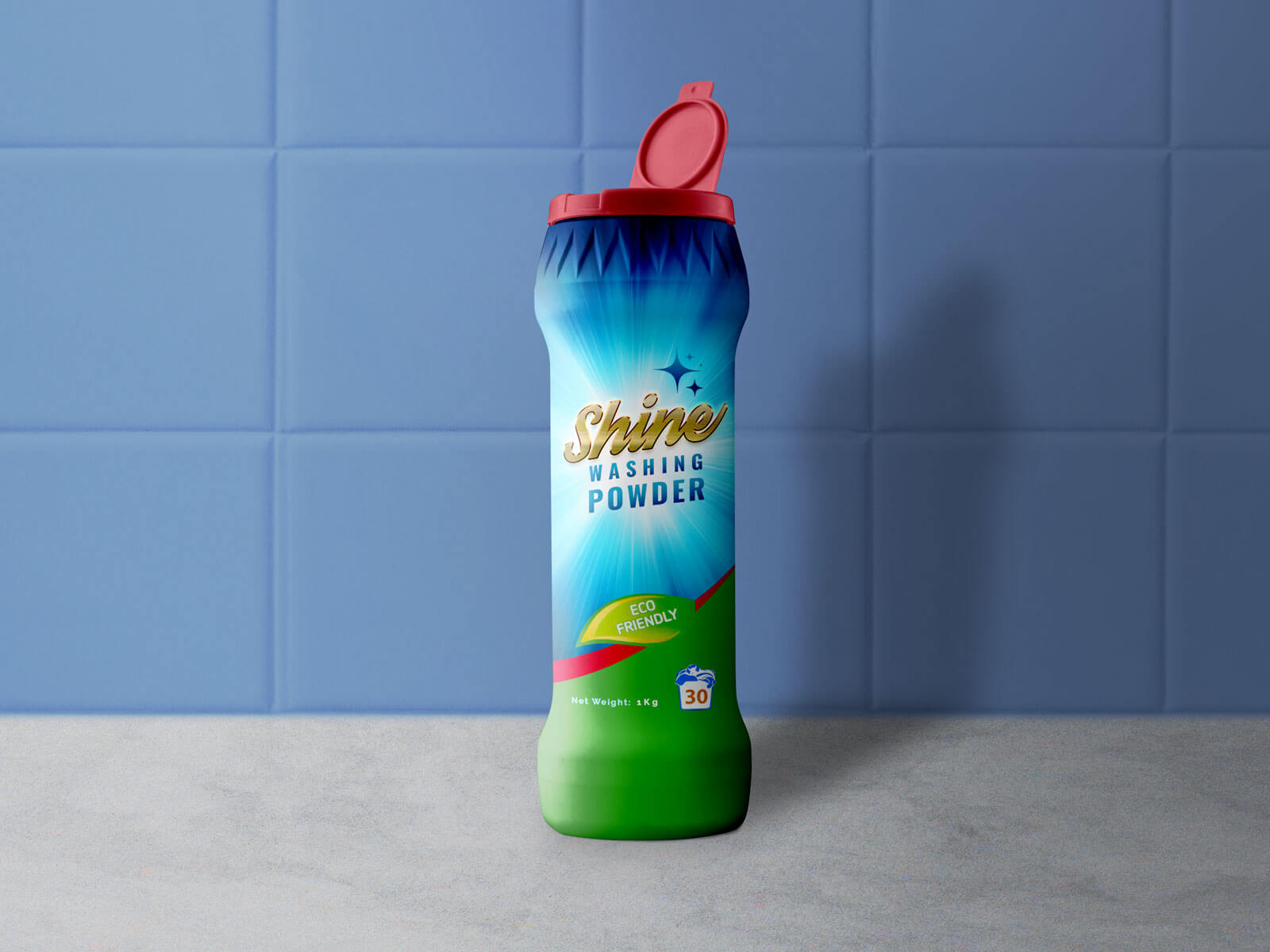 Available Format: Layered PSD with smart object insertion
License: Free for personal and commercial usage
RAR File Includes: Free Dish Washing Powder Bottle Mockup PSD
Mock-up Resolution: 4000 x 3000 px

Note:
1. Free Mockup PSD is allowed to share online (A Must Linkback to this post)
2. Say thanks if you like or share/tweet with your friends. That means a lot to us.
3. And don't forget to subscribe to receive for more high quality premium freebies & awesome articles only.
Download Powder Bottle Mockup
More Bottle Mockup PSD Files: