Hey there guys! We hope that our previous blogs have been super helpful for your personal and professional projects and that you are creating nothing but the absolute best. Since, you all know and appreciate the efforts that we put in for the creation of our mockup PSD files as well as in developing insightful content, we aim to provide you all with more creative ideas and concepts and we are always excited to write blogs too.
In our today's blog, we are going to talk about something that you must have seen being in use almost everywhere around you. Yes, you guessed it right as we are talking about the facial wipes and toner sprays that can be found in the bag of anyone who loves to take care of their skin.
We are sure that most of you would know what facial wipes and toner are but for those who still don't know what we are talking about, this one's for you: facial wipes are soft tissues that are mostly wet and are used to keep up with the skin care routine. You can not only remove your make-up with these wipes but can also cleanse your face to remove the dust particles – the best part is that facial wipes are they are convenient, affordable ad you really do not need water to clean your face.
A skin toner is a liquid that helps you in cleansing your skin and it also shrinks the pores making sure that dust doesn't damage your skin. Toners are available in different forms and sizes for example; spray toners which can be literally sprayed on the face as well as bottled toners that are used with a cotton round or ball. And of course, toners are manufactured by keeping in the different skin types in mind in order to make sure that they perform their function well.
Recommended: 30+ Premium Quality Product Mockups
Since, both facial wipes and toner sprays are in these days (and for good!) so, we decided that we should create highly editable mock-up PSD files for you guys as you will be download them for free and use them to create design for your already existing cosmetic brand or can also pitch a client to introduce their brand in the market.
It is very important for all of you to try different creative approaches in order to develop your content in such a way that you have multiple design options and boards to share with your team lead or clients. Once you have worked on a detailed & self explanatory mock-up presentation to demonstrate your work and ideas, it will become a lot easier for you and the decision making parties to get to know how the products will look like in real life.
Recommended: 80+ Best Packaging Mockups
We can guarantee that by utilizing our free facial wipes and toner spray mockup PSD files, you will be able to sell your ideas well. So to get there and bag yet another client for yourself or for your creative agency, here are some easy to follow design tips that will allow you to achieve your design goals:
As you can see that we have chosen light colors for the branding and we will encourage you to take the same route as you would never want to scare your potential customers with dark colored packaging. Ideal colors to use for any type of cosmetics are white, blue, green, pink, orange, brown and purple.
We have kept the finish matte as it grabs the attention more quickly, looks so much better than the 'plasticy' dull finish. Again, we would suggest you to keep the finishing matte to get picked up instantly.
As long as the copy is concerned, we have used white color to name the product by keeping the text within a white design elements whereas; crucial information like the quantity and sizes are written using black color to put an emphasis on the information.
A number of people are changing their shopping habits because of the awareness we have started to get is intense.
All the facts and figures which tell us about the damage that we have been doing to the Earth is alarming so it is important for the brands to maintain a distance from all the chemicals, animal testing procedures / animal cruelty in general and also include this information in their packaging to ensure that you don't lose your customers (who know better and trying to do better for the planet).
That's all for today, guys! We hope that this blog of ours and free facial wipes and toner spray mock-up PSD file are going to help you in creating attractive packaging for your brands. And if you want to return the favor then all you have to do is to leave your feedback for us in the comments section down below and also share our blog with your favorite colleagues as well!
– – – – – – – – – – – – – – – – – – – – – – – – – – – –
More Awesome Free Mockups:
– – – – – – – – – – – – – – – – – – – – – – – – – – – –
Free Facial Wipes & Toner Spray Mockup PSD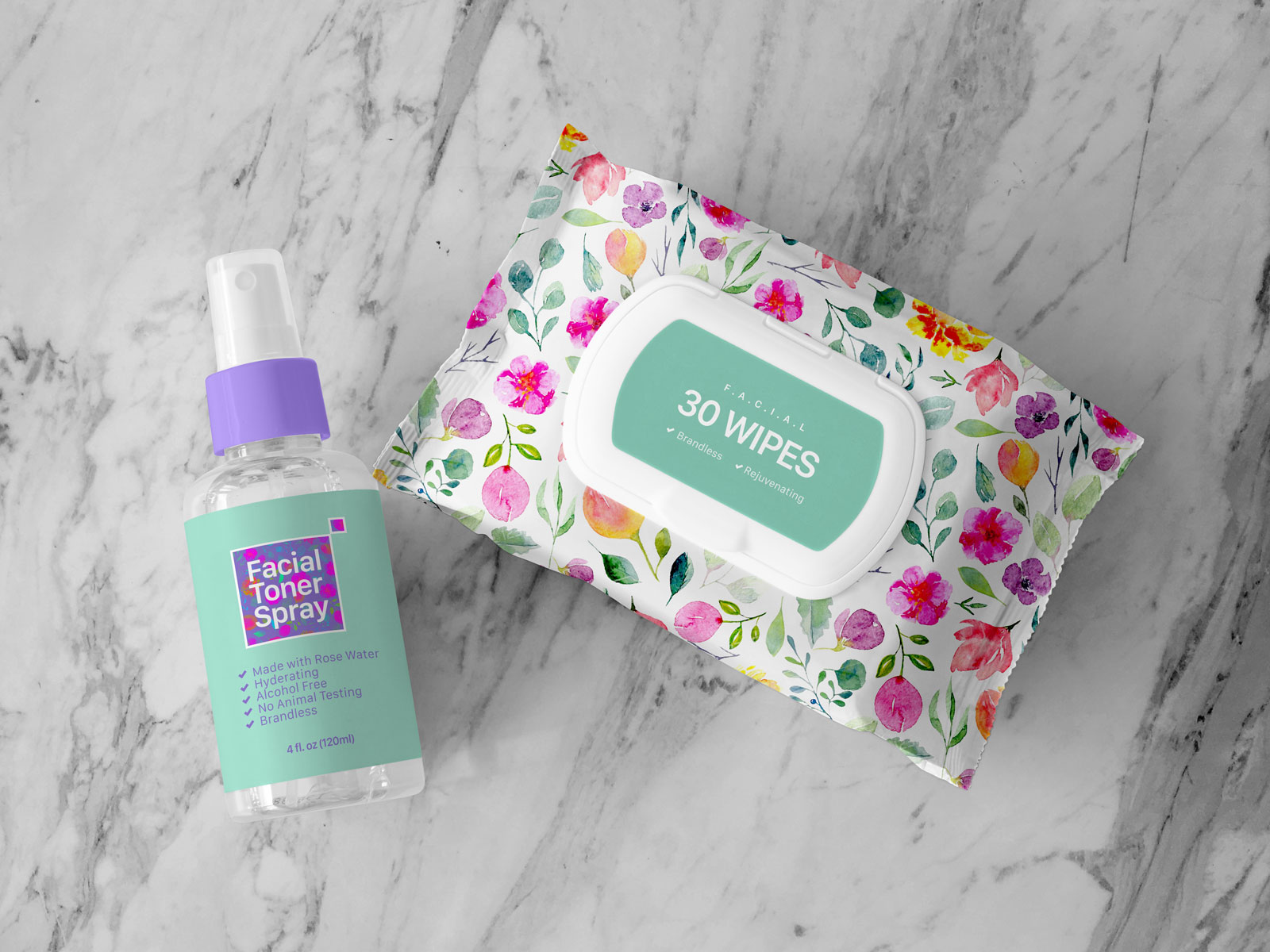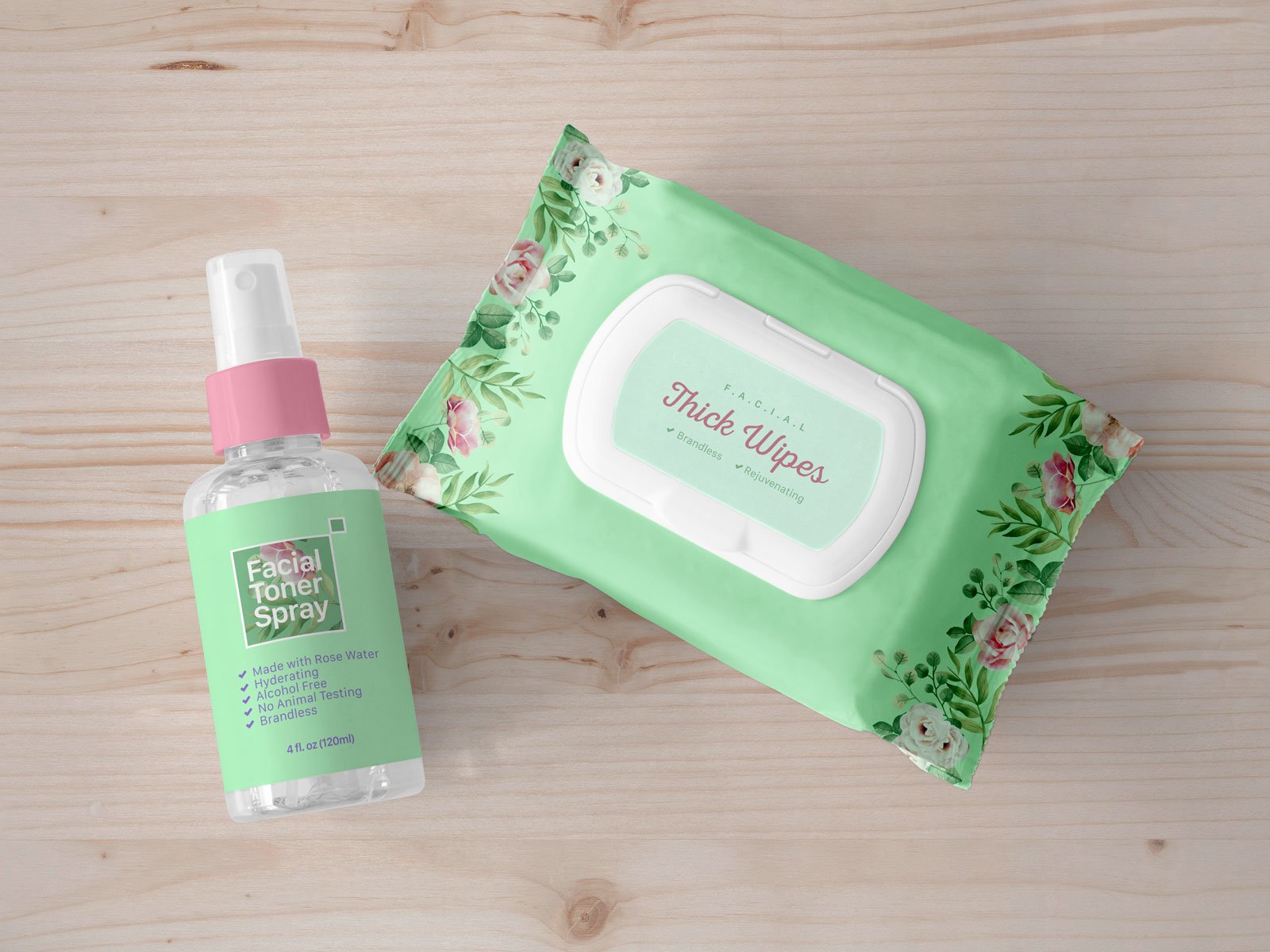 Available Format: Layered PSD with smart object insertion
License: Free for personal and commercial usage
RAR File Includes: Free Wipes & Toner Mockup PSD
Mock-up Resolution: 4000 x 3000 px

Note:
1. Free Wipes & Toner Mockup PSD is allowed to share online (A Must Linkback to this post)
2. Say thanks if you like or share/tweet with your friends. That means a lot to us.
3. And don't forget to subscribe to receive for more high quality premium freebies & awesome articles only.
Download Mockup
More Latest Product Mockup PSD Files: