Hi there everybody! We hope that all of you are doing great. Before we start talking about our today's mock-up PSD file that we have created, we would also like to thank each one of you for sharing your positive feedback with us on our previous blogs, we are sure that you must have created some amazing art works by using our ideas and following our tips.
Our today's blog is going to be another interesting one that you would love reading but here is an important question for all of you – feel free to respond to this question in our comments section. Since weather has (finally) started to change and we will soon be wrapped up in warm coats and boots, what is your favorite hot drink that you cannot process without? We get that most of you would say that you love having coffee but there are still so many people (like ourselves) who wake up and need that cup of tea before they can start their day.
Both the hot drinks (tea & coffee) have their own benefits although, it is important to know that excess of everything is bad and we should ne moderate in our intake of caffeine too. But as long as the morning kick is required well, we know that we are always going to be in the kitchen to make our own cup of tea or coffee for that matter.
So, while we were researching on the topic of how many cups a person takes during their lifetime (and that's more than 17,000 cups), we also got a chance to read a few articles where tea lovers were not quite happy with the fact that their precious tea leaves come in tea bags. Allow us to share that in detail! Tea bags around the world are created using different designs like you must have seen square and rectangle tea bags that are attached with a string and you can use them easily. The problem with such tea bags is that the string and the brand label is attached to them with a tiny stapler pin. Now, any loose pin can literally stay inside the cup and the person would have their tea which might cause a serious health hazard.
Recommended: 50+ Best Free Tin Can Mockups
Then there are round tea bags – no strings attached. They look cool and you can use them quite easily too but the problem with such tea bags is that they will either stay inside the cup (soaking the tea) or they will also start busting and even writing about such an accident is making us feel weird. Now, the thing is that those who love having tea have to have it no matter what so there has to be a proper solution for them, right? And to help your customers and you, we decided to work on a tin tea box mock-up PSD file. It is free but it is also highly editable, and we can bet that you are going to enjoy working on your designs using this file too.
We have a few suggestions to share with you guys as those will help you with initiating the brainstorming sessions as well as the design process. Although, it is totally up to you to pick a theme and create multiple design options that revolve around that very theme, but we feel that you will find our ideas a little more interesting and engaging as well. For example; for a tea that is like the classic flavor, you can keep the tin box design more like a plain design with your branding items (logo, tag line etc.) and for the flavored tea box designs, be as creative as you can be until you end up having a bunch of interesting ideas that will complement the overall aesthetics as well.
In addition to flavors and how a certain tin tea box should look like, you can also incorporate moods too like for a go-getter or someone who stays in the bed even after hours of waking up. Then you can also assign the themes & design approaches to designations and job types as well for example; if we were to design something for a corporate office then we would keep the design as well as its elements super subtle and something that depicts seriousness while for an advertisers, marketers and people who work at agencies, we would keep the entire design theme quirky and causal and so on and so forth. That's literally how you take forward the process!
And that's all for today guys! We are now leaving you with our free tin tea box mock-up PSD file and your creative thoughts & imagination so that you can start working on your very own amazing designs. Do share your feedback with us in the comments section and don't forget to share our blog with your favorite colleagues too!
Free Tin Can Tea Box Mockup PSD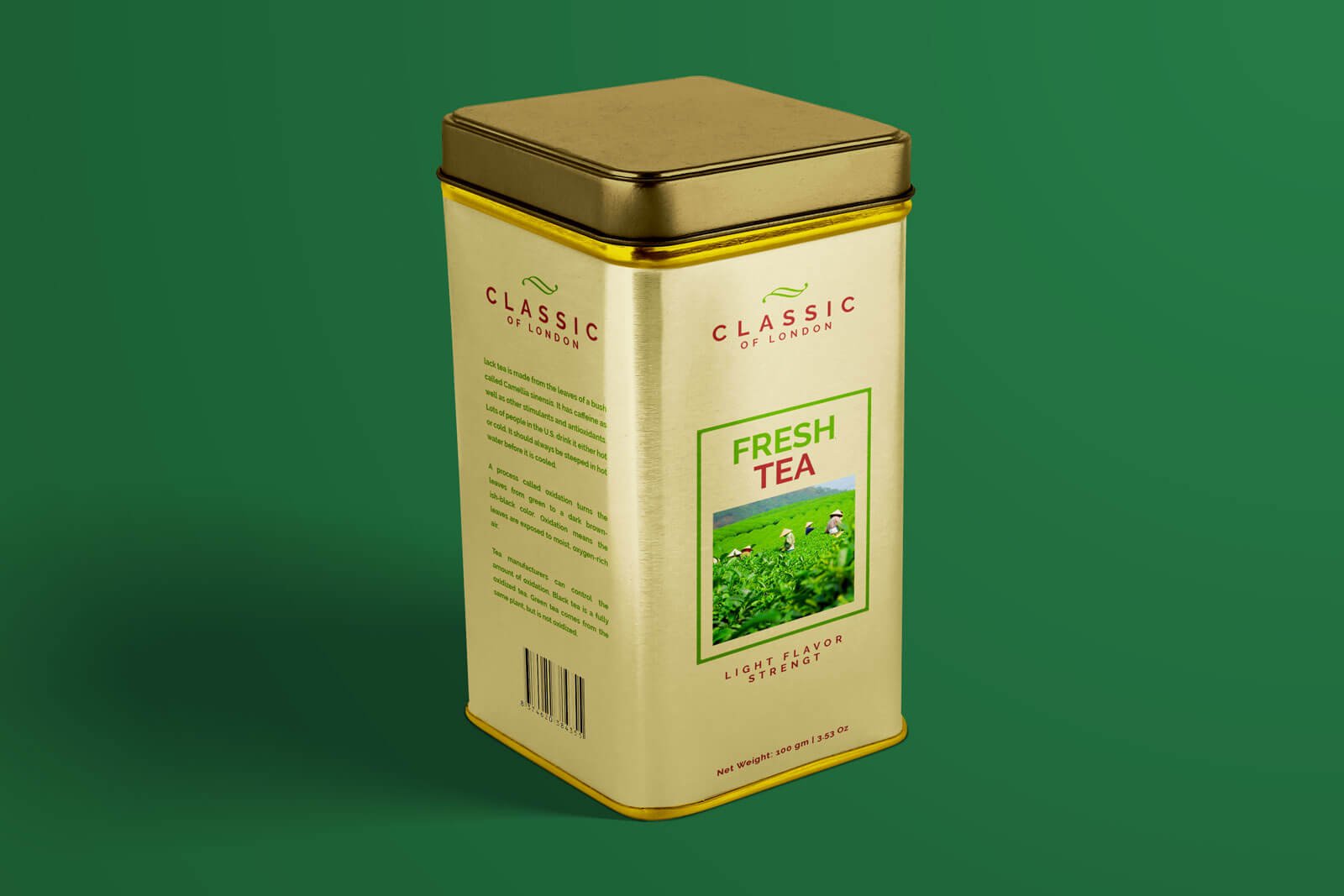 Available Format: Photoshop PSD
License: Free for personal and commercial usage
File Format: WinRAR
Mockup Resolution: 3000 x 2000 px
Note:
1. Free Tin Can Tea Box Mockup is allowed to share online (A Must Linkback to this page)
2. Say thanks if you like or share/tweet with your friends. That means a lot to me.
3. And don't forget to follow or subscribe to receive more high quality premium freebies & awesome articles only.
Download Tin Can Mockup
More High Quality Free Mockup PSD Files