Hi there everybody! Before we share our mock-up PSD file today, we would like to thank each one of you for always posting your positive feedback and for also encouraging us to keep making content & amazing designs. It's your constant support that keeps us going.
Earlier this week, we were going through the content that we have shared on our blog and we decided to work on a list of things that you might need to work and rework on and keeping that in mind, we are going to be talking about barrier barricade tape box today. Once you have reading the blog, you will also be able to get your hands on our free barrier barricade tape box mock-up PSD file too so, let's get started!
For those who don't know about the barricade tapes in detail, we would like to first share what it is, its usage and after that we will get to the point. Keep reading to know more! So, a barrier barricade tape is used to inform, warn or catch the attention of the passersby to minimize the chances of a possible accident. And then there are other situations too that require the people of that area to not enter that location or spot etc. mainly because there has been an accident or that is a crime scene.
In order to make sure that the proofs are not tampered with or that nothing new has been added to that spot, authorities use the barricade tape to stop unnecessary movements and gatherings around that area.
Recommended: 80+ High Quality Packaging Mockups
These barrier barricade tapes can be designed in such a way that they read words and sentences like "Caution", "Danger", "Do Not Enter" or only the colors are used to make the announcement. For example, the Occupational Safety and Health Administration of the United States Department of Labor (OSHA) has a set of colors that are used for their specific warnings like;
Black and yellow colors are for physical hazards
Green and white colors are used for safety and first aid
Magenta and yellow colors are used for radiation hazards
Orange and white colors are used for traffic and caution warning
Black and white colors are used for housekeeping and aisle marking
In addition to that, American National Standards Institute or ANSI specified colors for the barrier barricade tape represent:
Yellow and black colored barricade tape means potential hazard
Red colored barricade tape represents high risk of danger and serious hazards
Magenta and purple colored barricade tape means exposure to radiations and danger
Under United Kingdom's health & safety regulations, red and white tape as well as yellow and black colored tapes are used to mark hazards and to make an announcement on behalf of the authorities that they must be cautious to take that route etc.
The above mentioned (detailed) information means that different colors are used to represent a different message and there are chances that these colors are used differently in other countries too. These tapes are coiled in rolls depending on the length as that can vary from 150 foot to 200 foot to 300 foot to 500 foot to even 1000 foot as well.
Recommended: 25+ High Quality Packaging Mockups
So, our today's mock-up PSD file will let you design a barrier barricade tape box that can hold a 500m x 70mm long tape. As you can see that we have kept the design super neat and to the point to help you guys get done and over with the idea easily. And then of course, you can work on the overall packaging design as per your business's guidelines as we have kept the PSD file easy to edit and with out smart objects and organized layers, you will actually enjoy working on the design(s).
We know that we always mention this in our blogs (because it is like super important) so here it goes: do not forget to create at least two to three different design options after working on your creative thoughts and briefs as you will be able to share with & demonstrate a variety of ideas in front of your team lead or client(s). Make sure that you and your design team work on a nice & detailed mock-up presentation too – along with the rationales to help the decision makers understand the whole process better. By doing so, you will ensure a smooth reviewal and if there are revisions required then you would be able to carry them out really well too.
That is all for today, you guys! Do let us know how you liked our today's blog in the comments section down below and while you are at it, don't forget to share the blog and our free barrier barricade tape box mock-up PSD with your favorite colleagues as well.
Free Barrier Barricade Tape Box Mockup PSD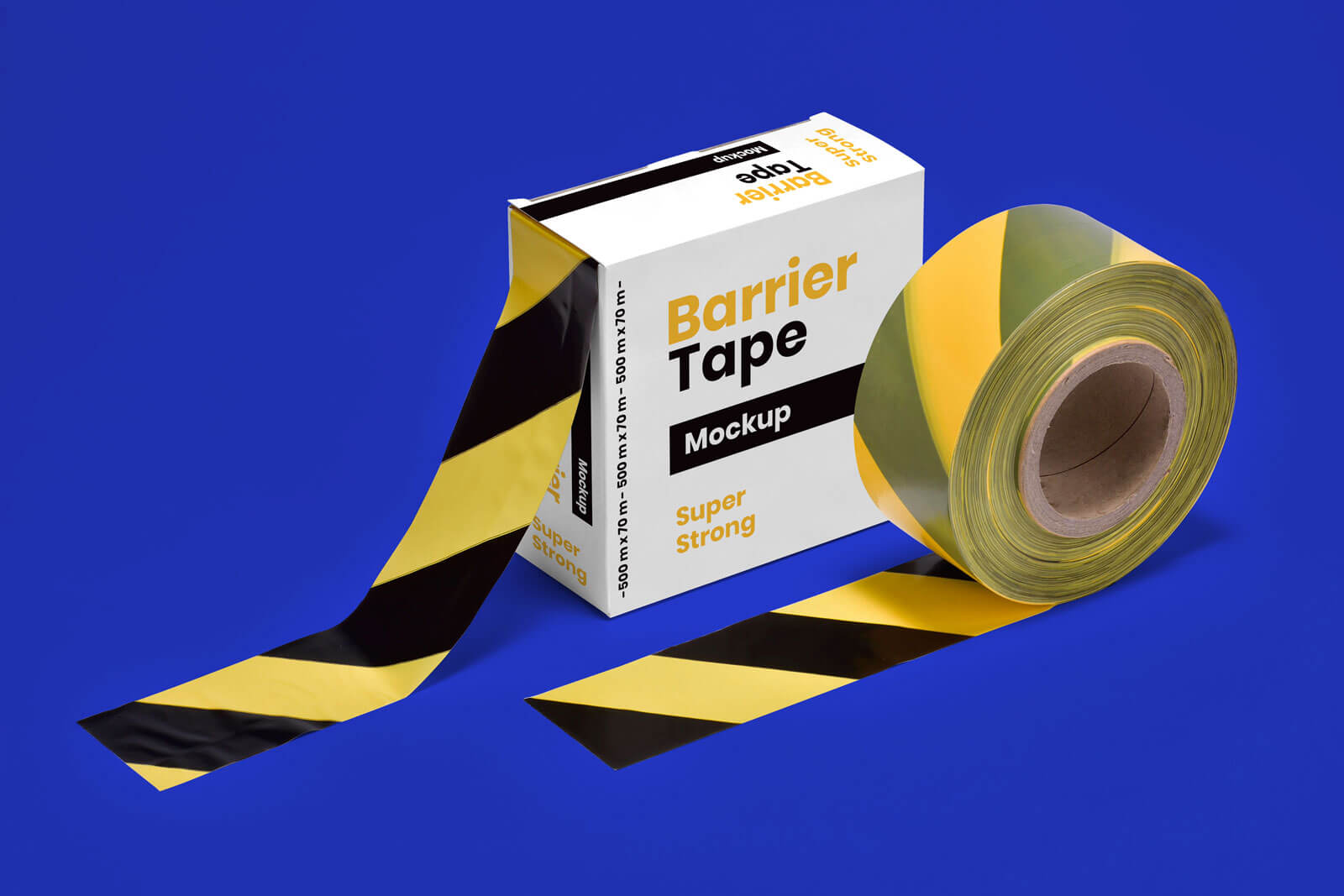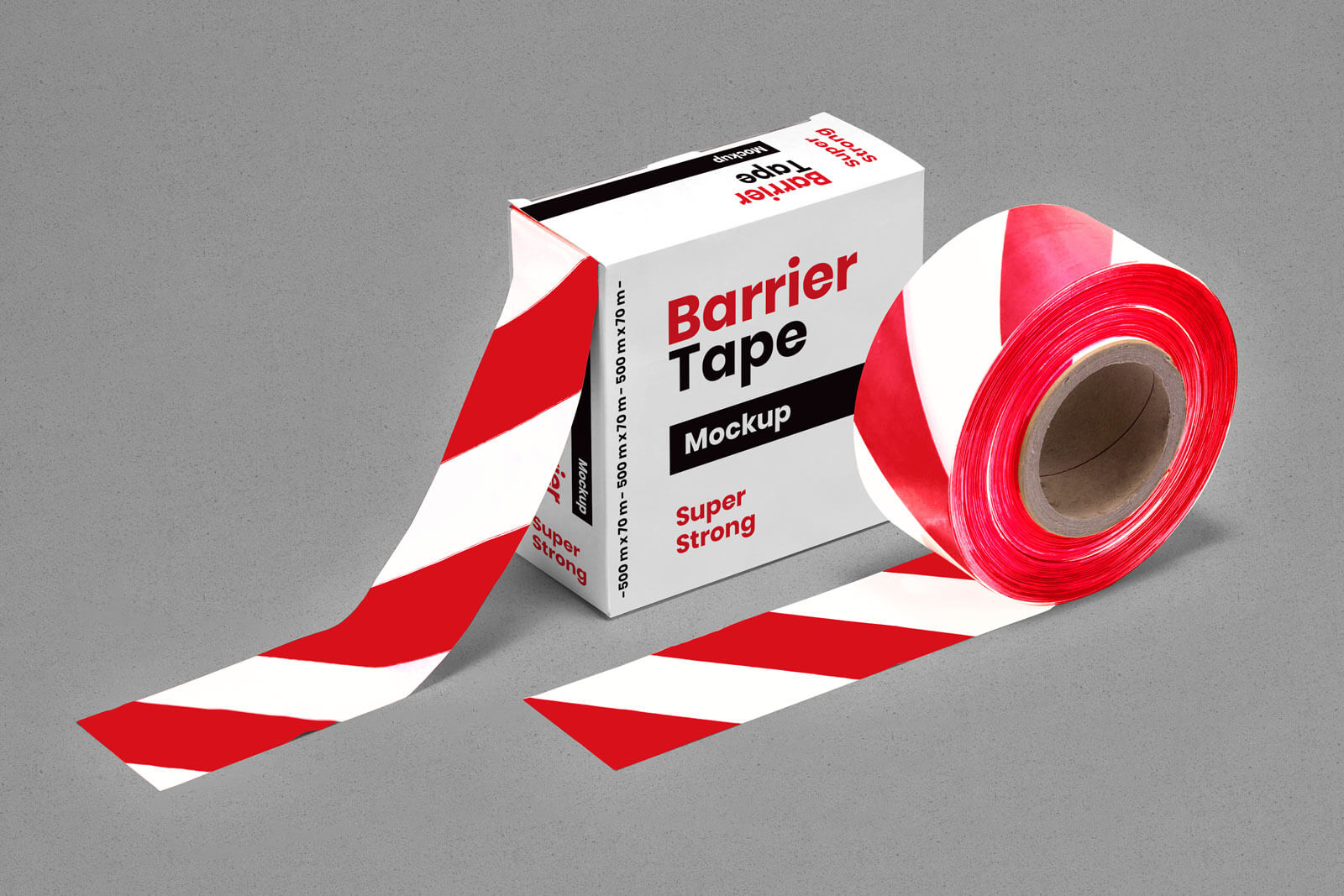 Available Format: Layered PSD with smart object insertion
License: Free for personal and commercial usage
RAR File Includes: Free Product Box Packaging Mockup PSD
Mock-up Resolution: 4500 x 2800 px 

Note:
1. Free Barrier Tape Box Packaging Mockup PSD is allowed to share online (A Must Linkback to designbolts.com)
2. Say thanks if you like or share/tweet with your friends. That means a lot to me.
3. And don't forget to subscribe to receive for more high quality premium freebies & awesome articles only.
Download Box Packaging Mockup
More Latest Free Packaging Mockups: