Hello there friends! We hope that you guys are having a great time reading our blogs and making the most of our mock-up PSDs and design templates. We have been receiving your overwhelming response on our previous blogs and we would like to thank you all for your support and encouraging words.
As you know that we are making designs and creating content regularly, we want to keep things unique so, that you can impress your team leads and clients with your creative thoughts, designs and presentational skills. For our today's blog, we decided to work on a fresh juice bottle mock-up PSD. Now, if you are someone who owns a business of fresh drinks & breakfast bowls, then this blog for you or if you are working with a brand that specializes in  fresh juices, then continue reading as we are about to share a few effective design tips with you guys which will make your fresh juice bottles stand apart from the crowd. So, let us get started!
Any item that must be consumed in one way or the other must be so attractive or appealing to the eyes that the person (the targeted audience) wants to have it. There are many different ways to brand and also to market an item that is supposed to be used for internal usages but there are a few things that make the products stand out and even if there are hundreds of brands out there, the shopper wants to spend money on your brand and its products.
For example, the colors that you use to design the product. Are they easy on the eyes and make you want to grab that bottle of fresh juice (or anything for that matter) from the aisle or are the colors too bright that you would want to pass? How is the packaging like? Is it interestingly attractive or have you kept it to so corporate-ish that it has become boring? How do you communicate with your potential customers? Is the tone friendly and informative that it convinces the audience to consider purchasing your products or do you think that there is some room for improvement?
Recommended: 50+ Glass & Plastic Bottle Mockups
Those are a few questions which you must ask yourself – especially if you are in the business of supplying food. As far as the fresh juice and its bottles are concerned, you must also know that this very product gets consumed by fitness freaks and professionals who usually do not have a lot of time to make their own breakfast or when they are heading to a meeting, they want to feel refreshed and fresh juice is their on the go companion.
These people do not just want the juice(s) to be super fresh and healthy, but they also want to feel great while buying a bottle or two off the market. So, how can you make sure that your designed bottles are reaching the right audience and are also helping the business generate their Return on Investment (ROI)? It is simple and you are already on the first step of creating designs as our free fresh juice bottle mock-up PSD file is all yours to help you with just that and more!
There are certain rules and regulations that you must follow in the context of designing packaging for your fresh juice bottles. First things first, your bottle itself has to be user friendly and by that we mean, that the design must be straight so, that it can hold the contents well and secondly, know that complicated designs do not look nice nor do they hold a lot of content in them. This is also a customer's perspective that bottles or containers with complicated designs are not liked by a lot of people mainly because of the fact that they do not happen to hold a lot of juice (or other solids and liquids) in them.
As you can see that our free fresh juice bottle mock-up PSD displays a clear straight bottle and it also has a twist cap. An ideal situation would be to keep the twist cap white and you can play with the bottle design to see what things can work best for you and your brand. And no matter what you choose to create the designs for the fresh juice bottle, our free mock-up PSD will help you in creating professional and realistic package designs which you can share with your team members or with your clients.
For the copy on the fresh juice bottle, make sure that you do not use words or phrases that are not easy to understand by the public. Communicate with your audience in a way that it speaks to them rather than they must get a dictionary to know what you are trying to say.
Also, it is very important for any food brand to list down all the ingredients that are used to create that product or if it is fresh juice, even then you also have to mention what things were used while making and bottling the juice. You can also mention if any of the ingredients can cause any allergies – to be on the safe side.
And that is all for today! We hope that this blog and our free fresh juice bottle mock-up PSD will help you in creating awesome designs of the juice bottles.
Free Fresh Juice Bottle Mockup PSD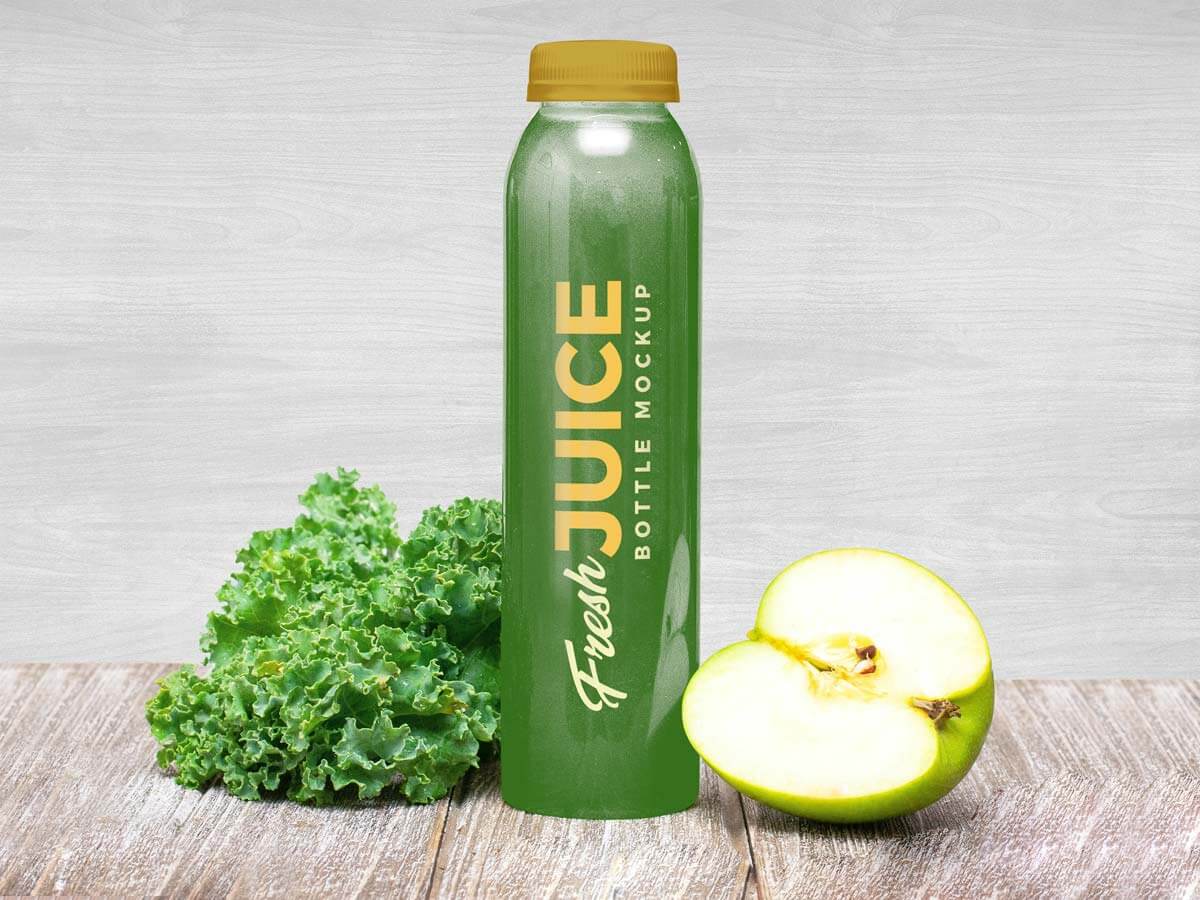 Available Format: Photoshop PSD
License: Free for personal and commercial usage
File Format: WinRAR
Mockup Resolution: 3000 x 2250 px
Note:
1. Free Juice Bottle Mockup is allowed to share online (A Must Linkback to this page)
2. Say thanks if you like or share/tweet with your friends. That means a lot to me.
3. And don't forget to follow or subscribe to receive more high quality premium freebies & awesome articles only.
Download Juice Bottle Mockup
Recommended: