Now every other person we meet or talk to owns a blog, it is now become quite a trend to open up platforms for people to accommodate them online. Whether it is a blog that invites people for shopping or a simple website that offers wallpapers or music etc., all the necessary elements are as mandatory on it as water to hydrate body. Social media icons are the essentials and compulsory ingredients of blogs.
You cannot do without them since they give an uplift to the traffic of the blog, they make a blog looks attractive and up to the mark. Social media icons are those key fundamentals through which people keep coming back to the platform of the blog over and over again once they get subscribed through the social media networking sites. It is now a demand to escalate your audiences otherwise your blog would get suppressed by the plenty sum of blogs and it is more likely that your website/blog won't be ranked anymore in future to come under Google search engine.
So upgrade your blogs and keep them refreshing by having social media icons that would give a good traffic boost and in the overall feel of the blog. Social media icons can be put on anywhere on the blog where they could attract the beholder and poke them to join the blog through major networking sites.
Today I am unfolding 50 free postage stamps style social media icons for you to use in the websites/blogs having both dark and light backgrounds. They would not get submerged in the backdrop but would hold a focal point so people would not overlook them. I am sure these social media icons set would be a productive element to your blog. Have a look at the following collection and place them wherever you feel like, either on top, bottom or in the sidebar of the blog.
Don't forget to Subscribe us for more Free Icons, free PSD and free Vectors.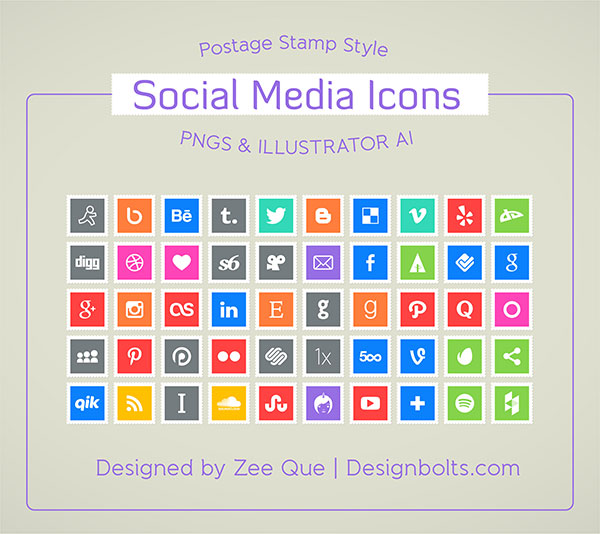 Free Social Media Networking Icons:
Available Sizes:  48px. 72px, 128px, 256 px for White & Dark Backgrounds
License: Free for personal use only + (Link Back to this Icon Set)
Postage Stamps Style Social Media
—————————————————————————————————-
Premium Version for only $ 3.00
Available Format:  Vector (.ai) file + PNGs
Available Sizes:  48px. 72px, 128px, 256 px for White & Dark Backgrounds
License: Creative Commons Attribution 3.0 Unported License
[paiddownloads id="89″ return_url="https://www.designbolts.com/thank-you/"]
—————————————————————————————————-
Looking for more Social Media Icons styles: