Jingle bells, jingle bells, jingle all the way; Christmas is here to make our day. On the Christmas Eve Santa gets dressed up in its traditional avatar of long red dress, big hat, its large skateboard, loose sack bag from which presents & gifts ooze out and keep its reindeer around, Christmas has its own specialty and charisma.
We cannot hold on to our nerves when Christmas arrives. Big get together parties are arranged, people dine together near the fire side because it is the cold weather out there with snow falling from the sky, covering the land.
The fog looks more beautiful while we celebrate Christmas season. It is the peak of winter so naturally the joys get multiplied because each one of us loves winter. It is not only an event when celebrations and festivities are enjoyed it gives us the message of hope, calm, peace, unity and merriment all the same. Poor kids should also be entertained by people like us, we should remember them, give those down-trodden their due rights and Christmas gifts so they can become a part of December 25th & enjoy it equally with us.
Today I am unfolding before you 130 free Christmas social networking icons. You can put these adorable icons on the blogs and you know how important social media icons are for websites & blogs these days. They really help to fetch audiences to the blog; followers can get connected to the platform through social networking sites and hence they will get updated for whatsoever posts you cast on the blog.
It is that simple. I am honored the way you admire my work, it is dedicated to you all, your motivation and positive feedback makes me know, I get to gear up to arrange the new stuff for you well for this, come right back at us, we are managing more of such sort in future for you. Have a look at the collection.
Don't forget to Subscribe us for more Free Icons, free PSD and free Vectors.
130 Free Christmas 2014 Social Networking Icons in Ai & PNG Format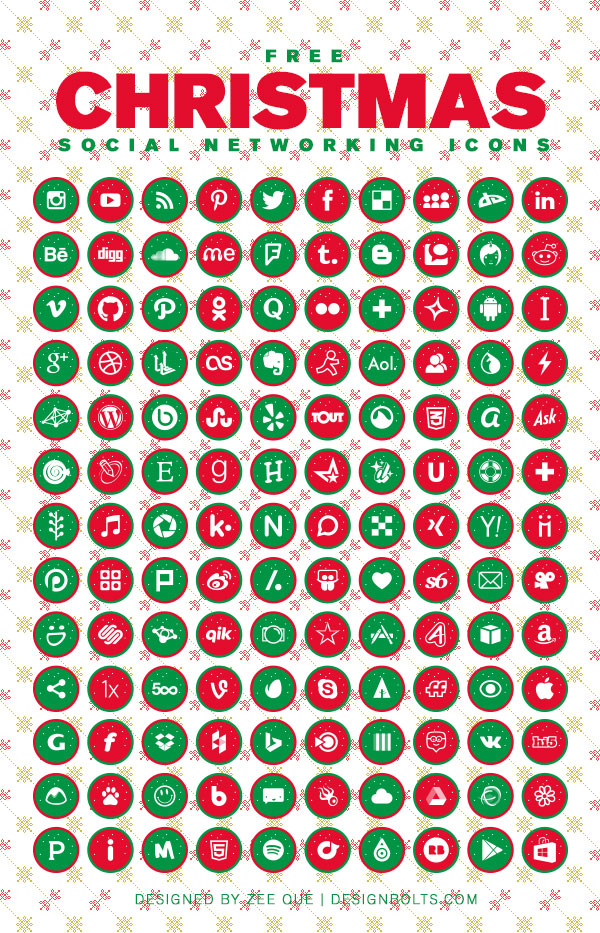 Free Social Icons:
Available Sizes:  512 px for both Dark & Light Backgrounds
License: Free for personal use only + (Link Back to this Icon Set)
Free Christmas Social Icons
—————————————————————————————————-
Premium Version for only $ 6.00 [130 Icons]
Available Format:  Editable VectorAi  file (Can easily be edited, color or scaled to any size)
Available Sizes:  512 px, (Even beautiful on 32 px)
License: Creative Commons Attribution 3.0 Unported License (Link back not required)
[paiddownloads id="101″ return_url="https://www.designbolts.com/thank-you/"]
Looking for more Social Media Icons styles: