Here again I've something really useful for all the bloggers out there. Social media icons are now the requisites of a website & blog. They are usually fixed on the top header, footer or in the side bar of a blog. Social media icons are designed in a very clever notion that they must be attractive and eye catchy enough to clench the consideration of those who visit your blog.
Today I am showcasing simple sleek social media icons ver-2 for only $3. You can also look through the previous version of sleek social media icons Ver-1. These will look awesome on the websites that have light backgrounds & themes. Make your blog more communicating and enticing with these simple sleek icons pack. Scroll down to get the glimpse and make a quick purchase. Take it away!
Icons Package Includes:
Facebook Social Icon, Twitter Social Icon, Pinterest Social Icon, RSS Social Icons, Youtube Social Icon, Instagram Social Icon, Myspace Social Icon, Delicious Social Icon, Linkedin Social Icon, Google Plus Social Icon, Dribbble Social Icon, Stumble Upon Social Icon, Digg Social Icon, Tumblr Social Icon, Email Icon.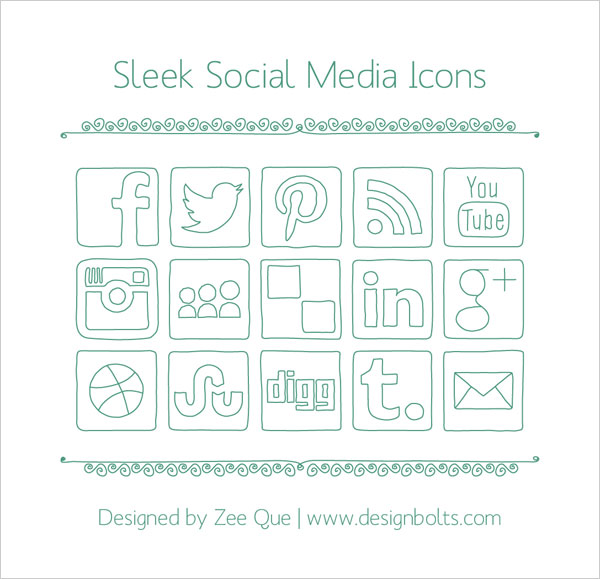 Free Samples:
Available Size: 256 px
Sleek Social Icons
—————————————————————————————————-
Premium Version for only $ 3.00
Available Format:  Vector (.ai) file , PNG Transparent Background
Available Colors: Sea Green & Golden
Available Size: 32, 48, 72, 128, 256 px
License: Creative Commons Attribution 3.0 Unported License
[paiddownloads id="50″ return_url="https://www.designbolts.com/thank-you/"]
—————————————————————————————————-
Looking for more Social Media Icons styles:
Post Tags:
social media icons, simple social media icons, sleek social media icons, social icons