Hi there everyone! We are back with yet another exciting blog of ours and we can bet that you all are going to love reading it as much as we did when we were working on it. As you guys know that we share a mix of everything here so that you guys can produce nothing but super powerful designs for yourself and for the businesses that you are associated with so for our today's blog, we are going to be sharing our free tri-fold brochure mock-up PSD file. Allow us to dive right into it.
A tri-fold brochure happens to be one of those documents that you can design and spread within the masses to promote a branded message in the most effective way. In addition to that, we must also share with you guys that brochures can be designed after paying much lesser amounts of money as compared to your digital and social media campaigns so that feels like a win-win, really if you look at it like that. And honestly speaking, we think that if you have the option of spending a lot of money on multiple platforms, you must consider all of them so that you can reach a much higher audience instead of just getting in touch with them through either of the mediums. It does not work like that most of the time, and when you want to achieve big, make sure that you win big the right way.
Tri-fold brochures also let the advertisers deliver major chunks of information through a compact document that they can design in ways that feel perfect to them and the results are so much better than the other campaigns they might be running elsewhere too. Now, keeping the benefits of brochures in mind, we would love to encourage you guys to always plan out your campaigns in such a way that you cover every platform. If it's about the budget, then either ask for more money so that you can carry out all the things properly or divide your money in such a way that you do not have to compromise on anything, you know. And that's the only way to go too.
In this part of our blog, we will share the design tips that you can follow to create your tri-fold brochures and we can bet that you will see them bringing you good results too in no time. Make sure that you guys have read the blog till the end in order to make better creative and design decisions.
– – – – – – – – – – – – – – – – – – – – – – – – – – – –
More Awesome Free Mockups:
– – – – – – – – – – – – – – – – – – – – – – – – – – – –
First things first; you need to keep in mind the natural order of reading and pay attention to it. For example; a tri-fold brochure is going to be read from the first panel till the last one so plan out your content like that only in order to make sure that your audiences do not get lost in the information that you have put out for them. Another thing that you must always follow is to use the three panel distribution wisely, and create a story out of your communication which by the end of the information, has a clear cut call to action (CTA) for your audiences to follow too.
We have said this before and we are going to say it again; never settle for less when it comes to imagery for your visual communication because it is one of those things that you are literally giving out in the hands of your audiences and you will get judged if you would opt for something that does not look nice, you know. Stock images are absolutely free to utilize but since they are free, they get used by literally everyone so it is always a great idea to have your own photography done because it won't just belong to you but you will also know how to make the most of it too for your communication.
One more thing; always, always have the content proofread more than once before you send it out to get printed because you should not go wrong after putting in that much time and effort into doing something. Follow all the tips, experiment where it is needed and we are sure that you will end up executing successful campaigns just like that.
And that is all for today from our end, you guys! We hope that you not only enjoyed reading the blog but that you will also share it with your graphic designer friends and favorite colleagues as well. Also, feel free to share your feedback with us in the comments section too and while you are at it, don't forget to share your requests as well so that we can work on them and get back here with your requested content and more in our upcoming blogs super soon.
Free Tri-Fold Brochure Mockup PSD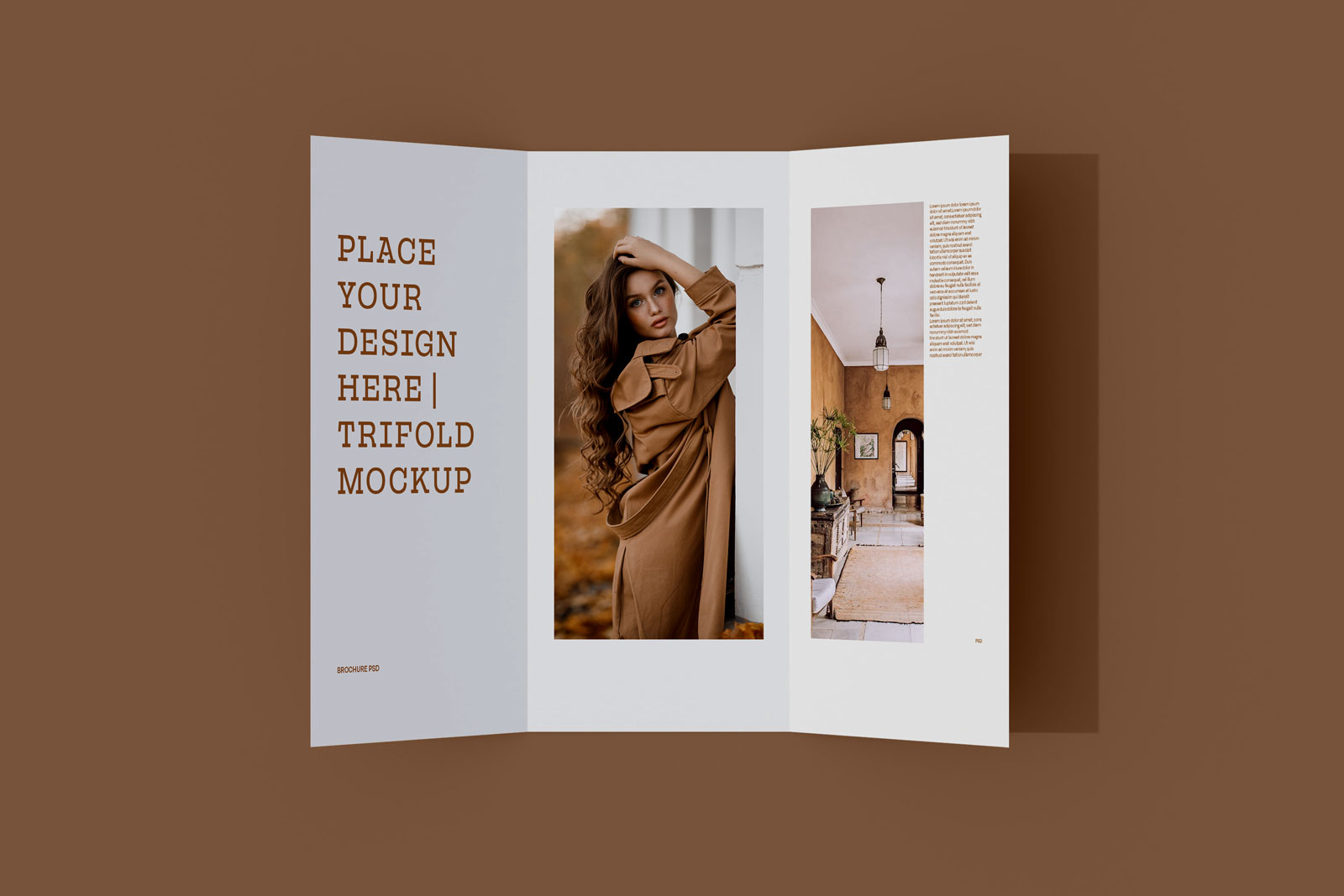 Available Format: Layered PSD with smart object insertion
License: Free for personal and commercial usage
RAR File Includes: Free Tri-Fold Brochure Mockup PSD
Design Template Resolution: 99 x 210 mm Single Panel
Note:
1. PSD Mockup is allowed to share online (A Must Linkback to this post)
2. Say thanks if you like or share/tweet with your friends. That means a lot to us.
3. And don't forget to subscribe to receive for more high-quality premium freebies & awesome articles only.
Download Tri-Fold Brochure Mockup
Recommended: