Hi there everybody! We hope that you guys are keeping safe and that you are also making awesome content and designs for your own business as well as for your clients'. Through the blogs that we write and share here with you guys, we got to know so many of you, the amazing things that you are creating every other day as well as your interests which brought us to our today's blog in which we will share the Best of Behance (Sun is Shining Food Packaging) to inspire you all. We know that many of us suffer from the creative block from time to time so, let's dive right into our today's blog!
Packaging, as you all know plays an important role in the making of any business or company. And like we have said this many times before too that it's your packaging that brings your potential customers to the point where they decide to spend their money on your products or services. Because it is very obvious, right? For example; you sell perfumes, and someone comes to your outlet and asks you for a certain something they have heard about. They could be there after hearing someone rave about your newly launched product(s) or they could be there because they have watched your ad on the TV or social media.
Now, your potential customer does not know you in totality nor they have tried your perfume before but they want to check it out because a) your communication is on point and mentions everything that is necessary to make someone visit your store (online or on ground), b) you are running successful campaigns that are reaching the right target audience and c) your packaging is so beautiful that it is becoming irresistible and they just want to have it so that can use the product too.
There are so many other factors involved too that help the potential customers make an informed decision regarding a brand / product / services but when they do, they know that they won't regret it. What we mean to say is that no matter how hard you try to ignore the fact that you can still do wonders with your product or services and that your packaging design can be okay-ish, you will have to admit the fact that it's your packaging that talks to your potential clientele first and then comes the actual product.
Recommended: 60+ Most Interesting Creative Barcode Designs Ever for Inspiration
We have been sharing multiple blogs and content ideas along with mock-up PSD files of packaging design in the past and we find it really interesting that you all take out the time to not only read those blogs but you also make sure to create something for your personal and commercial design projects too and that is when you change the game. Keeping all of that in mind, we are always working on things that can inspire you in one way or the other so, we decided to share the food packaging designs of Sun is Shining with you guys. Continue reading the blog so that you can get ideas on how to go about your new packaging design projects.
Sun is Shining or SiS is a brand that produces superfood products for their customers. For those of you who don't know about superfood products; we would like to share with you guys that a superfood product is a nutrient-rich food considered to be especially beneficial for health and well-being (Source: Google). Since the most of us have finally started to see what we are eating when it comes to food, consumption of superfoods sounds like a great idea especially when you know that the products that you will be eating / drinking are natural (even if the rate of them being natural or organic is not 100 percent, the ration is still better than the harmful processed food that we consume).
As you can see, the product designing has been done so flawlessly that we are in awe of the whole creative process as well as the result of it. From choosing earthy tones to making the most of stylish fonts to making this an interactive packaging design, we feel that the branding team has done a marvelous job and they must be appreciated for putting in their efforts in order to make sure that the packaging design depicts what it will be used for. Everything that is on the display speaks for itself and does it perfectly too which makes the designs easily the most attractive ones that you have seen for food packaging and we love how they market it too.
Both front and back of the packs have been taken care of so you not only get an interesting display of the product from the front but you also get to read more on the nutrition facts as well to make an informed decision. With that, we think it is time for us to leave you guys with Sun is Shining food packaging design so that you can go through it and can also let your creative juices flow.
Credit: PUPILA ℗
Best Of Behance – Sun Is Shining Food Packaging Inspiration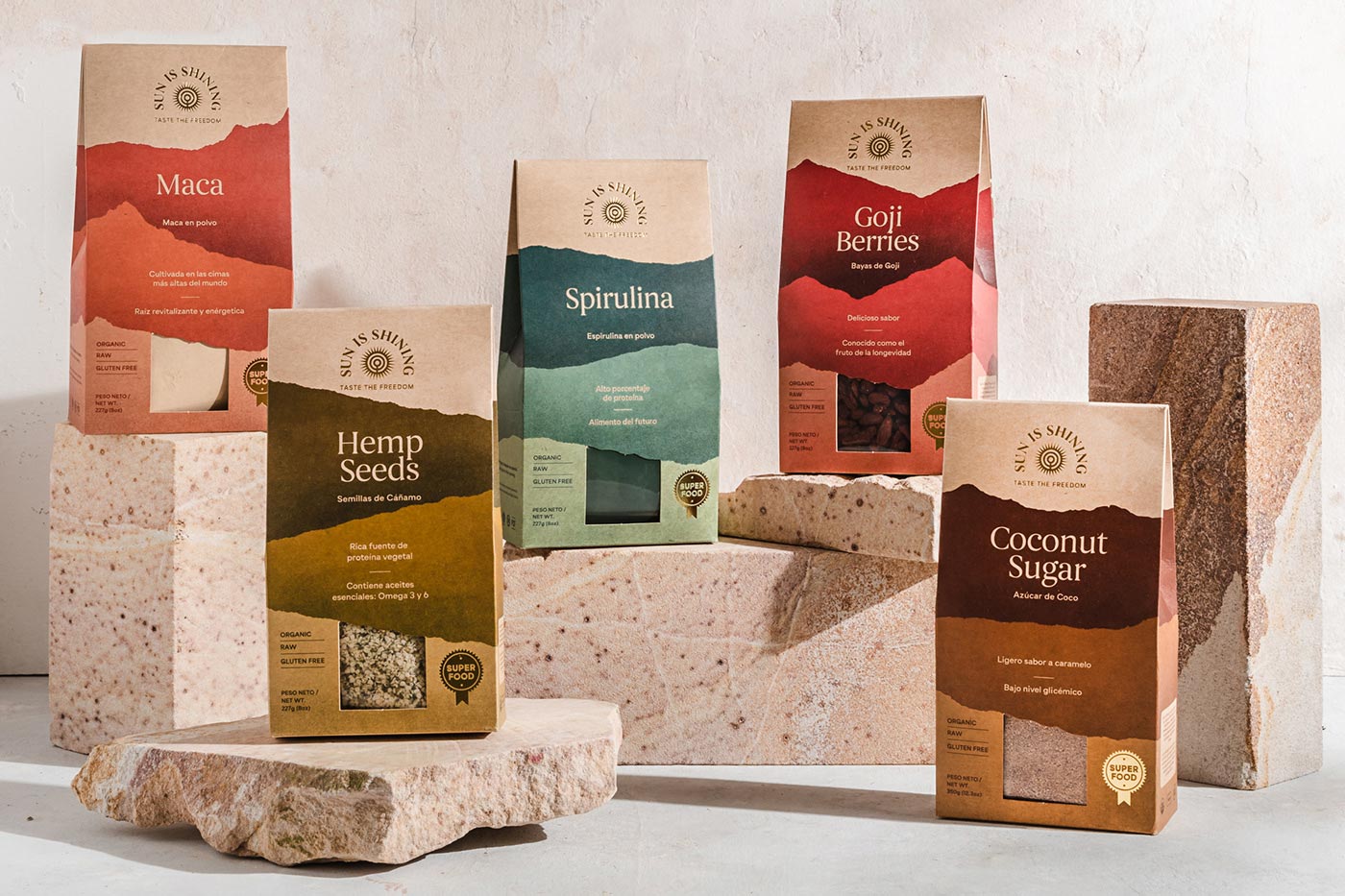 Recommended: