Hi there everyone! We hope that you guys had a really nice time reading our previous blog and that you are super excited to read what we are about to share today. But like always, it would be our pleasure to thank you for the love and support that you send our way and for also sharing the blogs with your loved ones and care for and we hope to receive more of that in the future too so that we can keep creating stuff that we absolutely love to create.
Hanging tags are used for many different purposes but when it comes to clothing brands, the main purpose of using them is to let the customers know about the product fully well such as the fabric(s) that was used to make a certain article, the price and a little something about the brand as well. In fact, we think that you must make the most of the hanging tags to tell a story that can be passed on to your existing customers by your potential customers. The reason why we are asking you to do that is that any business that uses the art of storytelling to communicate with their audiences is always considered to be a business that knows how to do things, you know.
Recommended: 80+ Best Packaging Mockups
Another thing storytelling does is that it lets you put forward your vision in the most creative ways and we think that's the best opportunity to have a heart-to-heart conversation with the people who believe in you and also spend their money on your articles because they know that you care. Also, we are sure that you guys must have seen thematic hanging clothing tags as well which are created for sale, and a new collection that has been launched by a brand. The idea behind creating those thematic tags is to let everyone know that so and so the brand is offering a discount or that they are doing something unique for example; sustainable clothing.
Now, when you look at the items that are produced or regenerated using the leftover materials, you cannot really tell the difference between a regular clothing article and the one that has been recycled, and one of the most effective ways to promote that thing about the brand is to make your hanging tags your spokespersons. Have a nice and powerful story written keeping in mind the size of your hanging clothing tag, accessorize it however you like or as per the requirements of your business guidelines/design brief, and voila – have them hung with the items that are going to get you the appreciation that you deserve.
Recommended: 30+ Premium Quality Product Mockups
Know that hanging tags can be made using multiple different types of materials such as recycled hard paper, kraft paper, or even card paper for that matter but if you are feeling a little extra and fancy then you can also go for a nice and pretty semilucent butter paper sheet too and have it paired with your hanging tags and you will see how you have upped the aesthetic game so perfectly. That being said, let's now talk about the various design tips that you can follow to work on your ideas using our free yet highly editable hanging clothing tag mock-up PSD file.
First, you need to pick a shape for the tag; for example, you can be even more creative if you go for cornered hanging tag designs such as single corners, rounded corners, etc. or you can keep all things simple and go for the shape that we have created for you guys. For the colors and fonts, you will have to follow the brand guidelines so that there is harmony in everything that goes out from your end. And for the foiling and paper, pick the ones that are durable and look beautiful as well. You must consult with your third-party vendors for more details so that they can guide you as per the demands of your design brief and your budget, of course.
Lastly, make sure that you create mock-ups of the hanging clothing designs that you can share with the decision-making individuals/departments before you give the go-ahead to the printer to start the production of the tags.
That is all for today, you guys. We hope that you had a great time reading the blog and that you also found all our tips and tricks to design cool hanging clothing tags useful as well. Feel free to share our blog and free hanging clothing tag mock-up PSD file with your graphic designer friends and favorite colleagues and we will see you guys next time with something more fun and exciting to read and work on. Oh, and if you guys have any suggestions to share with us, do send them our way through the comments section.
– – – – – – – – – – – – – – – – – – – – – – – – – – – –
More Awesome Free Mockups:
– – – – – – – – – – – – – – – – – – – – – – – – – – – –
Free Hanging Clothing Tag Mockup PSD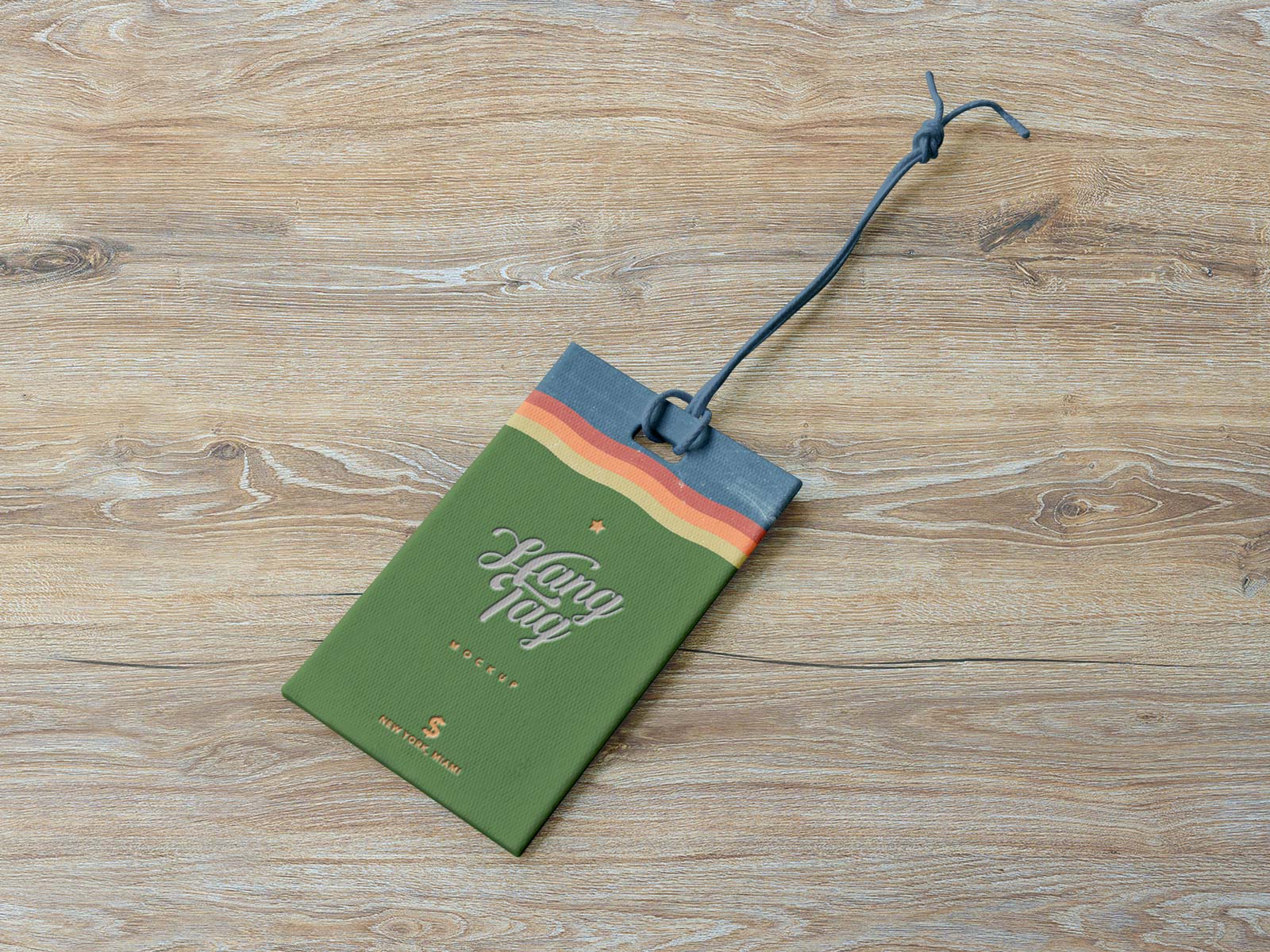 Available Format: Photoshop PSD
License: Free for personal and commercial usage
File Format: WinRAR
Mockup Resolution: 4000 x 3000 px
Note:
1. Free Hanging Tag Mockup is allowed to share online (A Must Linkback to this page)
2. Say thanks if you like or share/tweet with your friends. That means a lot to me.
3. And don't forget to follow or subscribe to receive more high-quality premium freebies & awesome articles only.
Download Hanging Tag Mockup
Recommended: