Hello there friends! We hope all of you are well and are still maintaining a safe social distance – especially if you are in those countries where the inhabitants are not being able to flatten the curve. When this is over and we hope that it is soon, things will be a lot more different than we can even imagine.
From managing the official work at home to conducting online classes, we think that for some time, we are going to be celebrating many of our local and international events virtually. And as much as we know that things won't be the same anymore, we really won't be able to go out the way we used to, we also know that it is for our own  good that we have to be socially distant in order to stay safe from the virus.
As we are making changes to live a better and safer life post COVID-19, we came across this interesting trend where people have (already) started to celebrate different occasions online like Halloween, graduation ceremonies etc. And during the month of March, a new holiday got invented and is now known as Quarantine-O-Ween. You can celebrate the day safely at your home with all the Halloween decorations and costumes and you will be good to go!
So, let us get to know more about the Quarantine-O-Ween. The origin of this idea is South Florida and then it was shared around the country and then the founder of popular Fort Lauderdale Halloween event Florida Day of the Dead, Jim Hammond also shared a post on Facebook and spread the word through it.
Recommended: 60+ Free Halloween Posters 2020
And we can bet anyone and everyone who was missing going out and hanging out with friends had to jump on the bandwagon as it not only gave people a chance to reconnect with their loved ones in a unique way but many creative ones also got to showcase their makeup and costume skills too and that we think is great.
We really like the notion behind this new holiday: The Night He Stayed Home. It is to the point and explains the idea so well. And it literally means that we can still hang out (virtually) with our loved ones by staying home and we think that, that requires less time, there is no commuting involved either and you can be really yourself.
Same as the actual Halloween night, you get to choose a theme to celebrate Quarantine-O-Ween too. From cute to scary and to spooky, it is totally up to you to dress yourself up, put on some relevant makeup and accessories and video call your family members, favorite cousins, friends and even colleagues and make the most of the digital social networking platforms as well.
Also, anyone would want to go public with their celebrations then they can also post their photos and videos on Instagram and Twitter too with hashtags like: #QuarantineOWeen, #QuarantineActivities etc.
And if you are wondering about how to create your own personalized event then know that we have got you all covered as we are about to share some fun ideas for your very own Quarantine-O-Ween online party and we can bet that all your friends and family members would love to virtually join you. Considering all things black yet classy and according to the theme, we also wanted to keep the flyer design to the point. You can keep the background jet black and pick a nice spooky font for the copy.
Your inspiration is the main flyer design that we are sharing with the blog here or feel free to come up with your own witty one liners to invite your friends and loved ones to your Quarantine-O-Ween. For the design elements, we will suggest you pick one theme or characters which you like to associate with so, that it is easier for you to design the flyer for your online gathering.
Do not forget to add the details like the time to get online as that is one important thing, you know. And you can also make your flyer a fun thing too by using the backside of it as a postcard. Now, we know that no one really send postcards these days but well, many things have changed so, why not try something old school this time around, yeah? And with your postcard type of a flyer, you will also be able to send a handwritten invitation to your friends etc. as well.
So, what are you guys waiting for? Get started on creating one of your nicest online events right away and we hope that you get to enjoy the night with your favorite people. And don't forget to share the idea with your friends etc. too.
– – – – – – – – – – – – – – – – – – – – – – – – – – – – – – – – – – – – – – – – –
Don't miss out these cool Halloween freebies:
– – – – – – – – – – – – – – – – – – – – – – – – – – – – – – – – – – – – – – – – –
Happy Quarantine-O-Ween | The Night He Stayed Home Halloween Flyer 2020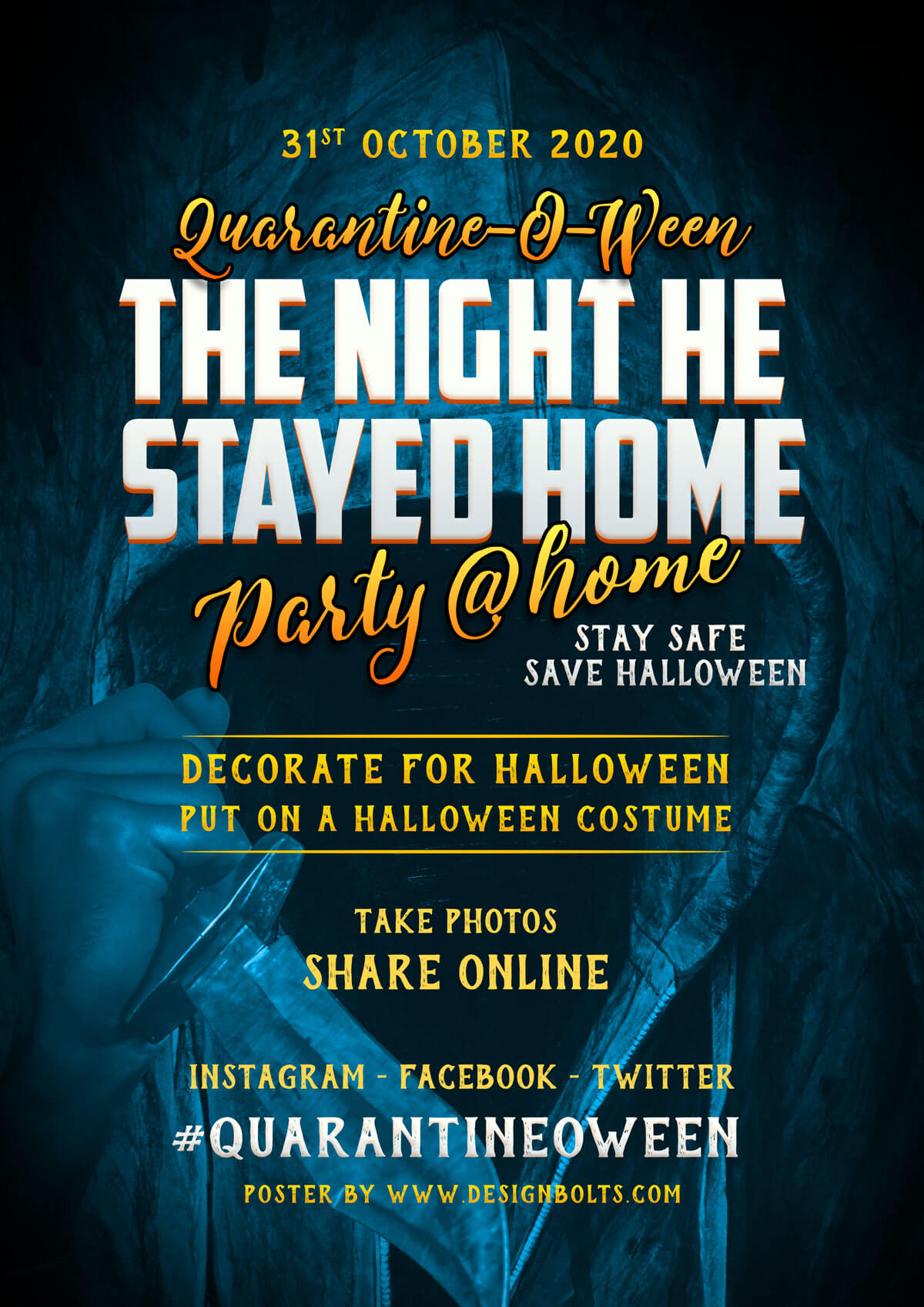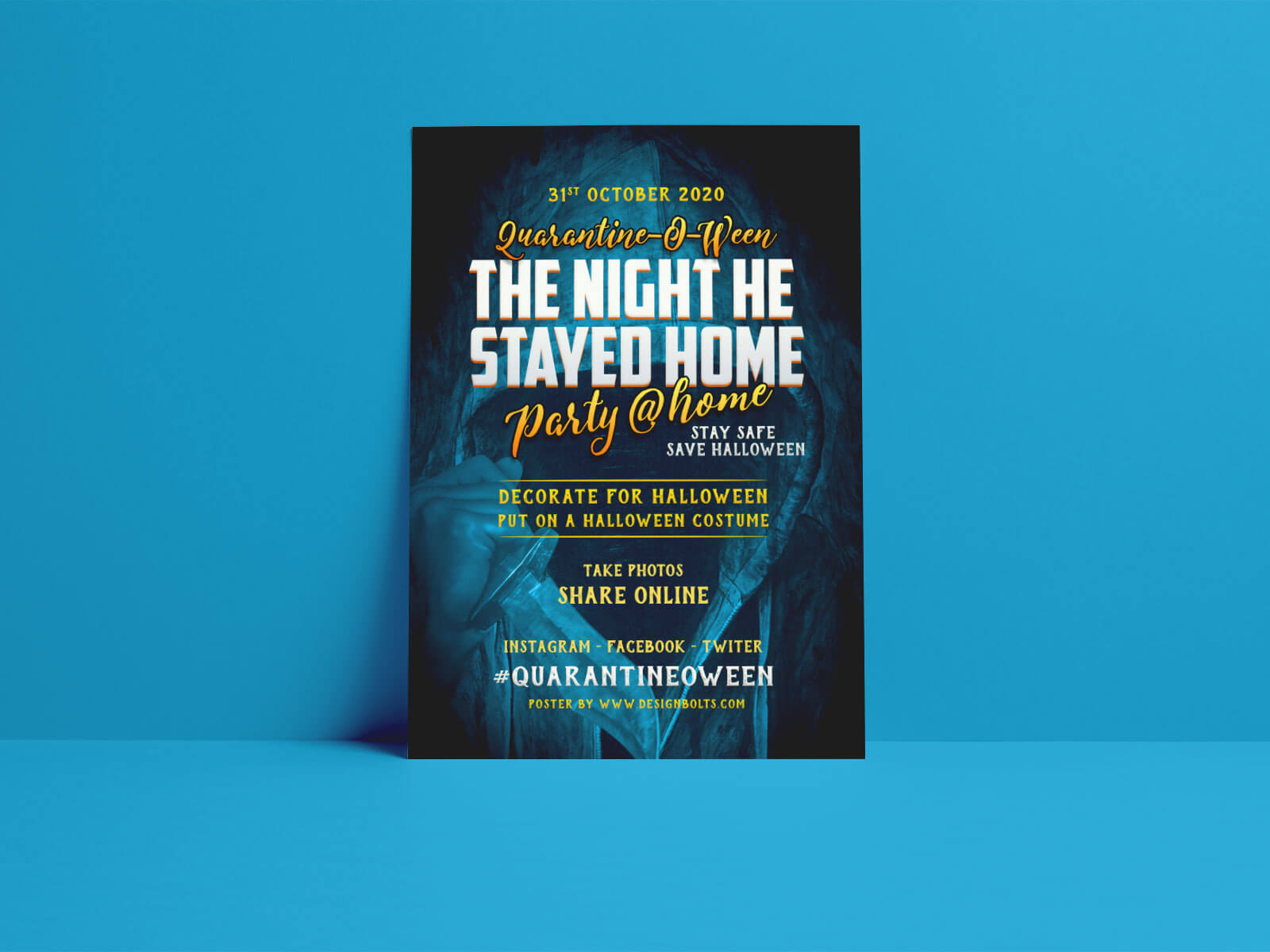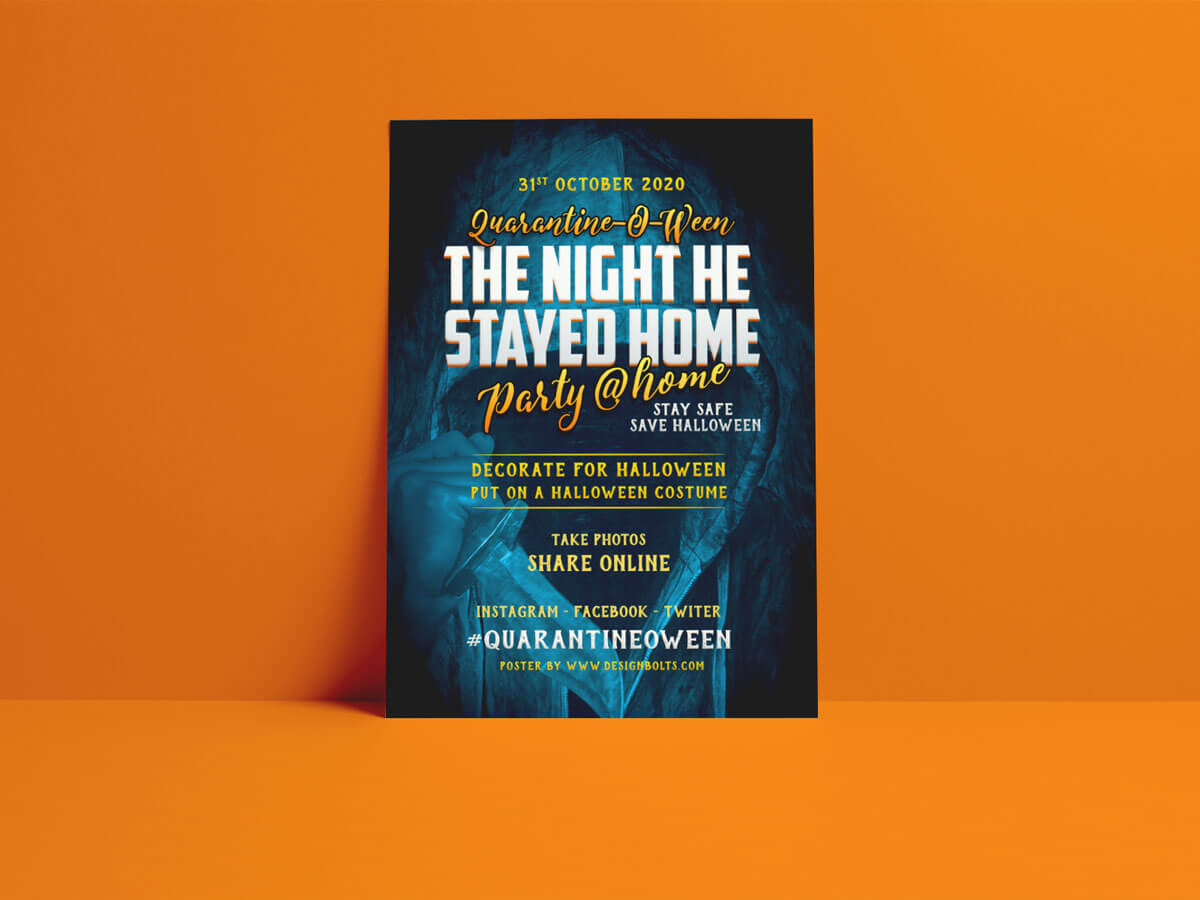 Available Format: Layered PSD with smart object insertion
License: Free for personal presentational use only
Zip File Includes:  Halloween Flyer PSD Template 2020
Note:
1. PSD file is allowed for sharing online (A Must Linkback to this page)
2. Say thanks if you like or share/tweet with your friends.
Download Flyer Template
Recommended: