Well women have everything to do with celebrations and festivities because they love to go with the flow, arrange stuff and they make sure feasts turn into festivities. From Easter to Christmas, from Thanksgiving Day to Halloween day; they love to chant the slogan, "happiness is all we need", no matter what.
Time is money so better be utilizing it in a productive way, there is no such day when we are not burdened, having tons and piles of work at hand, we figure out that this is so unneeded, this is so unnecessary because if you don't have good memories to enjoy, you have earned nothing in life to be honestly. Learn to do things and bring things that money cannot buy, to be precisely love, happiness and festivities are the best aspects of life.
Today my area of concern deals with the event of Halloween. Moreover, look through the decorations, wallpapers and stencils of pumpkins/Halloween I have previously been showing up before you, everything we do is just for your help and interest.
And here it is a big collection of 290+ free printable pumpkin carving stencils, patterns, designs, faces & ideas that you can totally get for your Halloween 2017. October is the month of fright and ghostly happenings, it is enraptured, malignant, wicked and sheepish for all & sundry. Decorate your houses with pumpkins' emblems and buntings, use pumpkins' stencils in the decorations both indoors/outdoors, in parties, high school gatherings and everywhere when Halloween is looming & blooming.
Recommended: Pumpkin Carving Stencils 2019
Since Halloween brings in a carnival of horror and spookiness what are you expecting from Halloween this year? One thing is for sure that it is going to be supersonic, supernatural and insane. Every year, the awareness and celebrations are gone to some other level and that too because it is the most favorite event of kids, youth and adults. Share with us your creepiness of Halloween day and make us know how do you celebrate it? I wish you all a very happy season of pumpkins, make cupcakes, play trick/Treat, distribute candies and chocolates, buy gifts and Halloween gift baskets for your friends, family and loved ones.
So they know you are there when the world turns dark and hollow. Also go for horror movies with your buddies, scare the hell out of them, play truth/dare, impersonate creepy and outrageous characters from movies, put on the avatars of zombies, vampires and Draculas' to show the true essence of Halloween, also educate the little kids of the house that this event is meant to be enjoyed by all of us, and not about sitting at home by the fireside eating pumpkins. Be safe from evil and malign happenings and don't believe on any tale you listen to, on the day of Halloween.
For more amazing design dose regarding Halloween 2018 and more, do subscribe us and encourage us to do better when it is needed. Boo the world.
290+ Free Halloween Printable Pumpkin Carving Stencils, Patterns, Designs, Faces & Ideas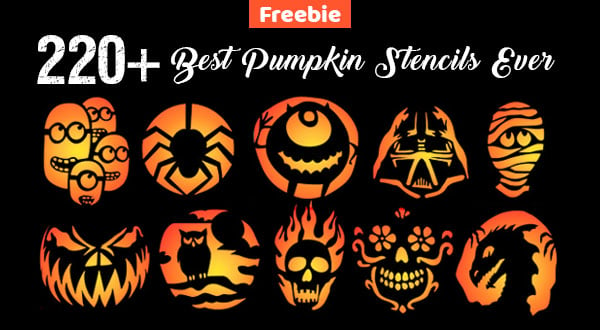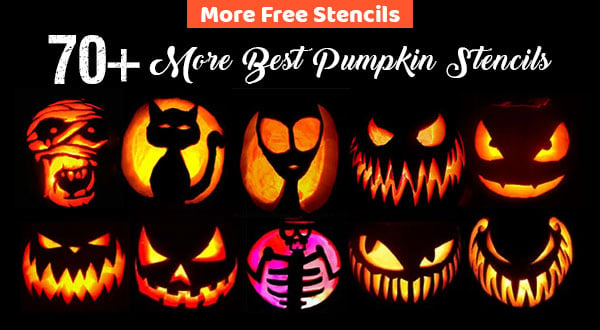 70+ More Pumpkin Stencils added to the list
Here are the best collection of simple, cool, awesome, scary pumpkin carving stencils, patterns, designs, faces & ideas
10 Free Printable Scary Halloween Pumpkin Carving Stencils Patterns
Showcasing following stencils: Cat, tree, skeleton, oil, jack o lantern, scary and spooky burning skull, easy stencil, pirate, mummy, beginner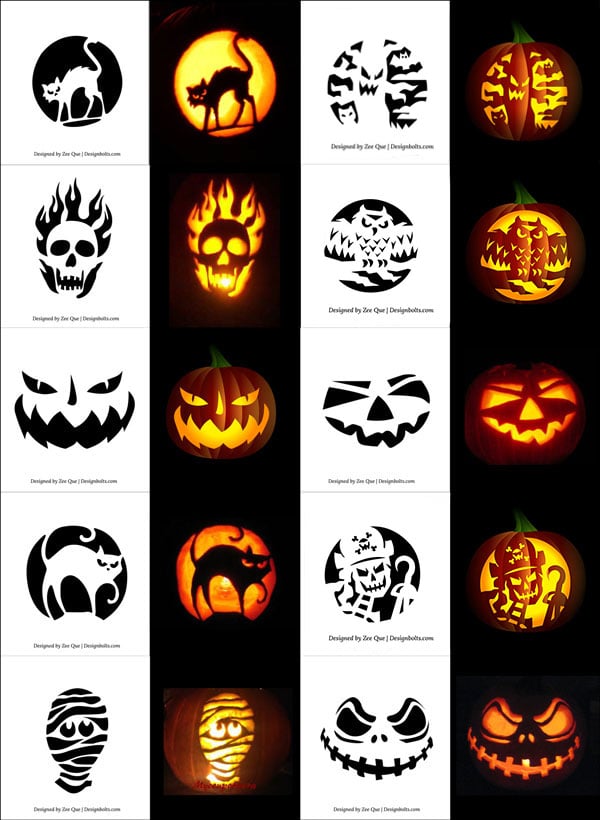 10 Free Scary Halloween Pumpkin Carving Patterns Stencils Ideas
Following stencils are included in this set Scary, Jack O Lantern, horror, cutout, simple free printable for kids, bat stencil, unique, creative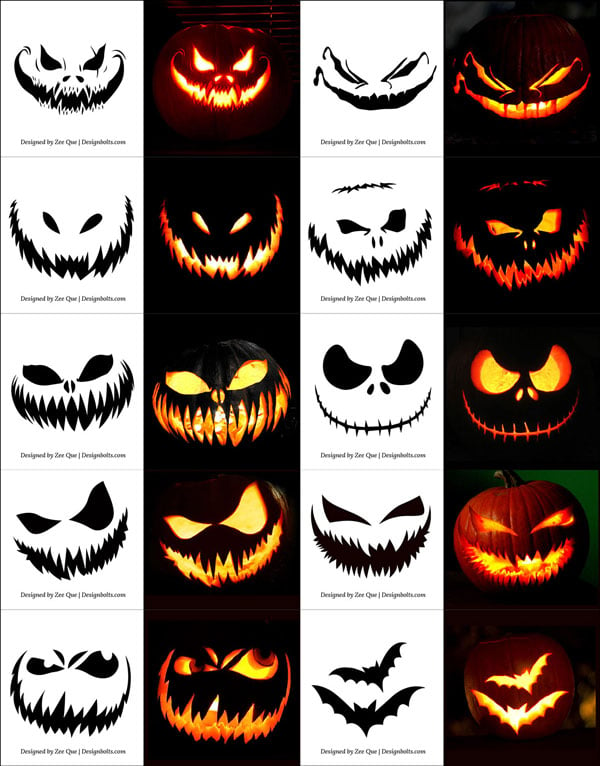 10 Free Scary Pumpkin Carving Patterns Stencils
Printable Stencils: ghost, cat, spooky, skull, horror, creepy, beginner, skeleton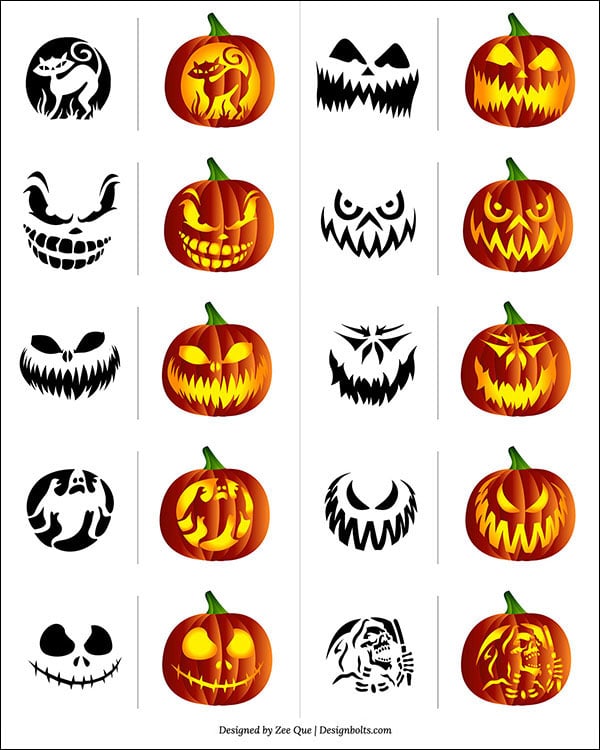 10 Free Simple Pumpkin Carving Stencils For children
List includes: minion, traditional, crazy minion, gru and minion, bob minion, easy stencil for kids, basic stencil, stars and moon, bats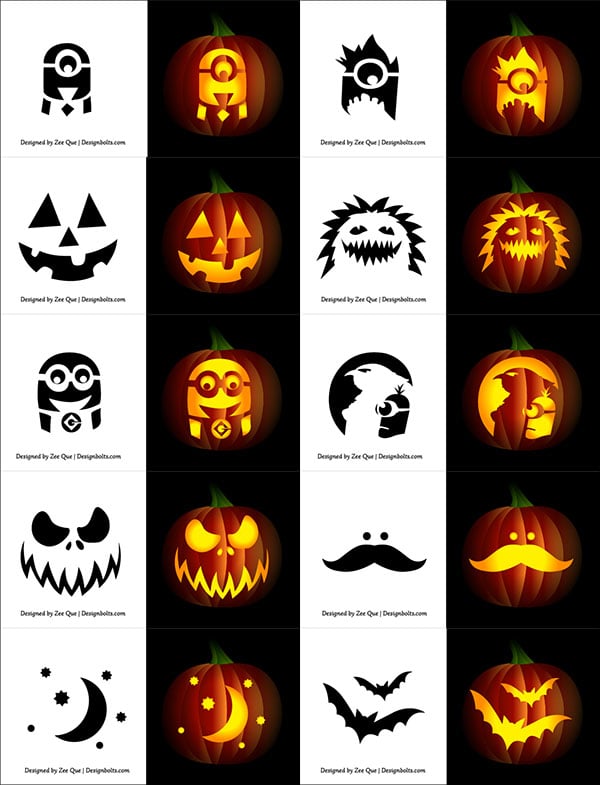 10 Free Extreme Pumpkin Carving Stencil Designs & Ideas
List includes: Darth vader, scary spooky house, scary tree, spooky jack o pumpkin, who oil, scariest pumpkin ever, monster, printable scary pumpkin for kids, old pumpkin, traditional classic pumpkin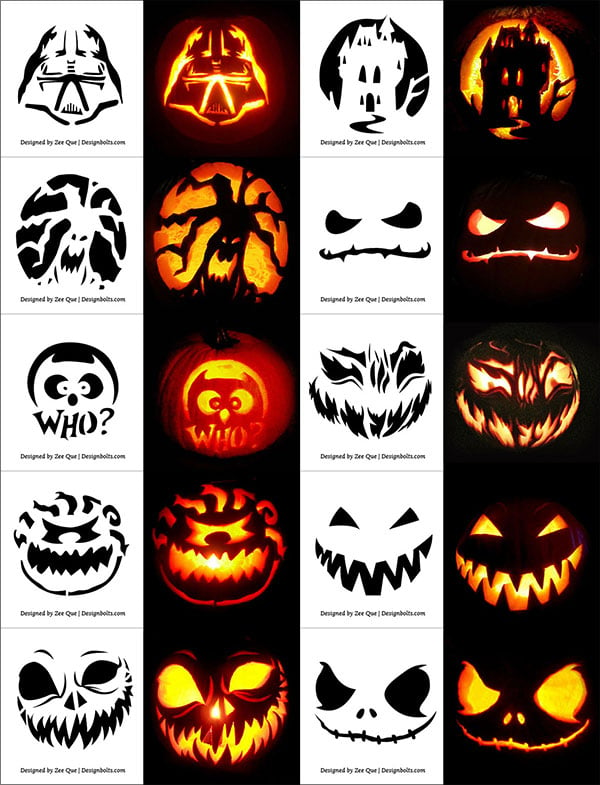 10. Free printable Scary Halloween Pumpkin Carving Stencils with Minion Stencils
Stencils list: funny, creepy, minion, scariest, minion laughing, scary tree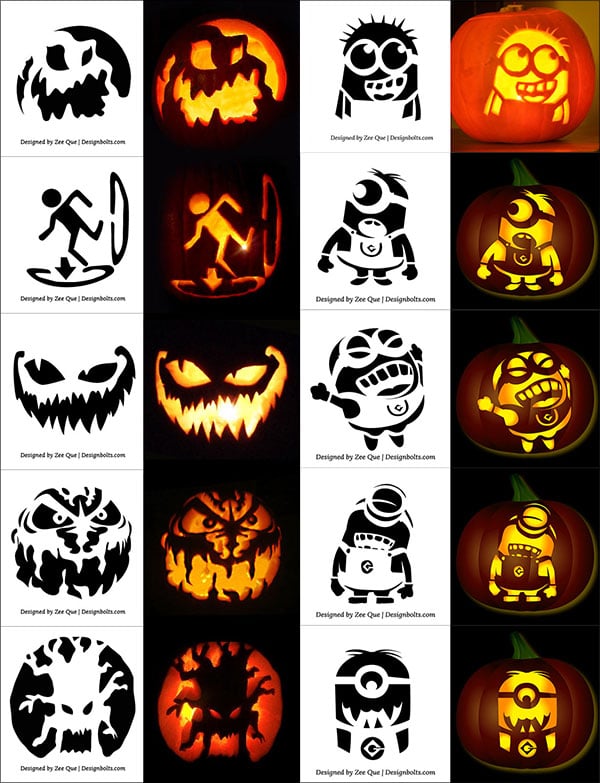 10 Free Scary Halloween Pumpkin Carving Stencils, Patterns & Ideas 2017 | Faces & Images
Showcasing: spooky, scary, creepy, tradition, unique, cutout, classic pumpkin stencil faces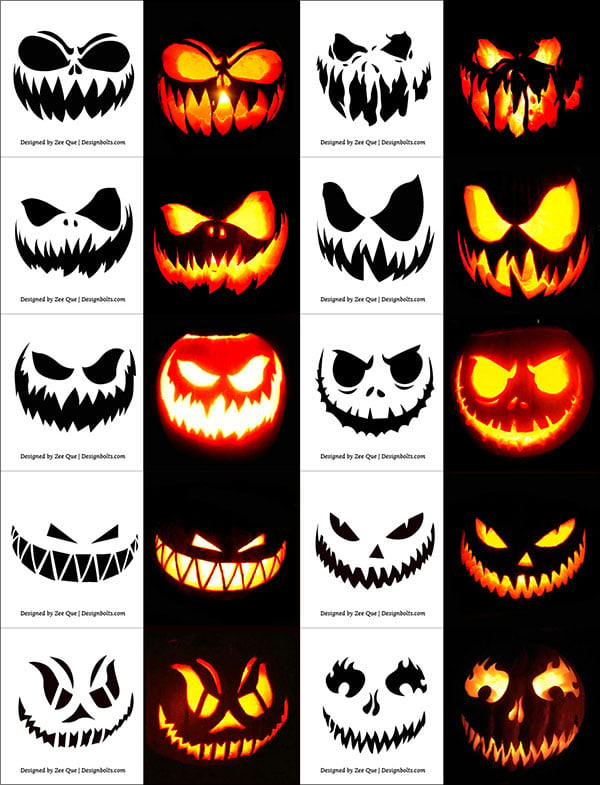 10 Free Scary Halloween Pumpkin Carving Stencils, Patterns & Ideas 2017 | Outline Pictures & Templates
Collection: Scary, spooky, monster, printable best stencil ideas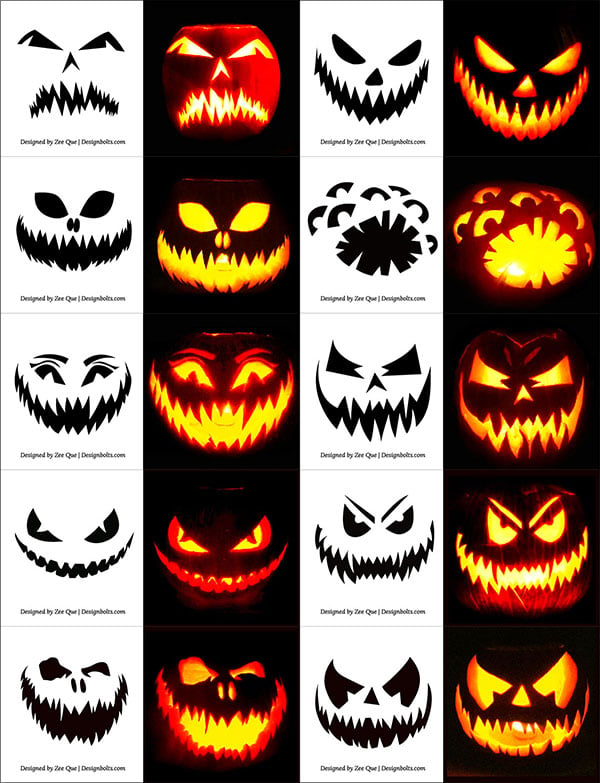 10 Free Scary Halloween Pumpkin Carving Stencils, Faces & Ideas 2017 | Pictures & Templates
Stencils: Best scary jackolantern pattern, scary templates, scary, spooky pumpkin carving design faces collection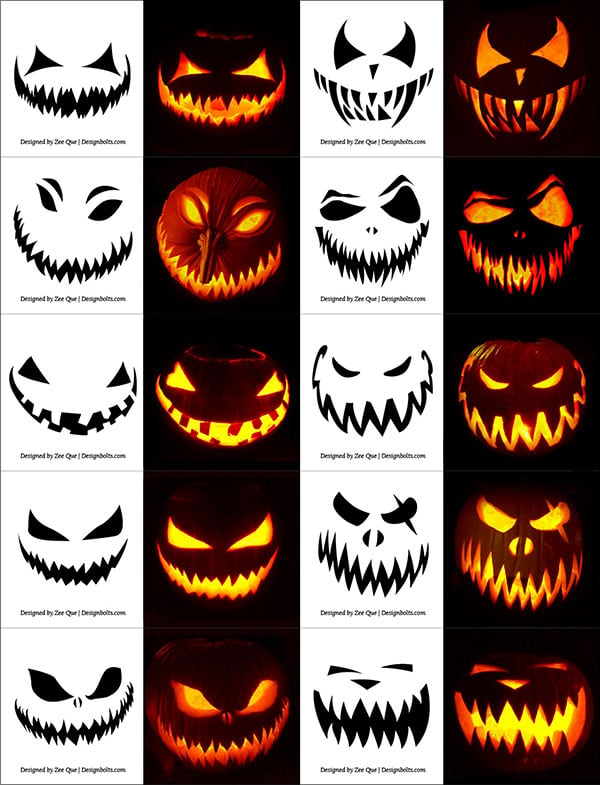 10 Free Printable Scary Halloween Pumpkin Carving Patterns / Stencils & Ideas
Horror, scary, venom inspired, wolf inspired, creepy halloween carving patterns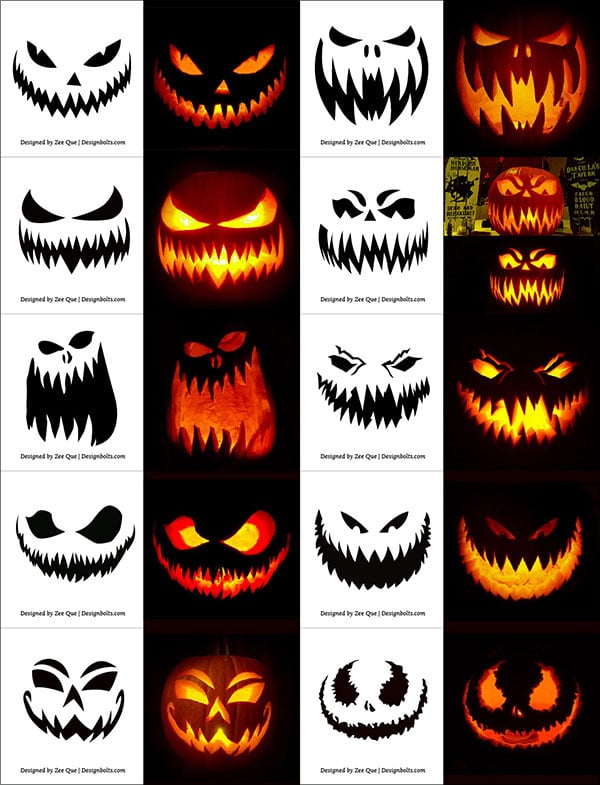 10 Easy Halloween Pumpkin Carving Stencils, Patterns & Printables for Kids
Stencils: Cute funny cool mike wazowski, horrified, ghost, traditional, very simple stencils for kids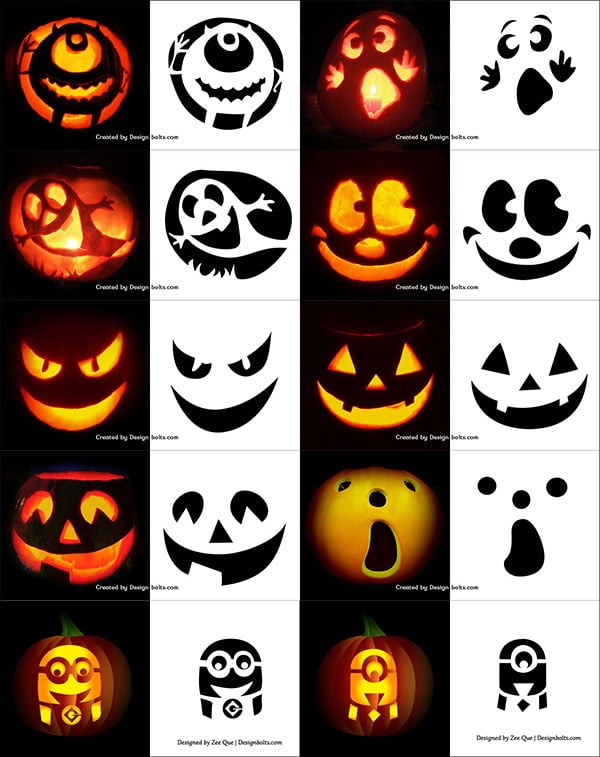 10 Free Scary Halloween Pumpkin Carving Patterns, Stencils & Printable Templates Advanced
pikachu, spider, wolf, scary tree, creative, best scary pumpkin, spooky jack, scary face pumpkin pattern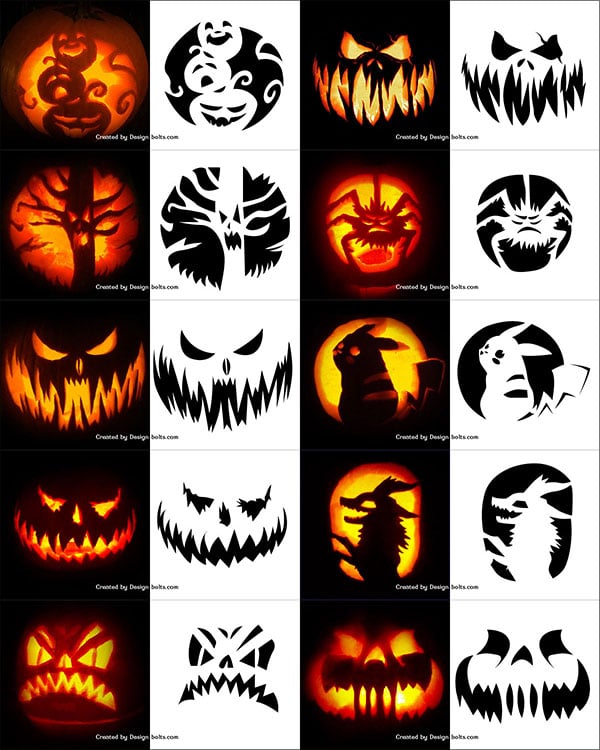 10 Free Halloween Scary Pumpkin Carving Stencils, Patterns, Templates, Ideas
Collection: Cheshire cat, flying bat, spooky stencils, upside down bat, headless magician, trick or treat pumpkin stencil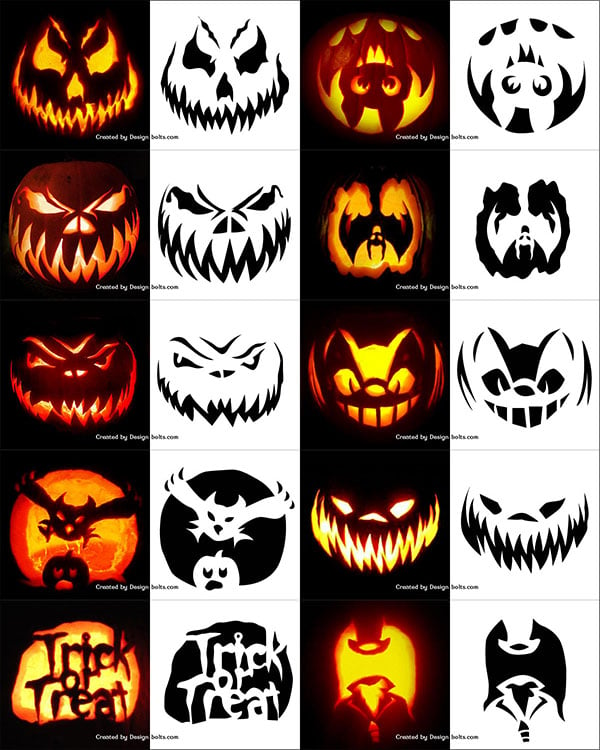 10 Free Halloween Scary & Cool Pumpkin Carving Stencils / Patterns / Templates / Ideas
Stencils: Cool sugar skull, monster, scary, lion, flying bat, ninja turtle, howling fox/werewolf, owl with moon, skull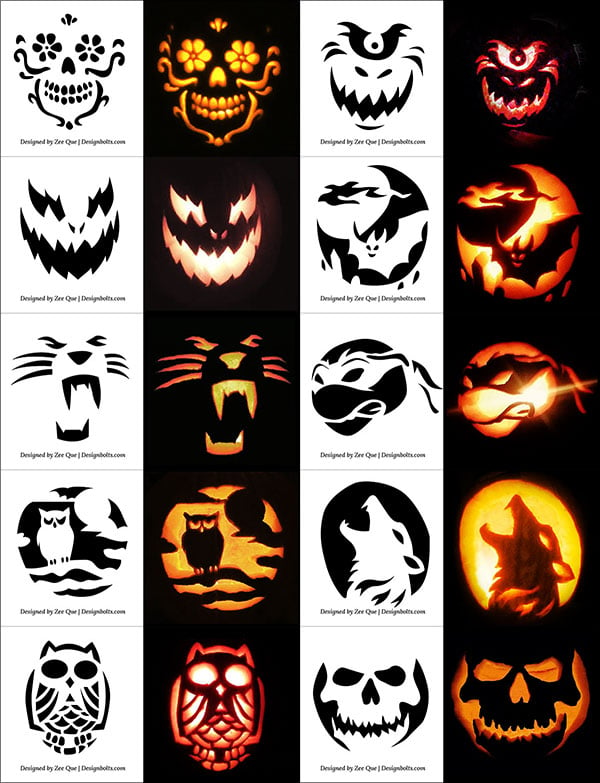 10 Free Halloween Scary Pumpkin Carving Stencils / Patterns / Templates / Ideas
Patterns: Witch, hand, advance, extreme, dragon, zombie, skull, cheshire cat, witch with cauldron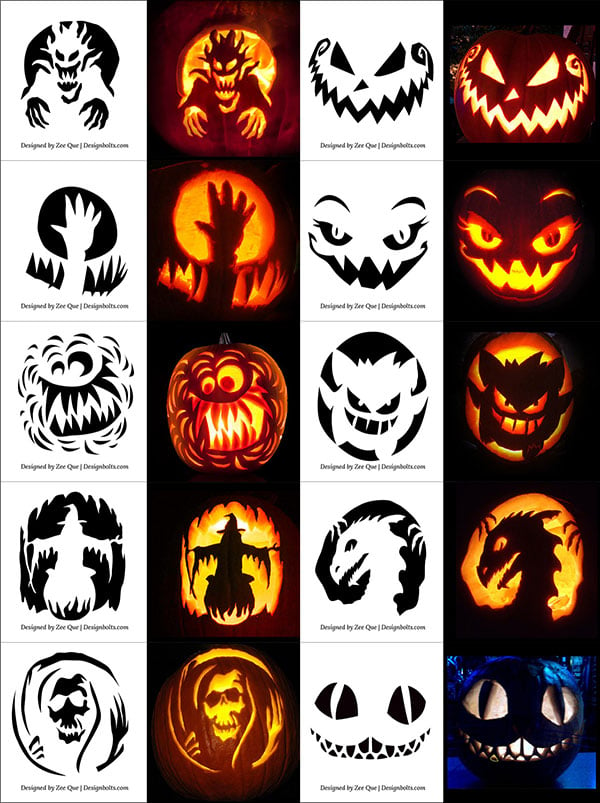 15 Free Printable Scary Halloween Pumpkin Carving Stencils / Patterns & Ideas
Total 15 stencils 10 from the image below and 5 from the below image | famous pumpkin stencil, cat, ghost, dracula, witch flying on broomstick, scary child, skull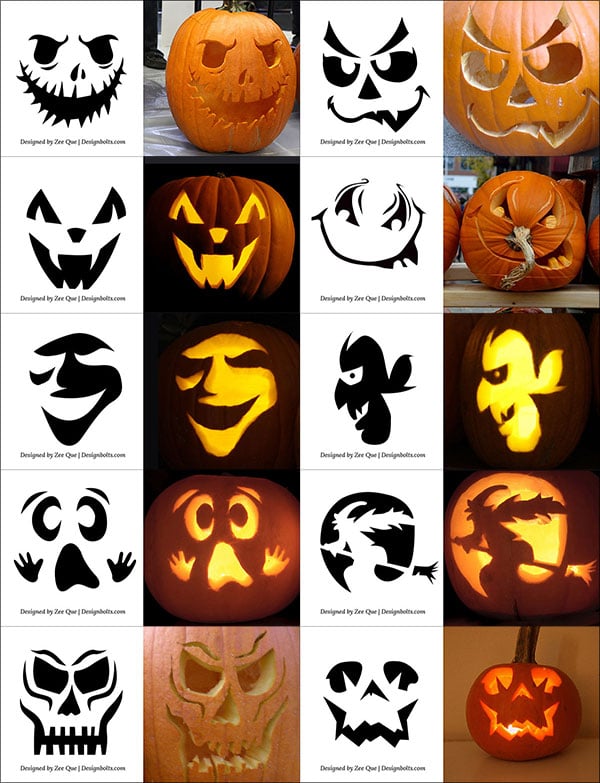 5 Easy Yet Simple Halloween Pumpkin Carving Patterns / Stencils for Kids
Last 5 simple pumpkin stencils for kids rest are on the above page | scary witch, owl, toothless black dragon, simple easy pumpkin stencil, cute cat, superhero batman logo, scary house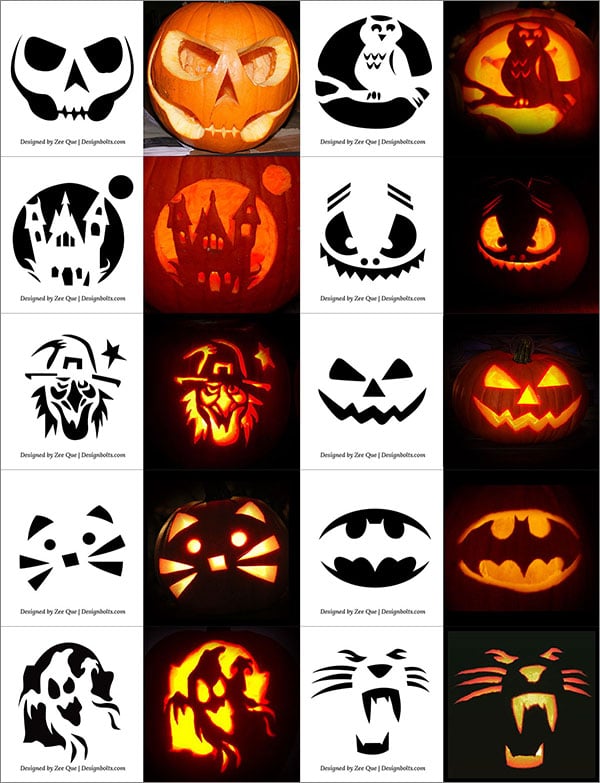 10 Free Printable Scary Halloween Pumpkin Carving Patterns / Stencils & Ideas
Stencils: Big face with scary teeth, mummy, witch with cauldron, traditional stencil, scary face pumpkin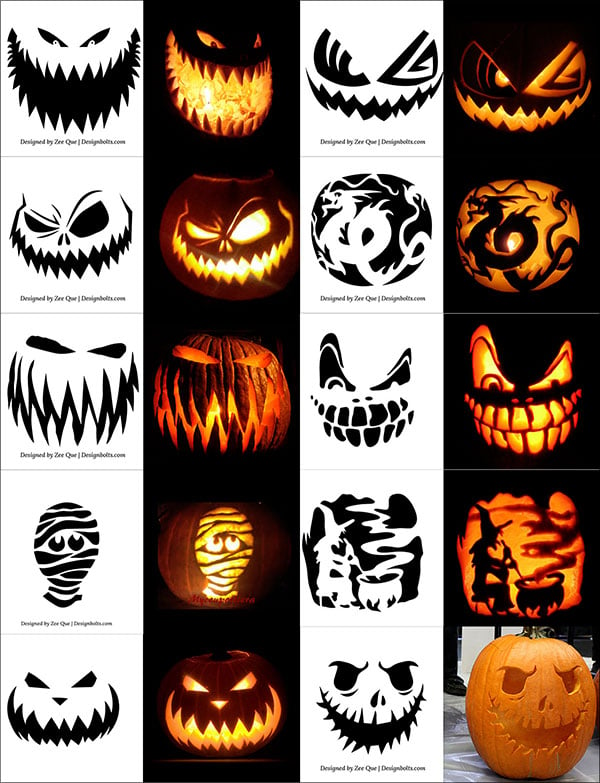 10 Cute, Funny, Cool & Easy Halloween Pumpkin Carving Patterns / Stencils & Ideas
Cutout Patterns: cute cat, transformer logo stencil, catwalk stencil, go away, spider, cute bat minion of despicable me movie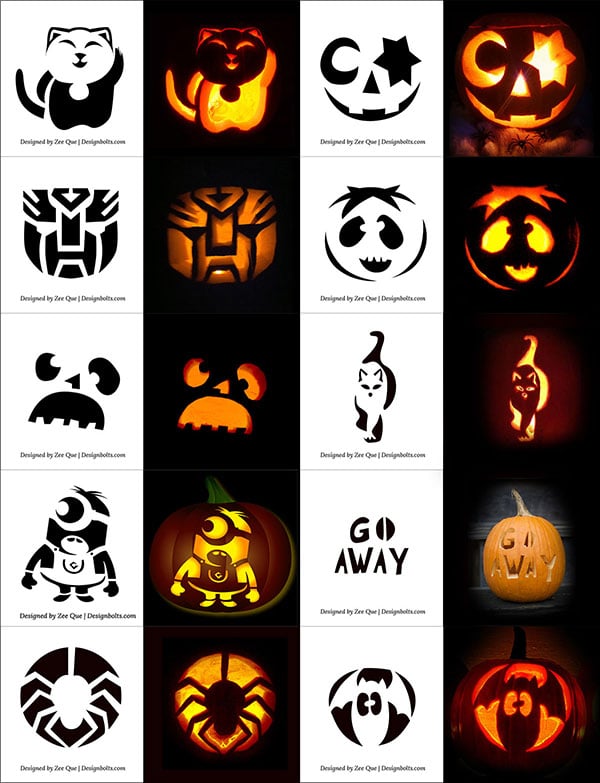 10 Free Scary Halloween Pumpkin Carving Patterns / Stencils & Ideas | Printable Templates
Pumpkin stencils: witch flyer, ghost, snake, howling were wolves, black cat, scary pumpkin design, pumpkin carving face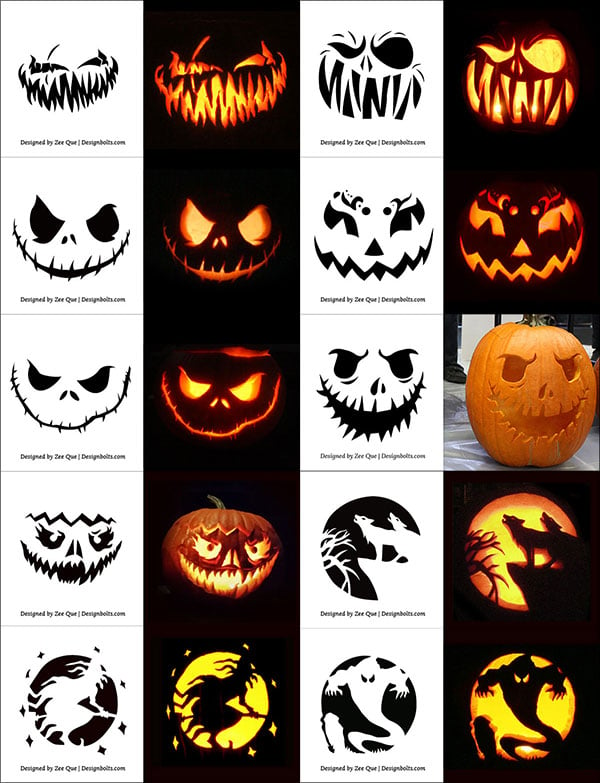 10. Halloween Free Scary Pumpkin Carving Patterns | 10 Scary Pumpkin Carving Templates
Stencils: Traditional pumpkin, easiest, simple, beginner, jack o lantern collection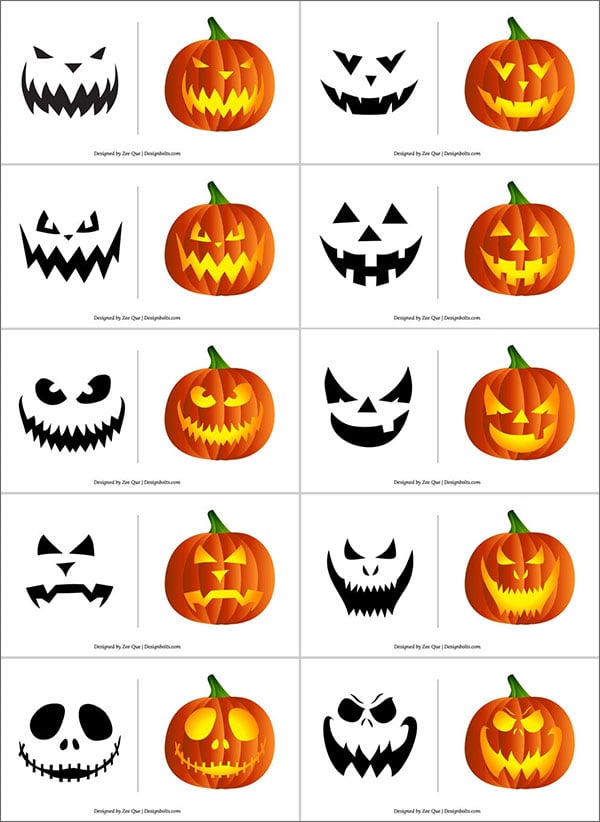 15 Free Simple Halloween Pumpkin Carving Patterns In Vector Format
Boo, halloween, ghost, witch face, very simple, easy pumpkin, simplest carving patterns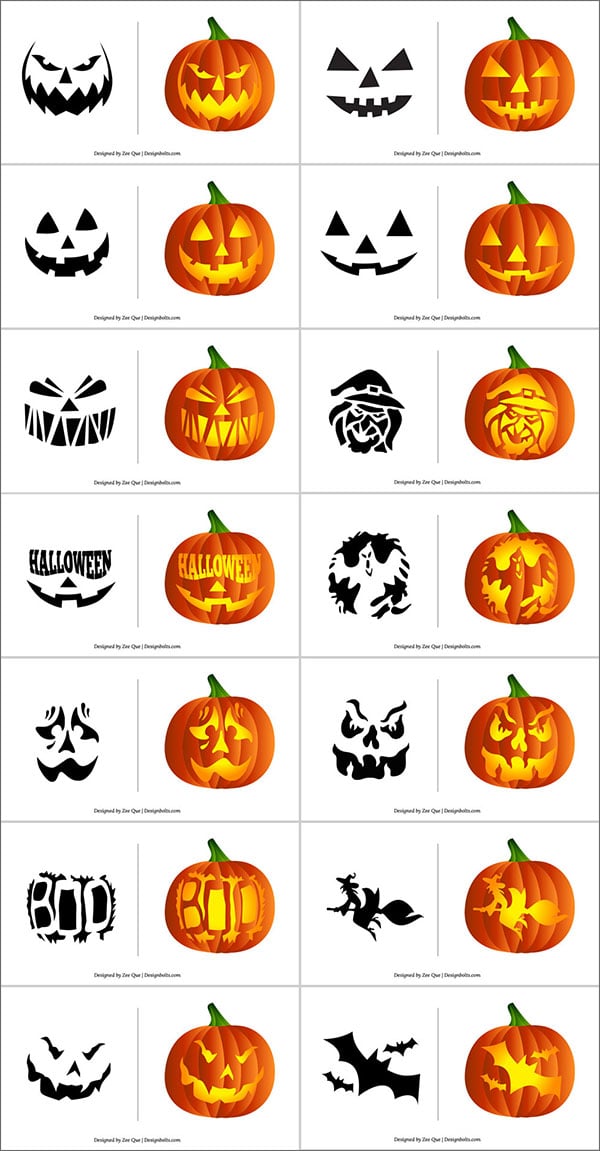 10 Best Free Minion Pumpkin Carving Stencils / Patterns & Ideas for Kids 2015
Best minion pumpkin collection including gru, crazy minion, bob, kevin, stuart minions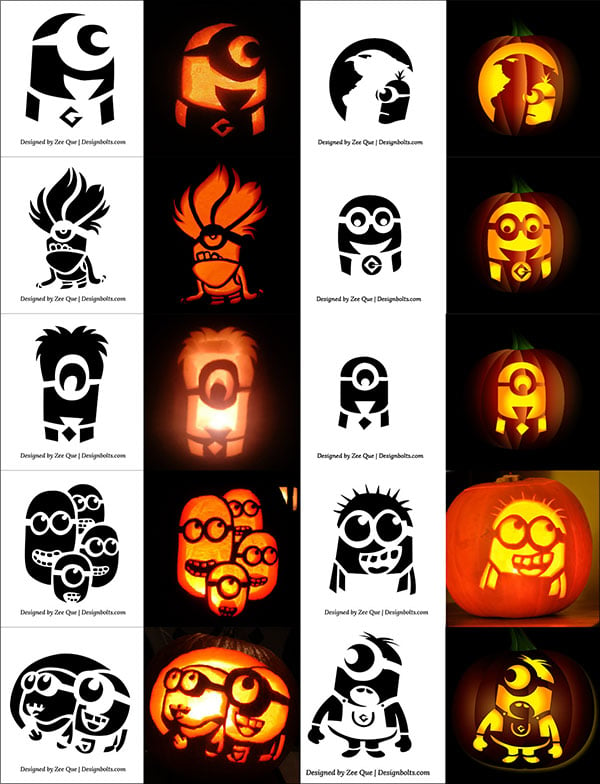 10 Free Scary Halloween Pumpkin Carving Stencils, Patterns & Ideas 2018 | Jack O Lantern Faces & Images
Most scariest pumpkin carving stencils by designbolts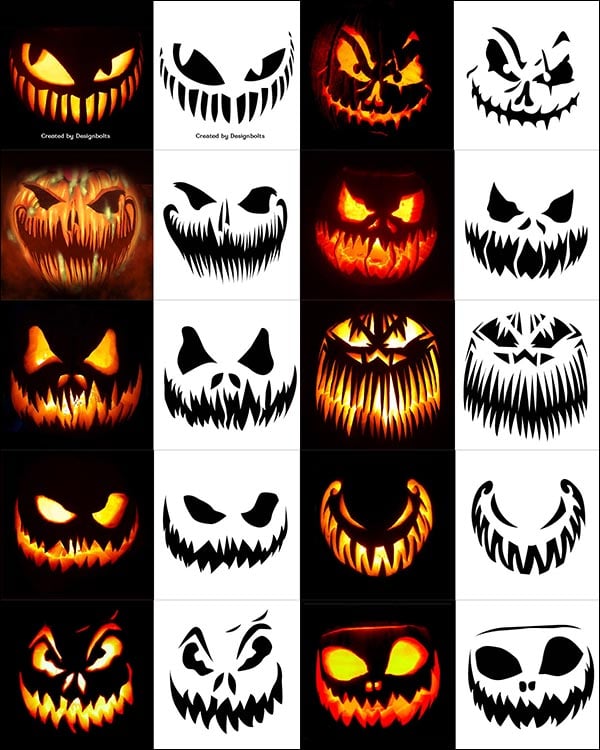 10 Free Scary Halloween Pumpkin Carving Stencils, Patterns & Ideas 2018 | Jack O Lantern Faces, Designs &
Images
Scariest pumpkin carving designs, pattern drawings, skeleton and jack o lantern collection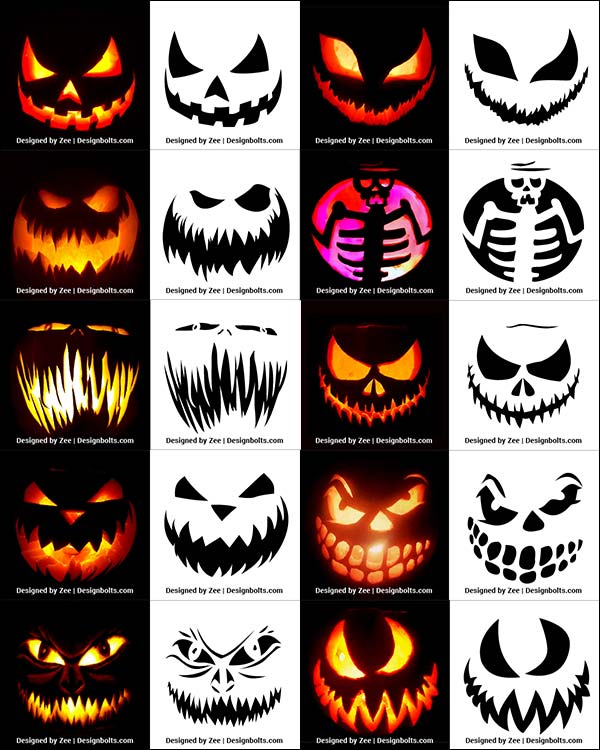 10 Free Easy Halloween Pumpkin Carving Stencils, Patterns, Print Templates & Ideas 2018 for Kids
Easy yet simple pumpkin carving collection for kids even adults
10 Free Scary Halloween Pumpkin Carving Stencils, Patterns, Faces & Ideas 2018
Alien, cheshire cat, creepy pumpkin, best pumpkin collection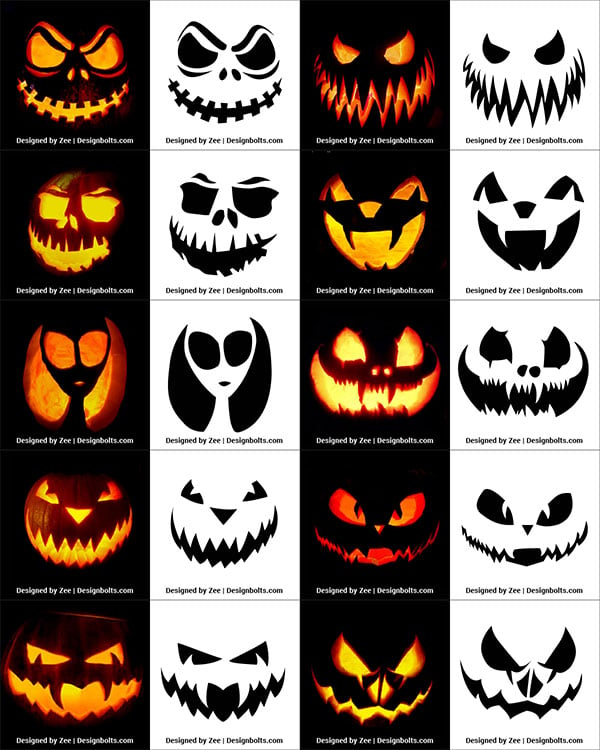 10 Very Easy Halloween Pumpkin Carving Stencils, Ideas, Patterns for Beginners & Kids 2018
Boo, lizard, mike, cat, ghost, easiest, ghost, supernatural for everyone. cool pumpkin of mike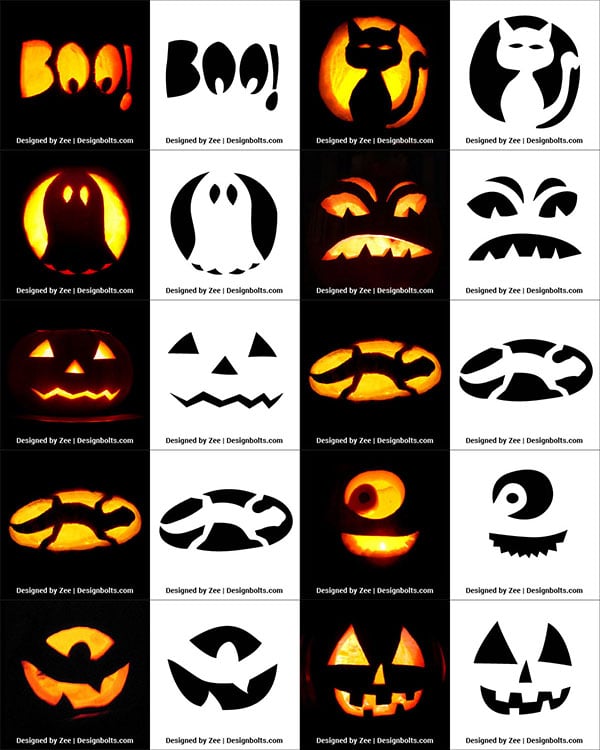 5 Venom Inspired & 5 Scary Pumpkin carving Stencils, Printable Patterns, Ideas for Halloween 2018
Venom pumpkin carving pattern, mummy, scary stencils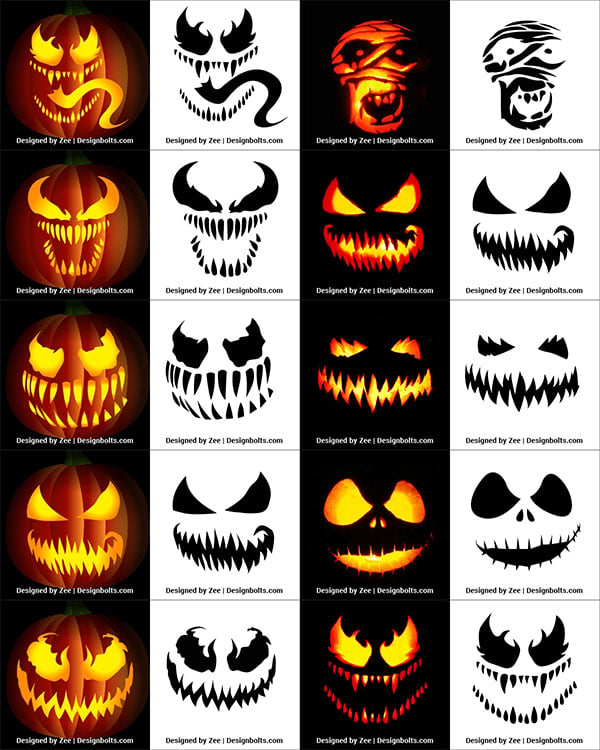 5 Venom Stencils & 5 Movie Scary Pumpkin carving Stencils, Printable Patterns, Ideas for Halloween 2018
Collection: Venom official scary face pumpkin carving, venom inspired side face, Michael Myers, howling wolf, scary fire skull, deadpool pumpkin carving stencils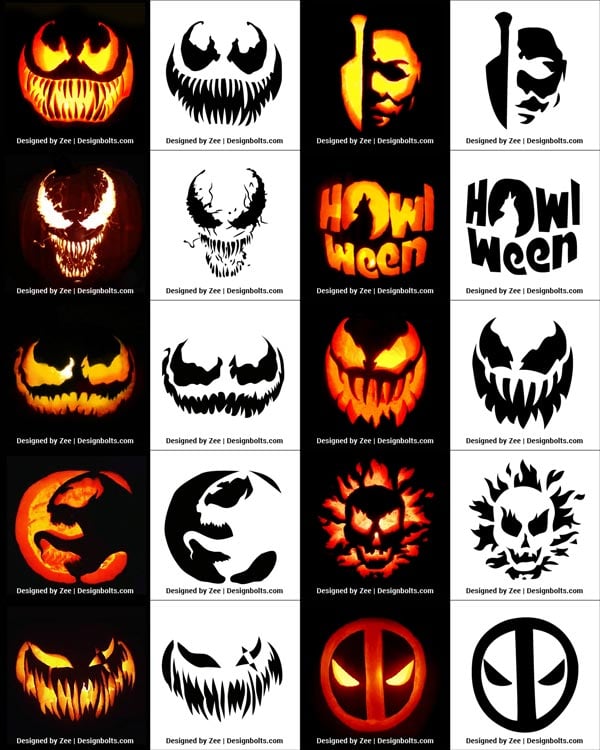 550+ More Pumpkin Stencils Ideas, Examples, Pictures & Jack O Lantern faces: