Hi there everyone! We hope that you all are having an awesome time reading our blogs and that you are making the most of them too. Also, guys, can you believe that soon it is going to be Halloween? (Whaaat?!) Well, yeah, that is correct and since we, now kinda feel that time is flying faster than it used to, in the past, we wanted to share not just 20 or even 50 but 100+ scary Halloween pumpkin carving ideas with you guys that you and your loved ones can carve out and decorate your personal spaces this year. So, let's dive right into it, shall we?!
Recommended: 100+ Painted Pumpkin Ideas
In this part of our blog, we are going to be mentioning our favorite scary Halloween pumpkin carving ideas that you can check out and also try in 2023. Make sure that you guys have read the blog till the very end to make the most of it.
Recommended:
– – – – – – – – – – – – – – – – – – – – – – – – – – – – – – – –
400+ Free Printable Halloween Pumpkin Carving Stencils, Patterns, Designs, Templates, Faces & Ideas for UK, Canada, Australia, USA
Best Halloween Pumpkin Stencils Ever For the Year 2024, 2023, 2022, 2021, 2020, 2019, 2018, 2017, 2016, 2015, 2014, 2013, 2012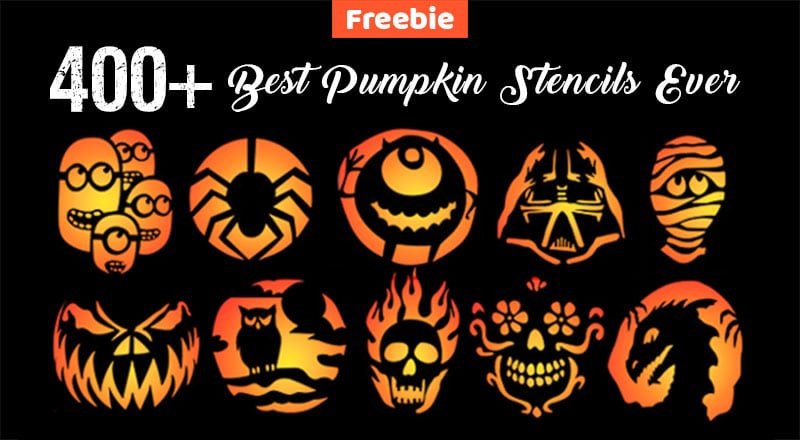 – – – – – – – – – – – – – – – – – – – – – – – – – – – – – – – –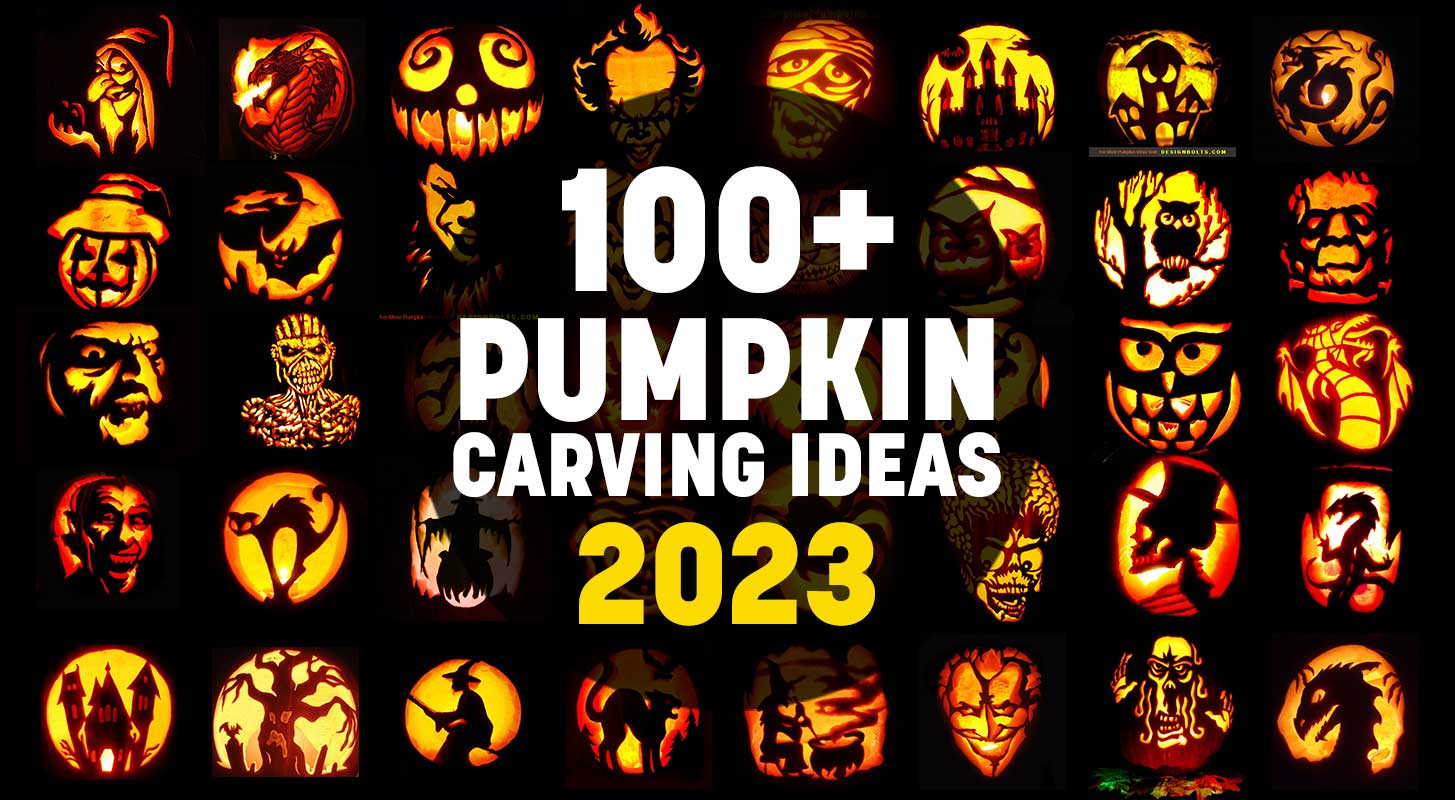 1. Classic Jack-o'-Lantern: 🎃
Start with the classic Jack-o'-Lantern design. Carve out triangular eyes, a toothy grin and a wicked nose. Keep it traditional or add your own twist to make it stand out from the rest. But know that this one is never going out of fashion!
Recommended: 50+ Scary Halloween Pumpkin Carving 2021
2. Wicked Witch:
Carve a witch's face into your pumpkin and complete it with a crooked nose, a pointy hat and a cackling mouth (if you're feeling creative!). Add some details like warts or a spider crawling on her hat to make it even spookier. 😉
3. Creepy Clown:
Clowns have always had an eerie presence. Carve a spooky clown face into your pumpkin with exaggerated features and an evil grin – if you want to make it look even scarier. And paint it with vibrant colors for an extra creepy effect.
4. Haunted House:
This might take some time if you are a beginner but it'd be fun, that's for sure. Transform your pumpkin into a haunted house scene. Carve out windows, doors and a couple of spooky trees. Use candles or LED lights inside to make it glow in the dark.
5. Sinister Skull: 💀
Carve a skull face into your pumpkin to make it look appropriate for Halloween decor. Get creative with intricate details like cracked bones or cobwebs. Place a candle inside to bring the skull to life.
6. Scary Cat: 🐈
Carve a menacing cat face into your pumpkin with sharp fangs and piercing eyes. Add a tail or whiskers for extra flair.
7. Bat Attack:
Carve out a swarm of bats flying around your pumpkin. Make them appear like they are in motion all set to take flight on Halloween night.
8. Spooky Spider:
Create a spider web design on your pumpkin and add a creepy crawler at the center. Use smaller pumpkins as spider eggs to complete the eerie scene.
9. Frankenstein's Monster:
Carve out Frankenstein's iconic face and complete the look with bolts on the neck and a stitched forehead. Paint it green and add scars to make it look real.
10. Haunted Tree: 🌳
Carve a twisted tree into your pumpkin with gnarled branches and a sinister face in the trunk. Place smaller pumpkins around it to mimic a haunted forest.
11. Vicious Vampire:
Carve a vampire's face into your pumpkin; complete with sharp fangs and blood-red eyes. Use red paint or LED lights to make it even more scary-looking.
12. Eerie Owl:
Carve an owl's face into your pumpkin with haunting eyes and a sharp beak. Add feathers or intricate patterns for an extra touch of realism.
13. Wicked Wizard:
Carve a wizard's face into your pumpkin with a long beard, pointy hat and a magical staff – if you may. Paint it with shimmering colors to give it a mystical aura.
14. Demonic Dragon: 🐉
Create a dragon-themed pumpkin carving with fierce eyes, sharp teeth and scales. Add LED lights to make it look like it's breathing fire.
15. Cursed Mummy:
Carve a mummy (face) into your pumpkin, with wrapped bandages and hollow eyes. Use a candle inside to cast eerie shadows through the bandages.
That is all from our end for today, you guys! We hope that you not only enjoyed reading the blog but that you are very excited to check out all the scary Halloween pumpkin carving ideas for 2023 in detail and would also save the ones that you are going to be using to carve your pumpkins this year with friends, family members, etc. We would love to hear your feedback so feel free to send it in and while you are at it, don't forget to let us know if you guys have any special requests in mind too so that we can work on them and be back here super soon. Until next time, keep working on great thoughts & things!
Recommended: