Hi there friends! We are back with yet another Halloween related blog of ours and this one's going to make you fall in love with us even more. Want to know why? That's because we have tried to make your Halloween party décor a super easy thing and you are going to each and everything from this blog so, let us get started!
Recommended:
– – – – – – – – – – – – – – – – – – – – – – – – – – – – – – – –
400+ Free Printable Halloween Pumpkin Carving Stencils, Patterns, Designs, Templates, Faces & Ideas for UK, Canada, USA | Best Stencils Ever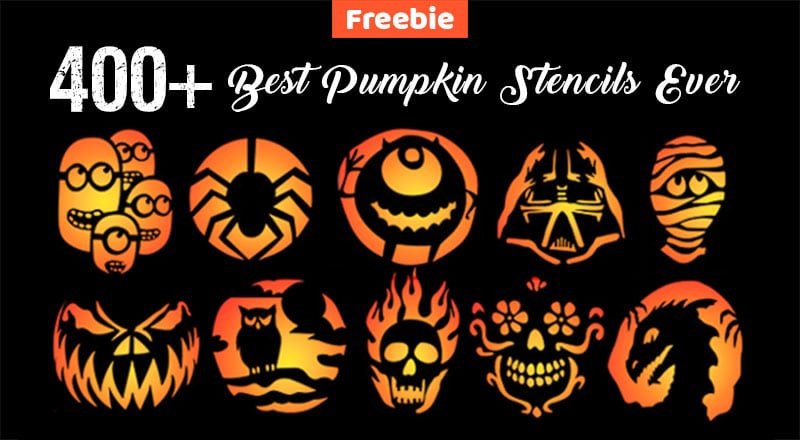 – – – – – – – – – – – – – – – – – – – – – – – – – – – – – – – –
Alright, we know that you guys are not prepared for your Halloween party and there are some of you who haven't even started to plan out the party. Know that, that's okay because well, that is literally how things can become and what is life without any drama, yeah? Anyways, so we get that most of you might not have a lot of time to sit down and think of all the possible things that could help you in planning a perfect Halloween party and to make that an easy thing for you and your family members, we decided to create a list of not just 10 or 20 but 50+ stunningly beautiful no-carve pumpkin decoration ideas that you must try in 2020.
Recommended: 100+ Painted Pumpkin Ideas
We can already tell that you guys are excited about having a look at what we are about to share and the best thing about our blog is that it has a variety of ideas for different age groups of people to try out this year. Like we have mentioned this earlier as well that pumpkin carving might take a lot of your time because you will have to scoop out the pumpkins, you will have to sketch the characters and then you will have to carve them too, we thought that decorating them with other stuff will be just as perfect.
There are a lot of things that you can literally find at home to decorate the pumpkins but even if you think that a certain something is not available, then here is a list of items that you can go through and see what you will need to initiate the process of the no-carve pumpkin décor:
Glue
Lace
Chalks
Sequins
Ribbons
Stickers
Paint pens
Mod Podge
Cheesecloth
Googly eyes
Spray paints
Acrylic paints
Ping pong balls
Tissue papers
Glitter powder
Fake eyelashes
Aluminum wires
Copper foil tape
Copper string lights
Self-adhesive jewels
All of these items will help you in creating more than just the regular Jack-o'-Lantern – that you love to make – yes, but with these ideas that we have for you will make your party décor so attractive that it will become a talk of the town. Like our previous Halloween blogs, for this blog as well you guys must work on the theme to go forward. Yeah yeah, we get that, that you do not think you would be able to think of the theme because well, you are on short on time and we are not buying that (not that, you guys!). Halloween must be fun, and you have got to make it more fun by celebrating it by yourself or with the ones you love.
Recommended 600+ Pumpkin Carving Ideas
For themes, here are a few ideas that won't take a lot of your time but man, you are going to find it hard to resist the ideas. Allow us to share them with you! Okay so, how does your guest list look like? Are you inviting friends that are single, friends that have significant others or friends that have spouses and kids too? This question is important as it will help you set the course of the party in a better way as for adults, you know that you will only have to work on scary ideas (that can be as scary as it can get) and if kids are going to be there, then of course, you will have to keep it cutesy, adorable and mild. 
Recommended: Advanced Pumpkin Carving Ideas
Then for the décor, you can make a mummy by just wrapping the cheesecloth around one of your freshly bought pumpkins – don't forget to make the eyes using a construction paper in black color. Or insert / stick ping pong balls on the pumpkins and a paper nose like that of a raven to give it a scarier look. You can also create a spindly spider by joining three different sized pumpkins together, and for legs, use the aluminum wire to make the pumpkins stay on the ground.
Recommended: 25+ Easy Pumpkin Carving Ideas 2020
With the foil paper, you can create characters like witches or objects like leaves and stick them on the pumpkins to give them a shiny look. With self-adhesive jewels, you can decorate the pumpkins as much as you want, and you will end up with super attractive pumpkins. In addition to these ideas, we have tons of other pretty interesting ideas for you guys and we are super excited to try them, we know that you are too. Pumpkins are shared from Instagram Tag
50+ Stunning No-Carve Pumpkin Decoration Ideas 2020
More Awesome Halloween Pumpkin Carving Ideas: