Hey there guys! We hope all of you are being awesomely creative with your designs and art works. Today we won't be sharing any PSDs or some easy-to-follow tips because this blog has something different & very special for you. Since time flies faster than a jet aircraft (at times) and soon it will be Halloween, we decided to write this blog that has more than 35 pumpkin carving ideas 2019. So, let's get started!
Different things are required to carve and 'create' the best pumpkin décor at houses, workplaces and restaurants etc. for example; fresh and beautiful pumpkins (don't worry if you don't seem to find beautiful pumpkins though – as you can make good use of the tiny bumps and bruises), proper carving knives and of course some pumpkin carving skills so that you don't carve out something too difficult or scary to comprehend, you know!
We have seen many people carving out their pumpkins as Jack-o'-lanterns for years (with no regrets) but what is that that can make you popular in the neighborhood? It's basically when you start improvising and use your pumpkins & carving skills to create things that are not so common. At this point we can think of owl bowls, candle bowls and even some characters using different sizes of pumpkins. And if you have always been a Cinderella fan then trust us we would love to see some pumpkin carriages too.
Halloween parties can be a little too overwhelming for a lot of people and when that happens, we unintentionally ignore some important stuff. And while we are getting done and over with the major arrangements, we don't get a lot of time to properly carve even the simplest things on the pumpkins – which, just by the way is the essence of a Halloween décor in our opinion. To avoid such situations people normally hire party planners and that means some extra bucks and there are chances that your budget will get disturbed. We are no party planners but if you are here for some kick ass solutions then know that we have got some!
Okay so, there are many tips and strategies which you can follow to ensure that your place gets an unannounced but the best pumpkin décor ever award. Allow us to share those tips with you:
First things first; buy a nice pair of rubber gloves so that you don't get grossed out with all the 'scooping out' process.
Get fresh pumpkins when you plan on carving them for your Halloween parties and décor. Pumpkin stems will let you know if the pumpkins are fresh or not. Things which you must keep in mind while purchasing pumpkins are:
Sturdy stems
Flat bottom (so that the pumpkin doesn't roll while you carve)
Always make sure that you don't start carving from the top. Your area of interest should be the bottom of your pumpkins. This will help you in carving out the entire pumpkin easily.
Your next step should be to spoon the gulp out which can be done with an ice cream scoop as well so don't fret about getting any special tools for that.
Now comes the interesting part, if you want to carve out some of the spookiest creations on your pumpkins then you also have to make sure that you are on the right track. Do not carve directly on the pumpkins! Sketch your design on a piece of paper first. Trace your sketches on the pumpkins – you can use a pencil or a fork to draw lines / poke holes and then start the carving process. In this way your pumpkins will turn out to be just great.
Since we have suggested to create designs which you haven't thought of creating before 2019, we would also like to suggest here that you can create interesting stories as well. For example; your pumpkins can have different characters carved on them which will complement other pumpkins resulting in a series of short stories.
This is something a lot of people don't know but you must always have a spray water bottle with you while you are carving pumpkins. It is true that a pumpkin won't oxidize as fast as a banana does but you need to keep the pumpkins wet. In this way, your pumpkins will stay fresh allowing you to (still) work on them.
Also, make sure that you don't have any other commitments when you plan to start carving the pumpkins because once a knife touches a pumpkin, the process of decomposition starts which will result in some 'dead' and dry pumpkins.
We know that we have said this before as well that you don't have to worry if your pumpkins have bruises or if they are in weird shapes and we would want to re-mention it – because those weird sizes and shapes are going to help you in creating unique designs.
That's all for today guys! We hope that now you know what to carve and how to carve on your pumpkins. If you liked this full of ideas blog of ours, don't forget to share it with your friends and family members as well.
– – – – – – – – – – – – – – – – – – – – – – – – – – – – – – – – – – – – – – – – –
Don't miss out these cool Halloween freebies:
– – – – – – – – – – – – – – – – – – – – – – – – – – – – – – – – – – – – – – – – –
35 Scary Halloween Pumpkin Carving Ideas 2019 for Kids & Adults
Featuring: cool, skull, scary cat, scary jack o'lantern, scarecrow, skeleton, mummy, The crow, wicked witch,  scary faces, scary pumpkin designs, owl, joker, boo, alien, monster, rip & scary wolf

290+ Free Printable Halloween Pumpkin Carving Stencils, Patterns, Designs, Faces & Ideas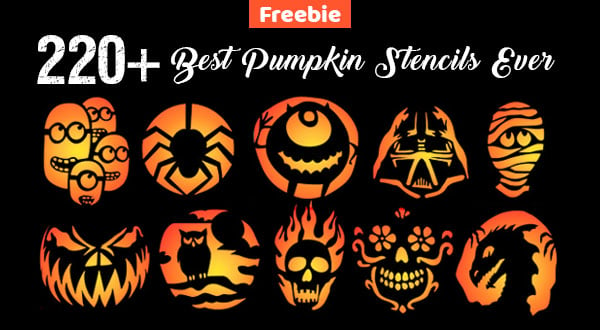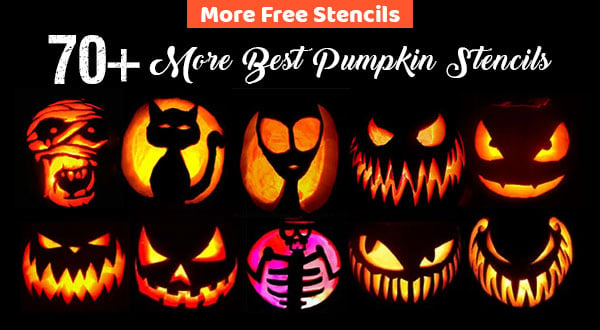 More pumpkin carving ideas to explore: