Hello there everyone! We are overwhelmed to see your response on our previous blogs and for also sharing our content with your friends & loved ones. As you know that we are always trying to create nothing but the best, we decided to share yet another free mock-up PSD of an A4 flyer with you guys but unlike the previous ones, we would like to mention that it is a floral mock-up to give it a more professional look. So, let us get started!
If you are a businessman or if you are working for an advertising & marketing agency then you would know how convenient and effective A4 flyers are. This mode of communication does not only let you advertise and market your product / services in a better way by allowing you to use enough space to talk about almost everything but flyers are cost effective too and that helps the businesses getting done with things in a better way.
Before we start talking about our free floral A4 flyer mock-up PSD file, we would like to share a few pointers for those friends who have started reading our blog quite recently and we believe that it is always a great idea to explain the basics first.
So, a flyer is a piece of advertisement that is created with the intention of promoting products and services of a business and the flyers are distributed widely across the city through multiple ways. We are sure that you must have happened to get a bunch of flyers while you were roaming around inside your favorite shopping mall or when you come back to your car and there is a flyer or two waiting for you. That is one way of spreading the message and then there are other ways like tagging a flyer along newspapers and magazines etc.
And what happens is that your printed message reaches a huge number of people in a matter of hours while you wait for your potential clients & customers. Although, you cannot really measure the success of a flyer by just handing it over to people but what you can measure is the foot-fall or the number of online orders that came in after the flyers were distributed.
We think that it is a nice idea to go about it too as your representatives and team members can also answer the queries of your potential customers then and there when they are distributing the flyers. Design-wise, a flyer is considered to be one of the best forms of paper advertisements as you get a plenty of space to talk about what you are offering as a business and the best part is that you can also divide the flyer into sections to talk about two or three objectives that you would want to achieve through your flyers.
Allow us to share a few tips with you so, that you can follow them and create the best A4 flyer designs for yourself as well as for your clients. For any advertising and marketing material, copy matters the most. We are not saying that you can go easy on the overall design or the quality of the promotional piece but you must grab the attention through brilliant copy.
For an A4 flyer, keep the copy short and understand that it is for a flyer so, you would want the "reader" to skim through it and get the message too. For example; if you are planning to deliver two different messages like opening of a new outlet and a discount for say first hundred customers then you need to focus on the keywords here. With typography and colors, you can do whatever you want to do to make the flyer speak for itself.
Then comes the material of the flyer – and know that it has to be of good quality because it is literally the first thing your potential customer is getting from your business and you must make a good impression. Although we know that when it comes to budgets, many business people do not believe in spending a lot of money on the promotional materials but if you want to be more successful than your business rivals then you have to put in the effort & right amount of money as well.
Okay so, we believe that with our tips, you will be able to create interesting designs of your own A4 flyers and our free floral A4 Flyer mockup PSD file is all set to help you make and present a professional and realistic display of your designs.
So, what are you guys waiting for? Get your hands on our free mock-up PSD file, experiment and play with colors, design elements and text and we hope that you will be able to have all the mock-ups approved in your very first review meeting. Don't forget to share how you liked our blog and also share it with your friends & favorite colleagues too!
– – – – – – – – – – – – – – – – – – – – – – – – – – – –
More Awesome Free Mockups:
– – – – – – – – – – – – – – – – – – – – – – – – – – – –
Free Shadow Floral A4 Flyer Mockup PSD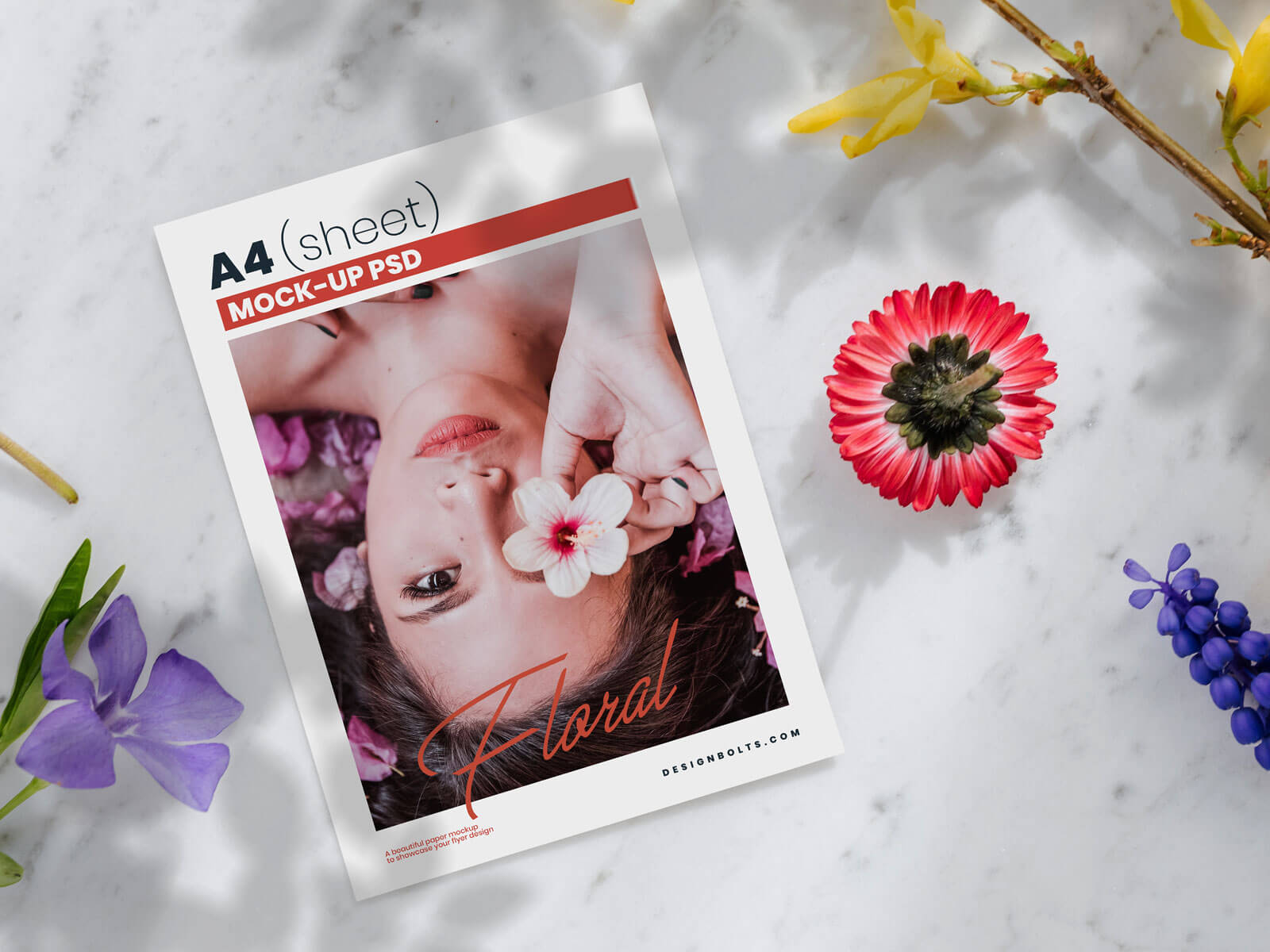 Available Format: Layered PSD with smart object insertion
License: Free for personal and commercial usage
RAR File Includes: Free A4 Mockup PSD
Design Template Resolution: A4 (300dpi)
Note:
1. Free PSD Mockup is allowed to share online (A Must Linkback to this post)
2. Say thanks if you like or share/tweet with your friends. That means a lot to us.
3. And don't forget to subscribe to receive for more high quality premium freebies & awesome articles only.
Download A4 Mockup
More A4 Size Free Mockups: