Since Halloween is (almost) around the corner and so many of you wanted us to share more blogs related to the night, we had to do what is being requested in the comments section. Also, hi guys! Before we get to the point, we want you all to know that our today's blog has some really interesting & scary (of course) pumpkin carving ideas 2019. In addition to that, you will also be able to get your hands on some super cool carving stencils as well as patterns.
Do you know what that means? That means that your Halloween party is going to be the best party in your entire neighborhood. Are you in? Of course you are – drop everything that you are doing and continue reading our blog.
Everything which we will share in this blog today can help people in decorating their personal spaces as well as their offices and clubs. Let's get started with the basic things which you will need to make things happen the right way:
Fresh and big pumpkins (5 to 6 are more than enough for a house party)
Carving knives
1 (large) scoop
Loose sheets of paper
A pair of scissors
Lead pencils
Tooth picks / skewers
Tissue papers
Spray water bottle
Time – No distractions allowed!
Creativity & Imagination
Oh, and it's okay if you feel that you are not very good at pumpkin carving or carving in general because we will also share some easy to follow carving tips with you. Okay so, what exactly do we have for you?! Continue reading to know more!
We know that a lot of people around the world absolutely love the idea of carving the old Jack-o'-Lantern on their pumpkins every year. It is simple yes, we agree! It doesn't take a lot of time either and that's correct too but don't you think that we should, sort of upgrade our carvings now? The least we can do is to improvise and keep creating designs that are unique and can make us happy.
We are not asking you to drop the idea of carving Jack-o'-Lanterns out of the pumpkins now but what we are saying is that we must look around and explore some new and scary designs. To help you save your time in Googling your ideas, we have compiled modern ideas for you for example; "Mummy Pumpkin", Venom Pumpkin then you can be a little more creative by adding the element of horror to faces etc. – make the teeth look bigger than usual, sharpen the edges nicely as this will give proper texture to the overall idea.
If you are someone who has to take care of the Halloween décor for government officials then you can carve their party signs on the pumpkins too. For children, you can create short and interesting series / story. This will also help them in connecting dots and making stories on their own. If the party is being arranged for couples then you must use the pumpkins for some interesting games like a treasure hunt or even a carve-it-out competition as well.
Recommended: How to carve a pumpkin
There are certain carving tips which a lot of people don't know of and then they end up having 'dead' pumpkins. It is important to note here that whenever you start the process of carving the pumpkins, you must ensure that you don't have anything else on your plate. It should be just you and the pumpkins – as pumpkins start oxidizing as soon as a knife touches them.
In order to keep your carved pumpkins last longer, you must always follow the below mentioned tips and yes, you can thank us later!
It's obvious but we must say it – make sure that the pumpkins are fresh before you purchase them!
Cut the pumpkins open ONLY when you are about to start the carving session.
Clean them from the inside as much as you can!
Optional: You can also give your pumpkins a water and bleach bath as well AFTER you have done the carving.
Apply petroleum jelly on the edges which you have carved for an added layer of protection.
Use your water spray bottle to rehydrate the pumpkins on a regular basis.
You can literally refrigerate your carved pumpkins too if you feel like using them for like another day.
In addition to all the tips that we have mentioned above, you can also give your carved pumpkins an overnight ice bath as well. This trick will serve as a great dehydration session for your not-so-fresh pumpkins.
And if you still think that you won't be able to handle carving knives well then use acrylic paints to draw and paint your desired ideas by using our stencils or patterns – [In this way you can also save pumpkins for a pumpkin dessert party later just sayin.
– – – – – – – – – – – – – – – – – – – – – – – – – – – – – – – – – – – – – – – – –
Don't miss out these cool Halloween freebies:
– – – – – – – – – – – – – – – – – – – – – – – – – – – – – – – – – – – – – – – – –
10 Scary Halloween Pumpkin Carving Stencils, Ideas, Patterns for 2019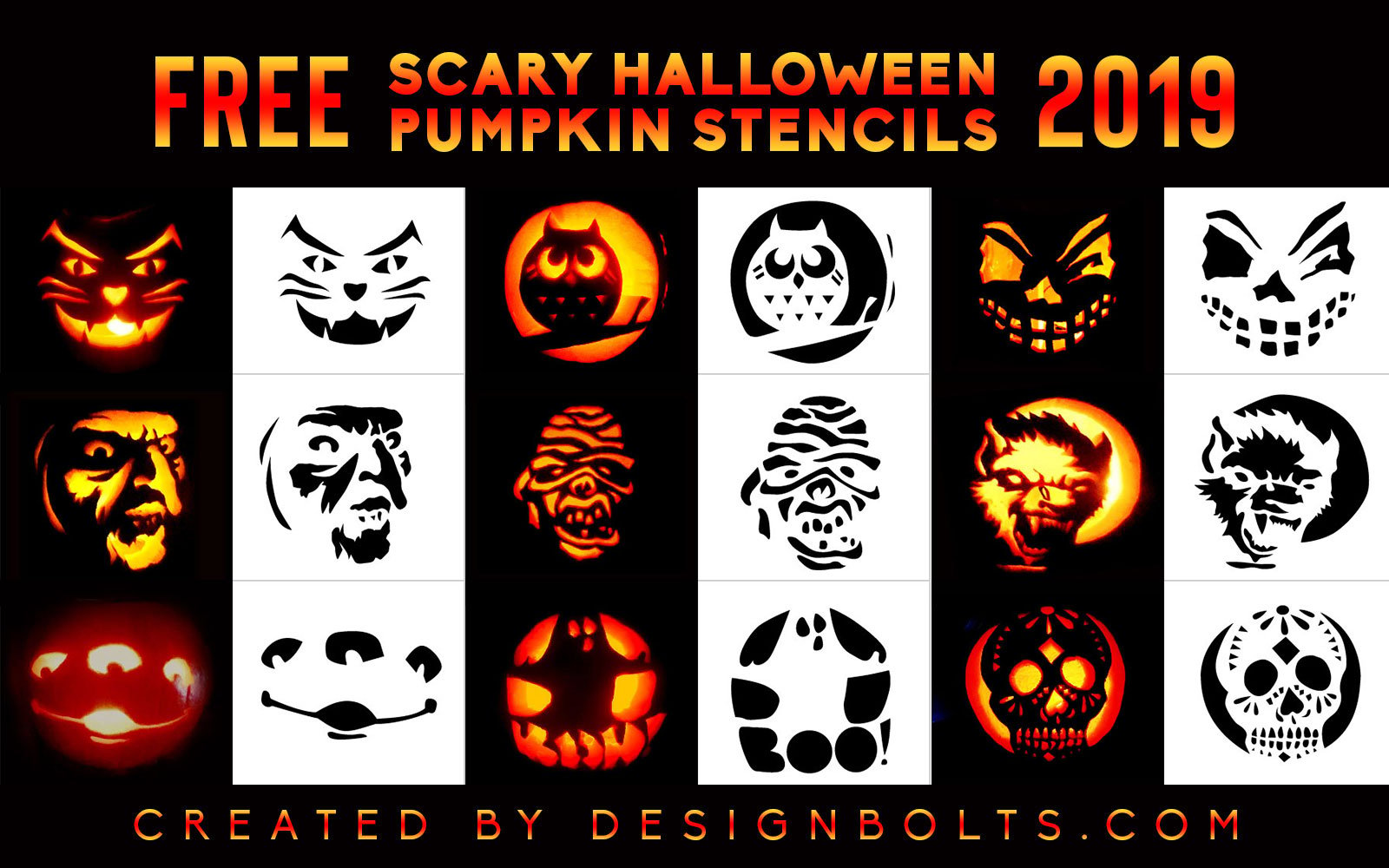 All pumpkin carving stencils are designed by Designbolts.com
1. Mummy Halloween Pumpkin Carving Stencil Printable Free download 2019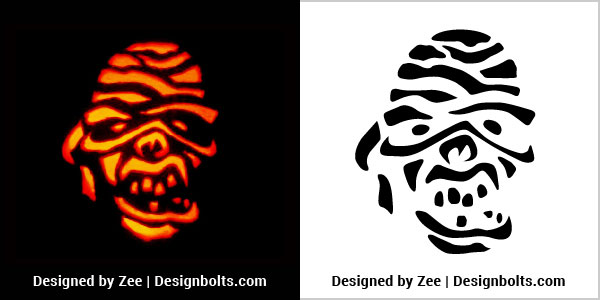 Download Pumpkin Stencil 1 
2. Free Witch Pumpkin Carving Free Printable download 2019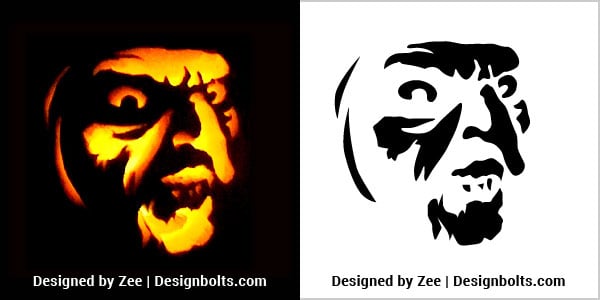 Download Pumpkin Stencil 2 
3. Scary Jack O lantern Carving Pattern Free download 2019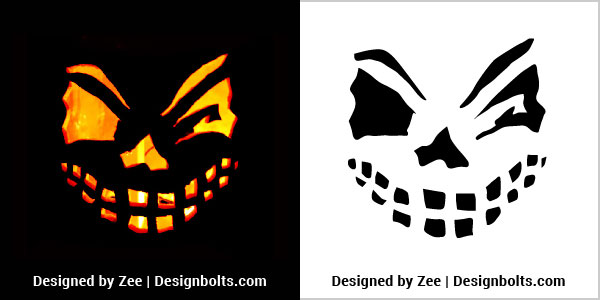 Download Pumpkin Stencil 3 
4. Free Owl Pumpkin Carving Pattern Printable Free download 2019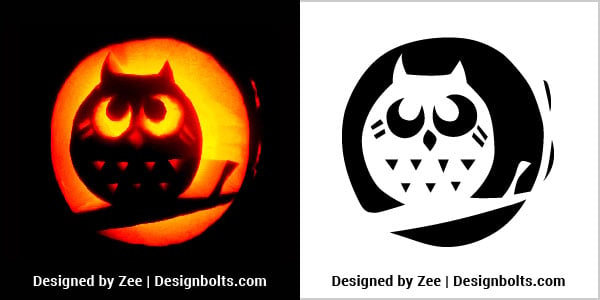 Download Pumpkin Stencil 4 
5. Scary Funny Pumpkin Carving Face Free Printable File 2019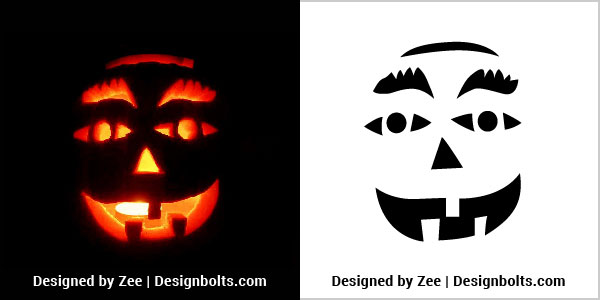 Download Pumpkin Stencil 5 
6. Scariest Cat Halloween Pumpkin Stencil download 2019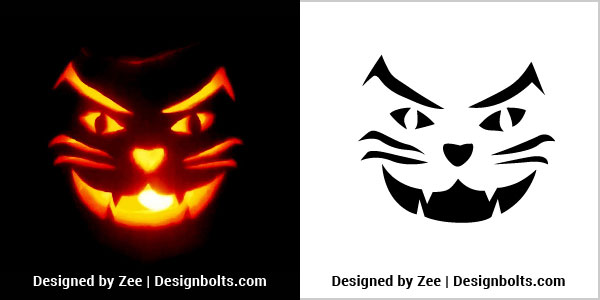 Download Pumpkin Stencil 6 
7. Free Skull Pumpkin Pattern Printable Free 2019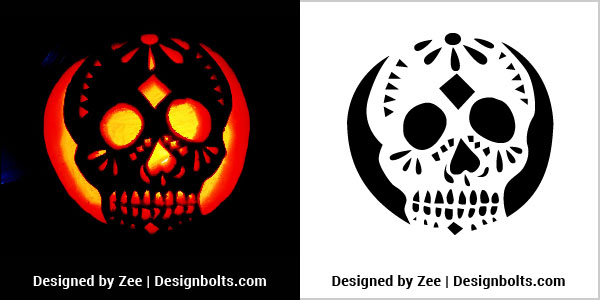 Download Pumpkin Stencil 7 
8. Boo Halloween Pumpkin Carving Pattern Printable 2019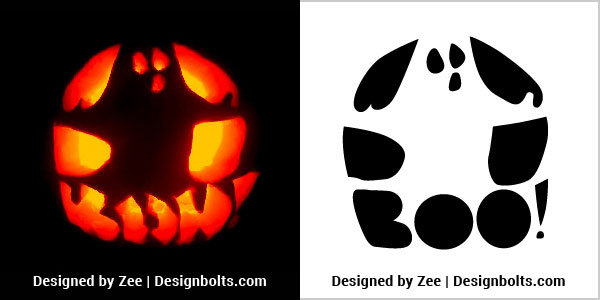 Download Pumpkin Stencil 8 
9. Alien Pumpkin Ideas Printable Free Pattern 2019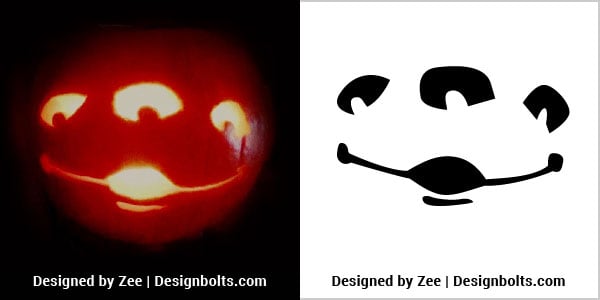 Download Pumpkin Stencil 9 
10. Free Scary Wolf Pumpkin Carving Stencil 2019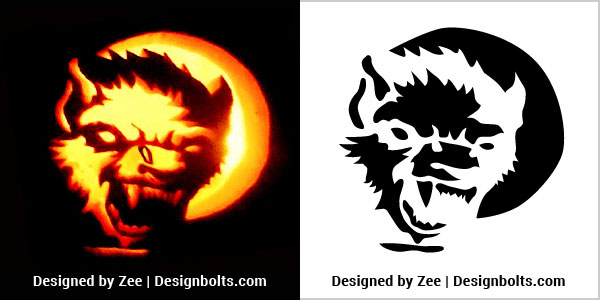 Download Pumpkin Stencil 10
290+ Free Printable Halloween Pumpkin Carving Stencils, Patterns, Designs, Faces & Ideas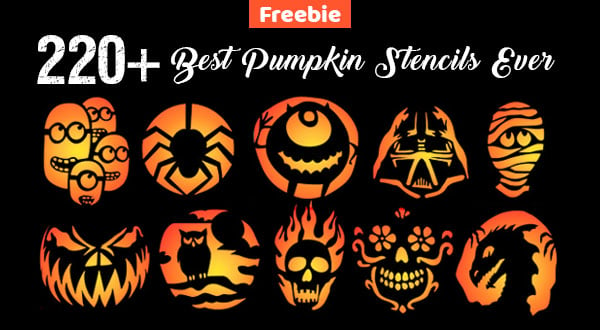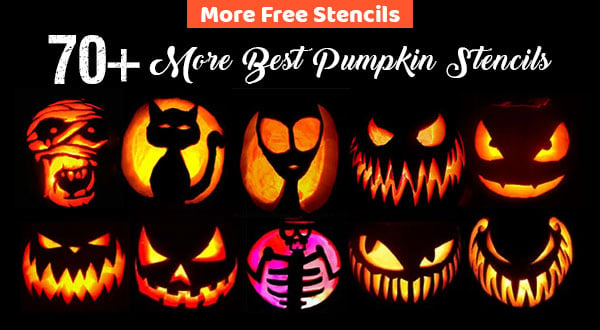 More Scary Pumpkin Carving Stencils & Patterns 2019: