Hi there everyone! We hope that you all had a great time reading our previous blogs and that you are excited to know what we will share today with you but before we do that, we would like to take this moment and thank you all for your overwhelming response on our previous blogs and for also sharing our blogs, creative ideas and mock-up PSD files with the people that you love and care for. Our today's blog focuses on flyers so let us get started right away.
After reading the title of the blog, there are chances that you guys must be wondering if flyers are still relevant given that so much has changed and that businesses, etc. prefer using their digital and social media platforms for all their communication. Allow us to share this piece of information with you guys that flyers are not only considered a cost-effective way of promoting your message(s), but they are still very relevant too and here is why:
When it comes to evaluating the performance of a flyer campaign, the turnaround is quicker than other mediums or platforms that you are using to promote a sale, new products or even opening a new store as well which makes flyers one of the most effective ways of getting in touch with your targeted audiences and letting them know what you are up to, as a business. In addition to that, you can also use flyers to drop a message for, let's say an upcoming sale and you do not want to miss out on anything so in order to make the most of the special day or an occasion; you choose to hand over flyers instead of creating digital and social media campaigns.
The outcome will be more than what you may have expected and also, there will be less money involved as well so, what would you want to go for? A campaign that is only going to be present digitally and might have a very selected audience to take any action or a campaign that you will organize on the ground and get more / better results? We are sure that by now, you would be able to make an informed decision. But there is more to our blog so, keep reading it as we share a couple of advantages of flyers.
– – – – – – – – – – – – – – – – – – – – – – – – – – – –
More Awesome Free Mockups:
– – – – – – – – – – – – – – – – – – – – – – – – – – – –
If you have an idea of running a fully integrated campaign then your flyers can play a major role in making that a huge success as well. For example; if you are launching a YouTube channel and want more subscribers for it while also announcing it too, have a nice flyer designed with the QR code that will be linked to your channel and done – not only have you shared the update with your valuable customers and audiences but you have subtly played your part in increasing the number of your subscribers as well.
Oh, and did we tell you that once you have integrated your campaigns, you will also be able to measure the performance of all your activities too? You can also issue discounts through the QR code on the flyers as well and once the audiences will start using them, you will also be able to measure that in a better way. Sounds like a great plan, right? We hope that you will be able to work on a couple of great ideas with your team members and see how effective everything turned out to be.
Recommended: 60+ Free A4 Flyer Mockup PSD Files
Moving on, one more reason to go for flyer marketing is to make sure that you are very much available on the ground too as much as you are available on your digital and social media platforms. Because what happens with the emails and text messages is that the people are going to delete them if they are not interested and on the other hand, if you will hand over a flyer to them, the chances of them going through it are very high. This practice does two things for you; it adds to your marketing campaign physically and you get to deliver the message right where it needs to be delivered.
Having said that, we are hopeful that with our free landscape flyer mock-up PSD file, you will be able to incorporate all your great ideas into your designs and when you do that, do let us know how it went.
That is all for today, you guys! We hope that you enjoyed reading the blog and that you will also share it with your friends and favorite colleagues as well. Feel free to let us know if you have any feedback regarding the blog and while you are at it, don't forget to tell us if you have any special requests too. We will see you guys next time with something more fun & exciting to read and work on until then keep creating awesome designs and more.
Free A4 Landscape Flyer Mockup PSD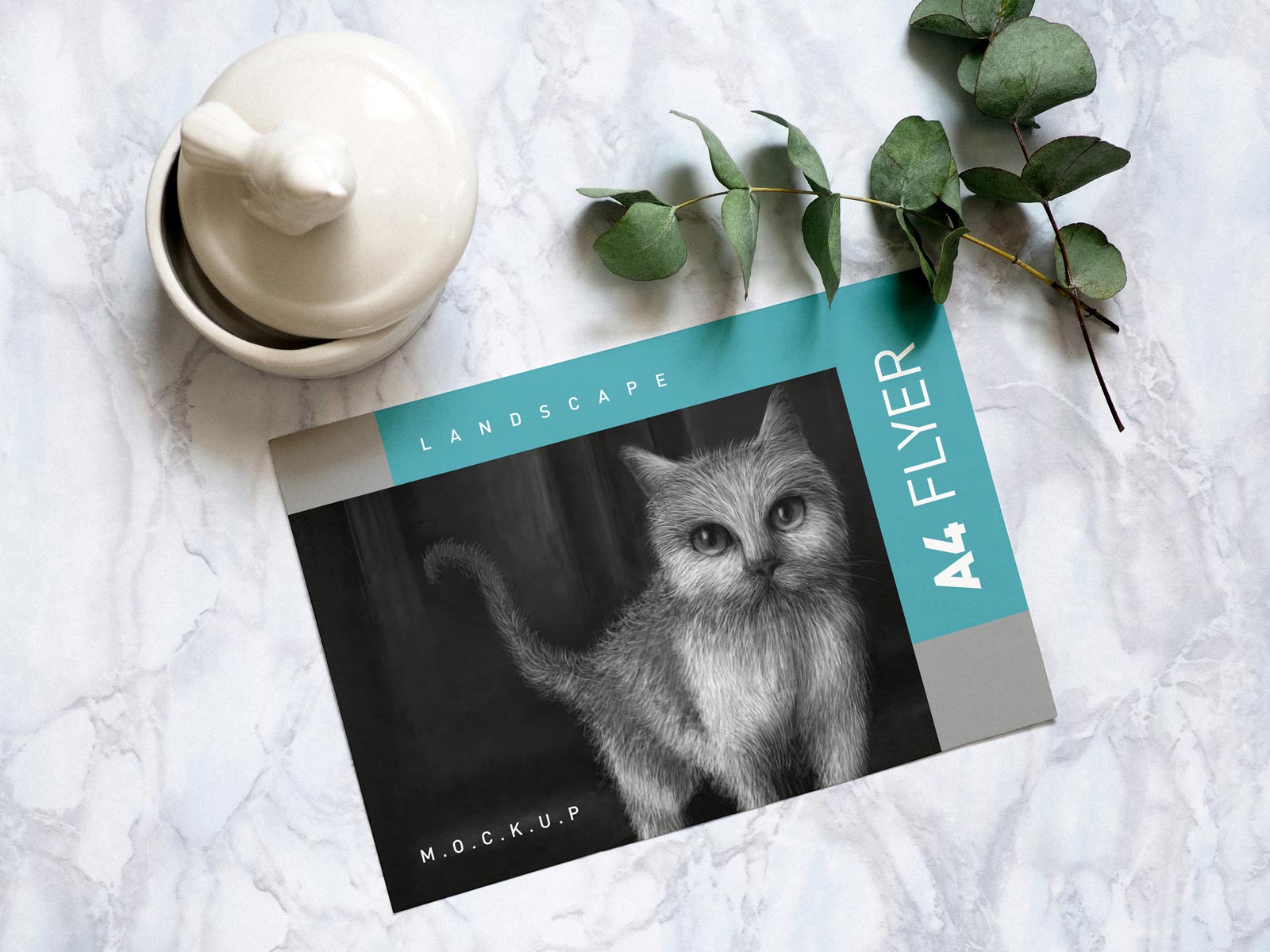 Available Format: Layered PSD with smart object insertion
License: Free for personal and commercial usage
RAR File Includes: Free A4 Mockup PSD
Design Template Resolution: A4 (300dpi)
Note:
1. Free PSD Mockup is allowed to share online (A Must Linkback to this post)
2. Say thanks if you like or share/tweet with your friends. That means a lot to us.
3. And don't forget to subscribe to receive for more high quality premium freebies & awesome articles only.
Download A4 Mockup
More A4 Size Free Mockups: