One can never have too many Halloween pumpkin carving ideas. In fact, it is safe to say that the more the ideas, the better! We have been working on many requests sent in by you guys to cover Halloween essentials and carving the pumpkins is one of the most important factor of any Halloween party. In order to make sure that you don't have to search for anything anywhere else, we are working on special Halloween stencils and patterns for weeks. The best thing about our stuff is that it's unique and you get to use it for free.
Okay so, we remember that when we were kids, we would think of carving almost everything on the pumpkins. You know things like unicorns, superheroes and even our favorite mascots but we couldn't really. Because without a proper stencil, it becomes quite difficult to carve what you want to carve – especially when you are a kid who is not allowed to use a carving knife, you know?! We know the pain and the fear of being left out and that's why we are sharing the following stencils, patterns and ideas.
When you hear the word 'Halloween', what comes to your mind? Darkness, spookiness, little creepy creatures and giant monsters, right? And of course, bats, cats, owls, crows and wolves as well. What about the evil witches, skulls dragons? No, we are not forgetting everyone's favorite Jack O' Lantern and we have that included in our collection too – so, don't worry about that!
Recommended: 290+ Pumpkin Carving Stencils
In our 10 more free & scary Halloween Pumpkin carving stencils, patterns and ideas' collection, you will be able to get your hands on a variety of stencils and patterns that are carefully created for all of you be keeping in mind the fact that we needed to bring something new to the table. So, what we have done here is that along with the traditional characters, we have also added some modern characters to the collection as well for example; an alien stencil, scary and funny face stencil, patterned Jack O' Lantern stencil and many more.
The main purpose of creating and adding not so common stencils and patterns is that we wanted all of you to check out newest trends – because honestly all of us have been seeing the old Jack O' Lantern carvings since decades now and we gotta do something different this year.
Let's have a virtual tour of the things that we have created for you:
Our first stencils and patterns set includes stencils of an owl, a wolf, a scary cat and an evil witch, an alien, a skull and a ghost booing. All of these characters will be super easy to carve on pumpkins only because you'll get to trace them out first by using our stencils.
A mummy in a coffin does look scary but a mummy all carved out on a pumpkin is going to give you the creeps (you may have never asked for) so, here it is a mummy stencil to be carved on your pumpkins this Halloween.
Owls are our favorites because of the fact that they are intelligent and considered as all wisdom-y but here we have created an adorable owl stencil for you guys so that you can add in a less scary element to your super scary Halloween party.
Scary – Check, Adorable – Check. That means we can totally take the funny route too. How about carving a scary yet funny face this year? We can bet it will look so cool while being lit with a flameless candle.
This part of our blog is for those fans who recently started reading our blog and here we will talk about what you will need to carve the most perfect pumpkins this year:
Fresh pumpkins (of course) of different sizes
A pair of gloves
Water & bleach solution (in a spray bottle)
Tissue papers and washing cloths
Dustbin
Patience (a lot of it)
You'll also have to make sure that you are not going to get busy in some other while carving the pumpkins because this will literally ruin them to a level where you might have to go and purchase some more. Most importantly, you must know that the moment you touch a pumpkin with a knife, it starts to get oxidized and you wouldn't want that to happen. Also, if you are planning to keep your carved pumpkins for more than one days then you can use the water and bleach solution to spray it on them and refrigerate them for the time when they are not on display.
We hope you liked everything that we have shared in our blog. Don't forget to download the scary Halloween pumpkin carving stencils, patterns and ideas today!
– – – – – – – – – – – – – – – – – – – – – – – – – – – – – – – – – – – – – – – – –
Don't miss out these cool Halloween freebies:
– – – – – – – – – – – – – – – – – – – – – – – – – – – – – – – – – – – – – – – – –
10 Free Scary Halloween Pumpkin Carving Stencils, Faces, Templates, Patterns & Ideas 2019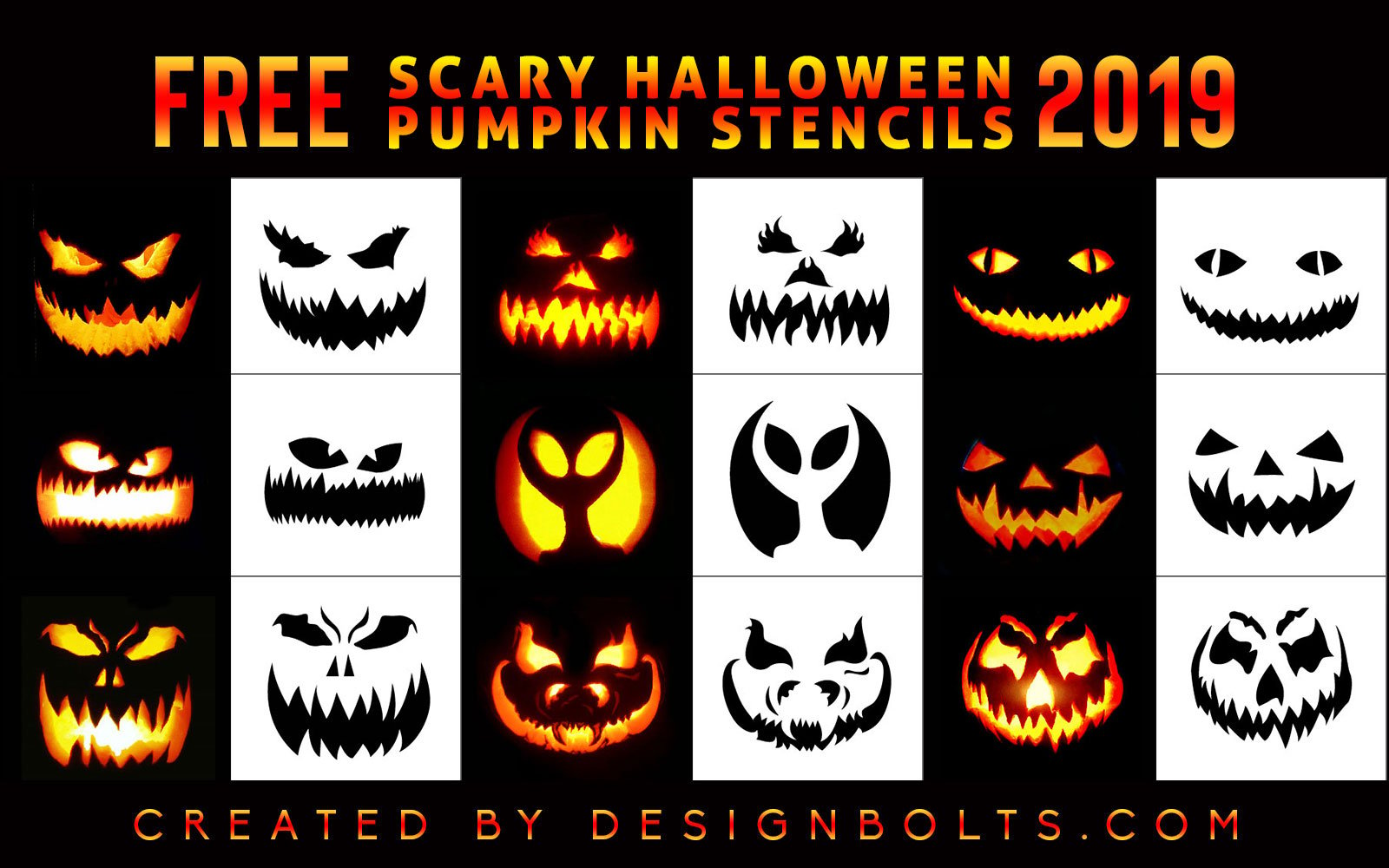 1. Alien Pumpkin Carving Stencil / Free Template Design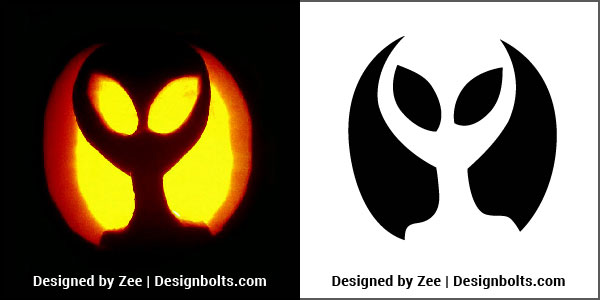 Download Pumpkin Stencil 1 
2. Scary Halloween Pumpkin Carving Face Design 2019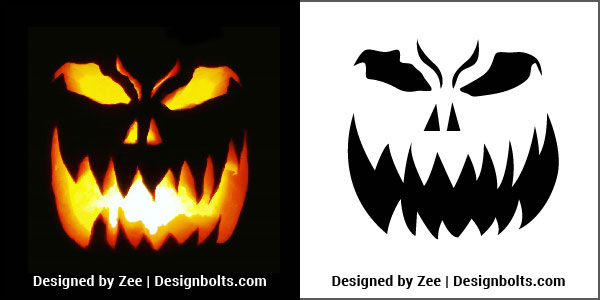 Download Pumpkin Stencil 2 
3. Angry Pumpkin Carving Stencil Design Template 2019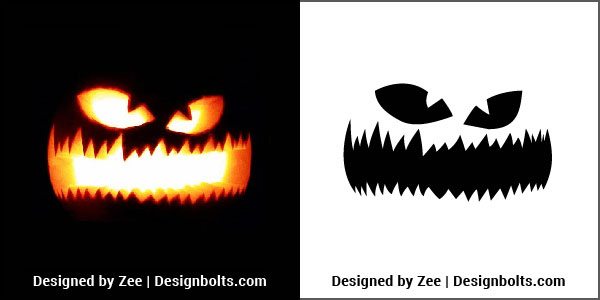 Download Pumpkin Stencil 3 
4. Halloween Pumpkin Carving Face Template 2019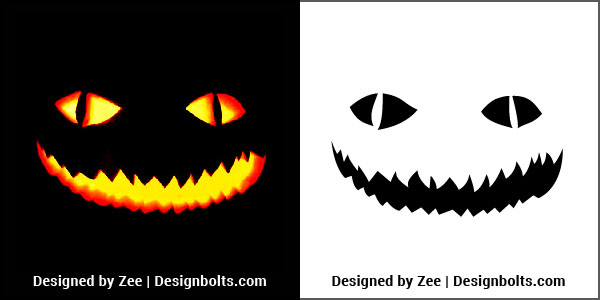 Download Pumpkin Stencil 4 
5. Scariest Pumpkin Carving Pattern 2019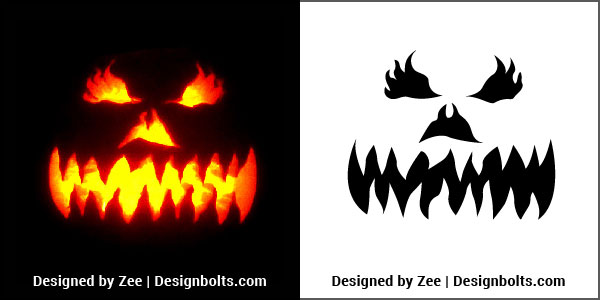 Download Pumpkin Stencil 5
6. Scary Pumpkin Carving pattern Face Design Template 2019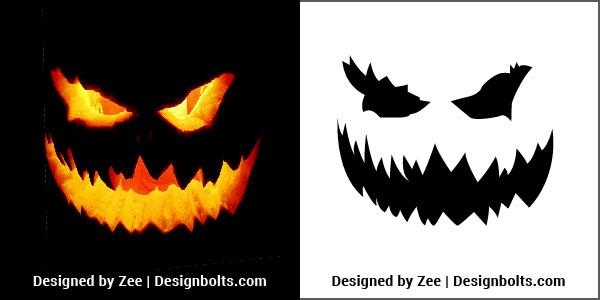 Download Pumpkin Stencil 6 
7. Scary Pumpkin Stencils for 2019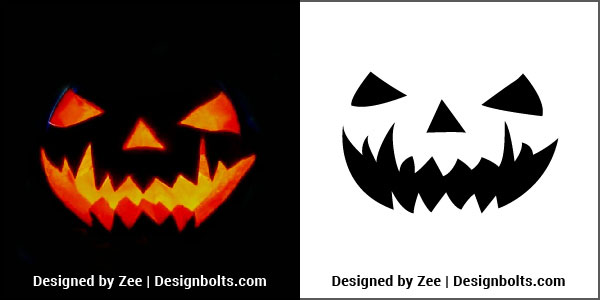 Download Pumpkin Stencil 7 
8. Scary Pumpkin Carving Patterns 2019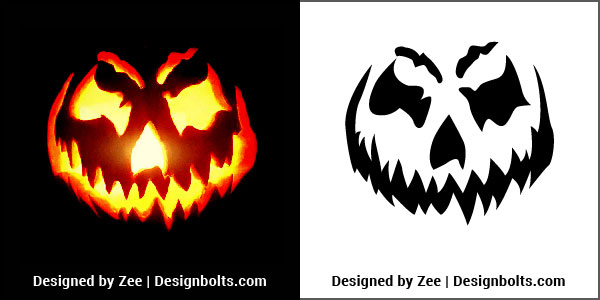 Download Pumpkin Stencil 8 
9. Scary Pumpkin Stencil Design of Jack O'lantern Face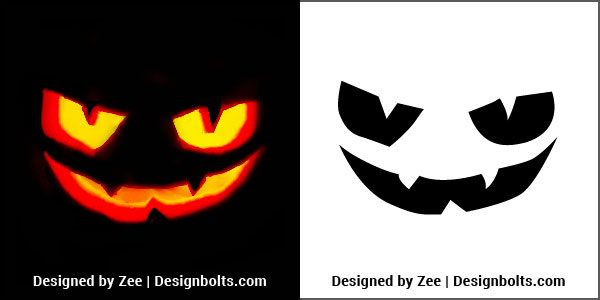 Download Pumpkin Stencil 9 
10. Wolf Pumpkin Carving Pattern Free Template 2019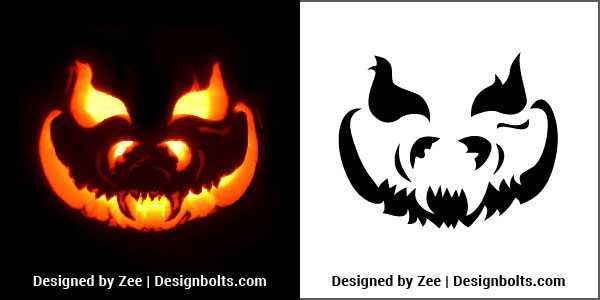 Download Pumpkin Stencil 10
290+ Free Printable Halloween Pumpkin Carving Stencils, Patterns, Designs, Faces & Ideas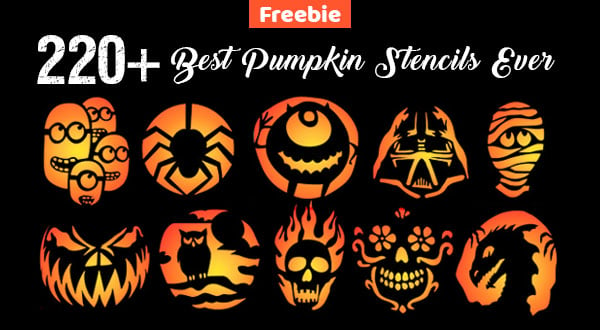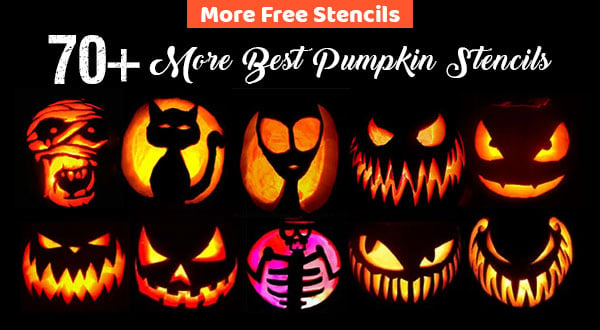 More Scary Pumpkin Carving Stencils & Patterns for Halloween 2019: