Hi there party lovers! We can bet that you all are too excited to read about and get your hands on our 10 free scary pumpkin carving stencils for beginners but we would like to take this moment to thank you for your support & feedback first. Know that your overwhelming response on our blogs warms our hearts and we would love to see more of it in the future too. So, while you guys think of dropping in some full of positive energy comments under our blogs; we are going to share what we have created for beginners so that they can make their Halloween parties even more fun.
Recommended:
– – – – – – – – – – – – – – – – – – – – – – – – – – – – – – – –
400+ Free Printable Halloween Pumpkin Carving Stencils, Patterns, Designs, Templates, Faces & Ideas for UK, Canada, Australia, USA
Best Halloween Pumpkin Stencils Ever For the Year 2023, 2022, 2021, 2020, 2019, 2018, 2017, 2016, 2015, 2014, 2013, 2012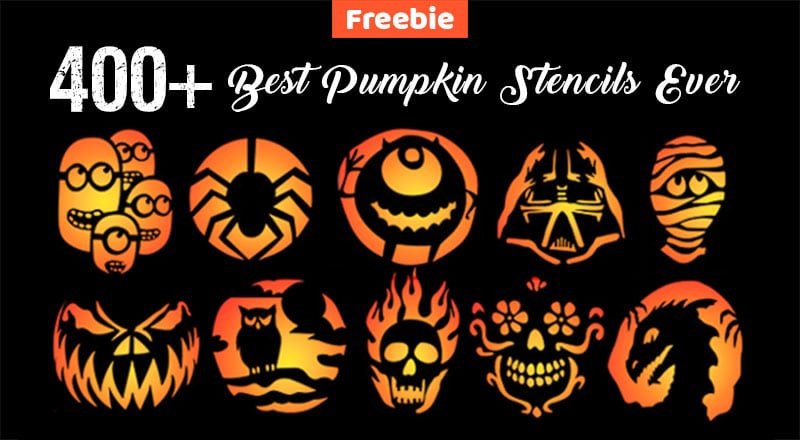 – – – – – – – – – – – – – – – – – – – – – – – – – – – – – – – –
Being a beginner does not mean that you can't be creative this Halloween, okay? And honestly, when you would think about it, you will see that carving the pumpkins is not that hard. All you have to do is to have proper tools, paints (acrylic, water etc.), permanent markers, accessories like balloons, paper caps, confetti (maybe?) and other stuff that you might want to use to carve half a bunch of pumpkins this year. Also, if you do not wish to spend a lot of money on things that you currently do not have for example a carving kit, then we have a few ideas for you that will serve you just fine so, keep reading the blog and become a better pumpkin carver! ?
You can carve your pumpkins with sharp knives, scoops, cutters and can also decorate them using permanent markers, paints and more. Although, intricate designs and details can only be added with relevant knives and stuff but as a beginner, you should not be worrying about that. One more thing, these things can also be used by kids so if you have your kids, siblings, students etc. who would like to be a part of the pumpkin caving sessions, then feel free to invite them over for a fun filled hang-out where you guys will not only be creating cutest of them all carvings, but you will also be making memories and that's what matters the most, right?
So, what are the things that you can carve on your pumpkins that you have bought after making sure that they are not bruised, are fresh and also have interesting bumps here and there to help you make the most of them naturally? We are going to share that and more right about now:
We love jack-o'-lanterns and if you have read our previous Halloween special blogs, then you would know how you can create your own in no time even without having to carve them. Although yes, the fun part is to scoop the pumpkin to carve a jack-o'-lantern and then placing candles inside but it would be equally fun to paint one on the pumpkin too. If you are wondering how you can start doing that? Know that our interesting and free to download scary pumpkin stencils will help you trace out or draw the characters of your choice in minutes.
Then there are scary houses, mummies, minions, crows, owls, witches and adorable monsters that you can pick easily from our collection of 10 scary carving stencils and use them however you would like to use them. There are chances that you would get overwhelmed and it will become a little difficult for you to decide which ones to pick from the stencils, so allow us to guide you on that too.
When you decide a theme of a Halloween party, it becomes quite easier to pick the décor items and stencils that complement the whole party. For kids, you can keep the theme a little less scary so that they can enjoy the party without looking for safe spaces and for adults, you can keep it subtle and here is why; there are people who get uncomfortable upon seeing blood or even fake blood so, you will have to make sure that your friends and acquaintances are feeling at home in its truest sense. Arrange a party that anyone and everyone would love to attend and once they are back, they can't stop talking about how amazing everything was when they were at your place.
And that is all for today, you guys! We are hopeful that you had a great time reading our blog and that you will enjoy creating a couple of characters and designs from our 10 free scary pumpkin carving stencils for beginners' collection. If you do, feel free to share with us your experiences and also let us know what you would want to read next. Oh, and don't forget to share this blog and the stencils with your family members and friends as well. In fact, for kids, you can ask them to choose their own stencils that they can draw or paint this Halloween.
– – – – – – – – – – – – – – – – – – – – – – – – – – – – – – – – – – – – – – – – –
Don't miss out these cool Halloween freebies:
– – – – – – – – – – – – – – – – – – – – – – – – – – – – – – – – – – – – – – – – –
10 Free Scary Pumpkin Carving Stencils for Beginners & Kids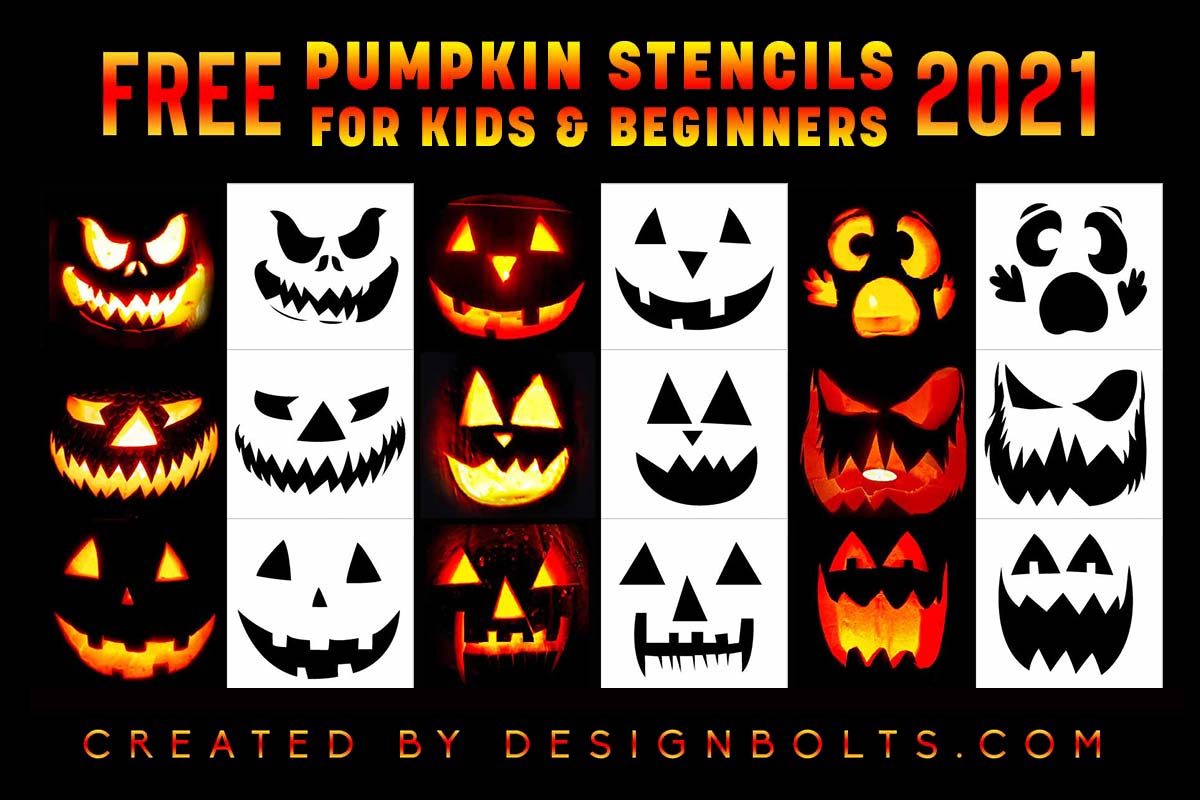 1. Free Scary Pumpkin Face Carving Stencil 2021 For Kids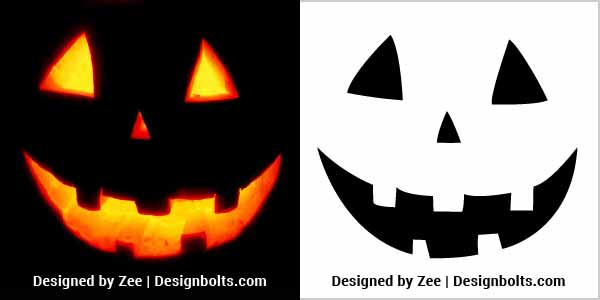 Download Stencil 1
2. Very Easy Free Pumpkin Carving Stencil 2021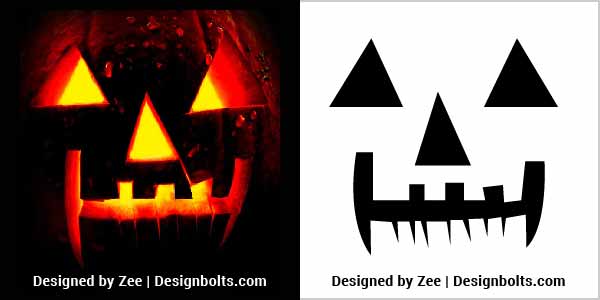 Download Stencil 2
3. Free Pumpkin Carving Stencil 2021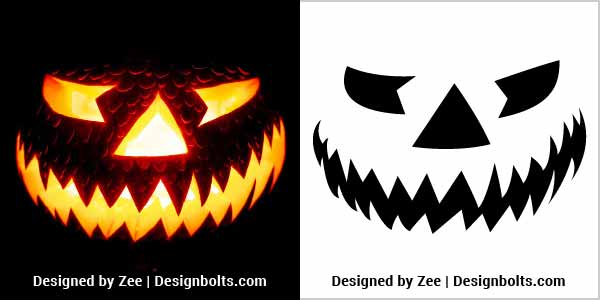 Download Stencil 3
4. Simple Free Pumpkin Carving Stencil 2021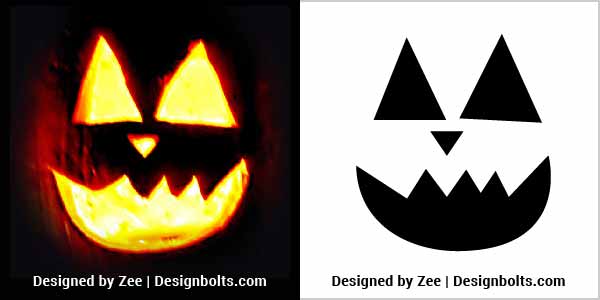 Download Stencil 4
5. Scary Free Pumpkin Carving Stencil 2021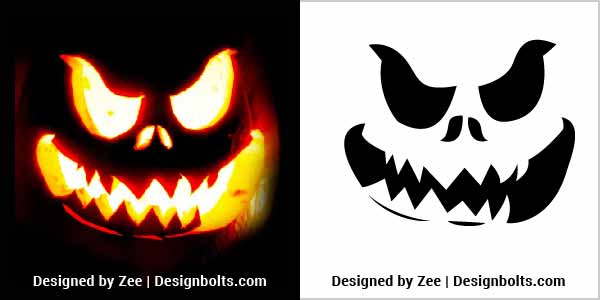 Download Stencil 5
6. Traditional Pumpkin Carving Stencil 2021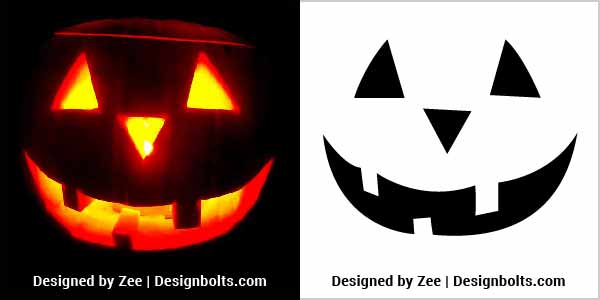 Download Stencil 6
7. Spooky Pumpkin Carving Stencil 2021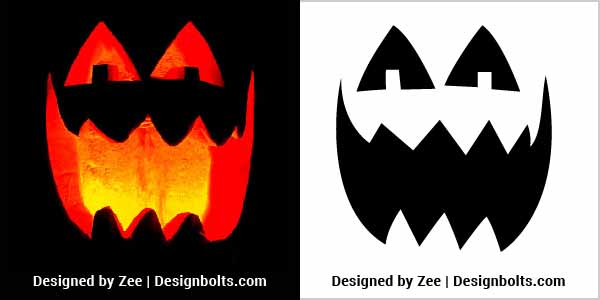 Download Stencil 7
8. Scariest Pumpkin Carving Stencil 2021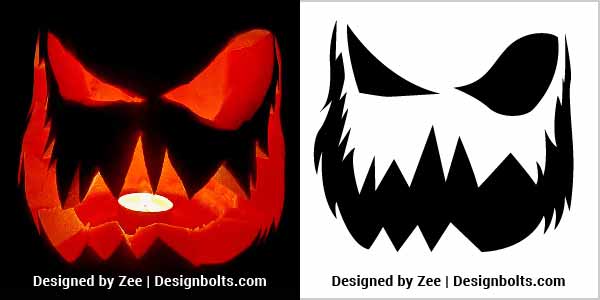 Download Stencil 8
9. Easy Free Pumpkin Carving Stencil For Kids 2021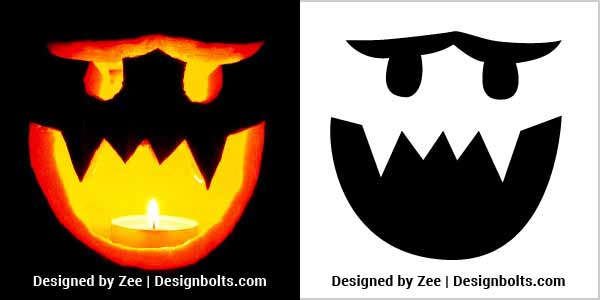 Download Stencil 9
10. Free Frightened Pumpkin Carving Stencil 2021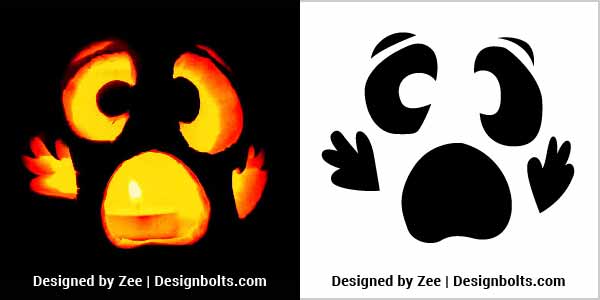 Download Stencil 10
Latest Halloween Pumpkin Carving Stencils 2022, 2021, 2020, 2019, 2018, 2017, 2016, 2015, 2014, 2013, 2012 to Carve: