Hello there, you guys! We hope that you all are doing well and that your work life and life, in general, are treating you right too. For our today's blog, we have worked on some more, actually, 80+ pumpkin decoration ideas & designs that you must check out in 2023 and try with your loved ones, your friends and colleagues, etc. for and on Halloween. We can't wait to share all the ideas and designs that we have created for you guys but before we do that, we would like to take a moment to thank you all for the love and support that you send our way and for always making sure that you are sharing our blogs with the people that you love and care for. And we hope to see more of that happening in the future too.
Recommended: 25 Cool Painted Pumpkins
As you guys know that pumpkin carving is a popular activity, especially during the Halloween season. This fun activity involves hollowing out a pumpkin and carving intricate or spooky designs on its surface but here are a couple of things that you must keep in mind before you go ahead with carving pumpkins this year especially if you are a beginner:
The first step in pumpkin carving is selecting a suitable pumpkin. Look for a firm and smooth pumpkin without any soft spots or blemishes. It's best to choose one with a sturdy stem as it will make it easier to handle. Then to carve a pumpkin, you will need a few essential tools such as a sharp knife or pumpkin carving kit. The kit often includes various saws, scoops and other carving tools.
To carve your pumpkins, you will have to start by cutting off the top of the pumpkin to create a lid then angle the knife slightly inward to prevent the lid from falling into the pumpkin when it's repositioned. After that, you'd want to use a large spoon or scoop to remove the seeds and stringy pulp from the inside of the pumpkin. Oh, and you can save the seeds for roasting if you like! You can now draw your desired design on the pumpkin's surface using a marker or a pencil.
Recommended:
– – – – – – – – – – – – – – – – – – – – – – – – – – – – – – – – – – – – – – – – –
400+ Free Printable Halloween Pumpkin Carving Stencils, Patterns, Designs, Faces & Ideas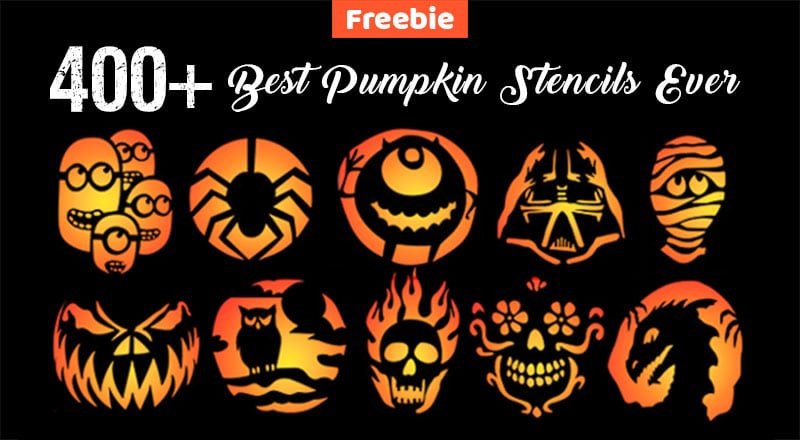 – – – – – – – – – – – – – – – – – – – – – – – – – – – – – – – – – – – – – – – – –
In the next step, you will have to carefully use a small, serrated knife or pumpkin carving tools to cut along the marked lines. Take your time and remember to be cautious with the tools. We all know that pumpkin carving can be fun but it's essential to take safety precautions especially if children are involved. Always supervise kids and consider using safer tools for them such as pumpkin decorating kits that use push-in pieces instead of knives, etc.
After carving, pumpkins tend to decay quickly. To make your creation last longer, you can coat the exposed surfaces with petroleum jelly or store the carved pumpkin in a cool place when not on display.
In addition, decorating your house with carved pumpkins can create a festive and spooky atmosphere especially during Halloween and in this part of our blog, we will share some creative ideas to help you use carved pumpkins for house decorations:
PUMPKIN DISPLAY:
Arrange a group of carved pumpkins of various sizes and designs on your porch, staircase or in your front yard. This simple but striking display can instantly set the mood for Halloween.
PUMPKIN PATHWAY:
Line your walkway or driveway with carved pumpkins to guide visitors to your door. You can place tea lights or LED candles inside the pumpkins to create an enchanting pathway.
PUMPKIN TABLE CENTERPIECE:
Carve smaller pumpkins and use them as table centerpieces for your Halloween-themed dinner or party. Pair them with candles, fall leaves or other spooky decorations.
PUMPKIN VASES:
Hollow out larger pumpkins and use them as vases for autumn flowers or arrangements. Place them on your dining table or around your living room for a rustic and festive touch.
PUMPKIN CHANDELIER:
Create a unique chandelier by hanging carved pumpkins from the ceiling using strings or ribbons. Light them up with battery-operated candles or fairy lights.
PUMPKIN WREATH:
Create a pumpkin wreath by arranging small, carved pumpkins in a circular shape and tying them together with vines or ribbons. Hang it on your front door for a unique entrance decoration.
That is all for today, friends! We not only hope that you had a great time reading the blog today but that you will also let us know which pumpkin decoration ideas & designs you liked the most in the comments section. We also want to encourage you guys you share the blog with your family members, friends, colleagues and acquaintances, etc. as well so that they can make the most of them too for Halloween 2023. Alrighty then, we will see you guys next time with something more fun and exciting to read and work on.
– – – – – – – – – – – – – – – – – – – – – – – – – – – – – – – – – – – – – – – – –
Don't miss out these cool Halloween freebies:
– – – – – – – – – – – – – – – – – – – – – – – – – – – – – – – – – – – – – – – – –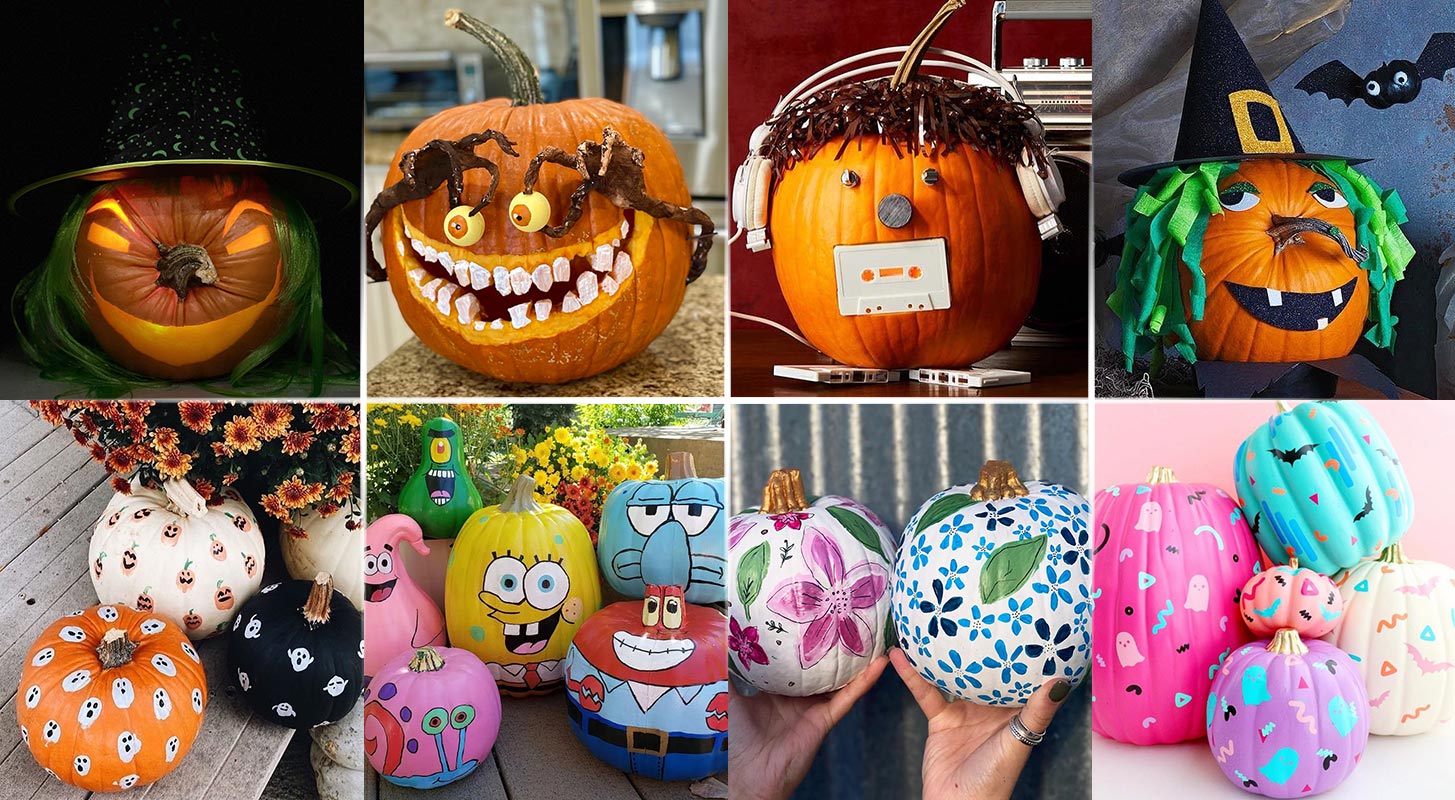 80+ Cool Pumpkin Decoration Ideas & Designs 2023
More Awesome Halloween Pumpkin Carving Ideas: