Hello there everyone! We hope that you all are super excited to throw an awesome Halloween party this year and that you are also making the most of the tips & tricks that we have been sharing here along with the very carefully created pumpkin carving stencils. Since it can be a little too hard to focus on all the things that are happening around before and during occasions etc., we decided to help you guys with this amazing collection of free and simple pumpkin carving stencils that you must use for the kids in 2021. So, let us get started right away!
Recommended:
– – – – – – – – – – – – – – – – – – – – – – – – – – – – – – – –
400+ Free Printable Halloween Pumpkin Carving Stencils, Patterns, Designs, Templates, Faces & Ideas for UK, Canada, Australia, USA
Best Halloween Pumpkin Stencils Ever For the Year 2023, 2022, 2021, 2020, 2019, 2018, 2017, 2016, 2015, 2014, 2013, 2012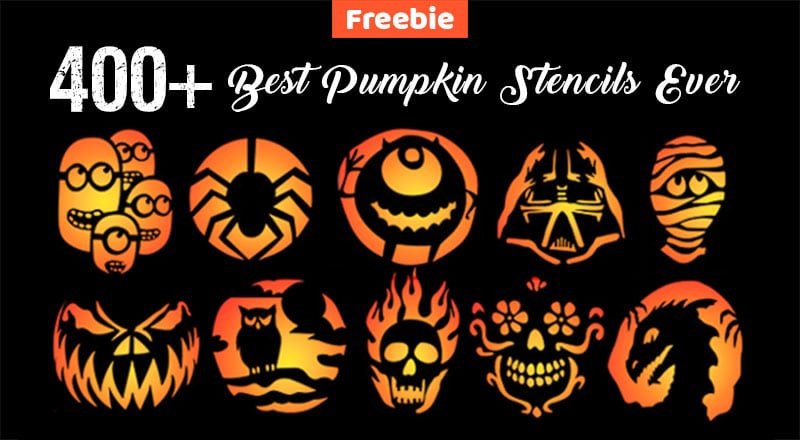 – – – – – – – – – – – – – – – – – – – – – – – – – – – – – – – –
If you have kids, younger siblings or students that you get to interact with on a daily basis; you would know how excited they are – literally all the time and that is what we love about them, to be honest. Although, we have shared multiple collections of stencils that can be (and must be) used for kids' parties but our today's blog has a couple of special entries that you have got to try. Allow us to share how to plan a perfect Halloween party for kids along with effective and easy to follow tips to get going with almost everything.
As you all know that with kids; you have to be super careful when it comes to sharp objects like scissors and knives and even cutters for that matter. And even though a bunch of kids can handle the responsibility quite well, you cannot be too careful but that does not mean that kids cannot be allowed to have fun on Halloween. There are many things that can help you and your kids / students with either carving the pumpkins or painting them, so you guys are all set for the Halloween décor.
For example; acrylic paints work best and the painted pumpkins turn out to be really great too when everything is done according to the plan. If you are wondering about the plan; it is simple. First you have to get the print outs of the stencils that the little ones pick for this year's Halloween party. Once you have done that, you can have the kids trace the stencils with lead pencils. Now, if you know that you can be with the kids all the time while the carving sessions are taking place, then you can ask them to use carving kits that are for kids or scoop out the pumpkins. By doing so, you are involving them in the process and honestly, that is literally what they want from you – to trust them with things that grown-ups do, you know.
We will suggest that you must ask the kids to paint the pumpkins and then they can have all the time in the world to decorate their respective pumpkins with paper décor and more. But if you guys decide to carve out the pumpkins, then also work on more exciting ways to make the most of the carved pumpkins. You can place artificial candles in the pumpkins or you can ask the kids to decorate the spots for you this time. Also, if you think that you won't be able to supervise the kids all the time, then you can engage them with painting and decorating the pumpkins. This will help you get done with the chores that you need to get done with and you and your family will also have a bunch of beautifully crafted pumpkins as well. It does sound like a win-win situation for everyone, right?
To make your party even more fun, we would love to ask you to work on theme based ideas because that is the only thing that can save you now especially if you haven't started planning your Halloween party, but like do not wait for the last moment to initiate the process, guys. Because you know it can go bad if you are not well prepared both mentally and physically. A few theme ideas could be:
Mad Scientist
Costume Party
Haunted House
Spooky Skeleton Scavenger Hunt
Backyard Movie Night (Make sure you pick a movie that can be watched by everyone.)
It is important for us to mention this here that you must consider all the age groups before you go for a theme / décor for your Halloween because people can get scared easily and you wouldn't want to ruin your party for them.
That's all, folks! We really hope that you had a fun time reading this blog and that you and your kids / siblings etc. will not only use these free simple pumpkin carving stencils 2021 but will also share your feedback with us in the comments section. Also, since there is not a lot of time left for Halloween so the moment you get done reading the blog, you have to make sure that you are sharing it with your family members, friends and favorite colleagues too. And we also hope that you have an amazing Halloween!
– – – – – – – – – – – – – – – – – – – – – – – – – – – – – – – – – – – – – – – – –
Don't miss out on these cool Halloween freebies:
– – – – – – – – – – – – – – – – – – – – – – – – – – – – – – – – – – – – – – – – –
10 Free Simple Printable Halloween Pumpkin Carving Stencils & Templates 2021 For Kids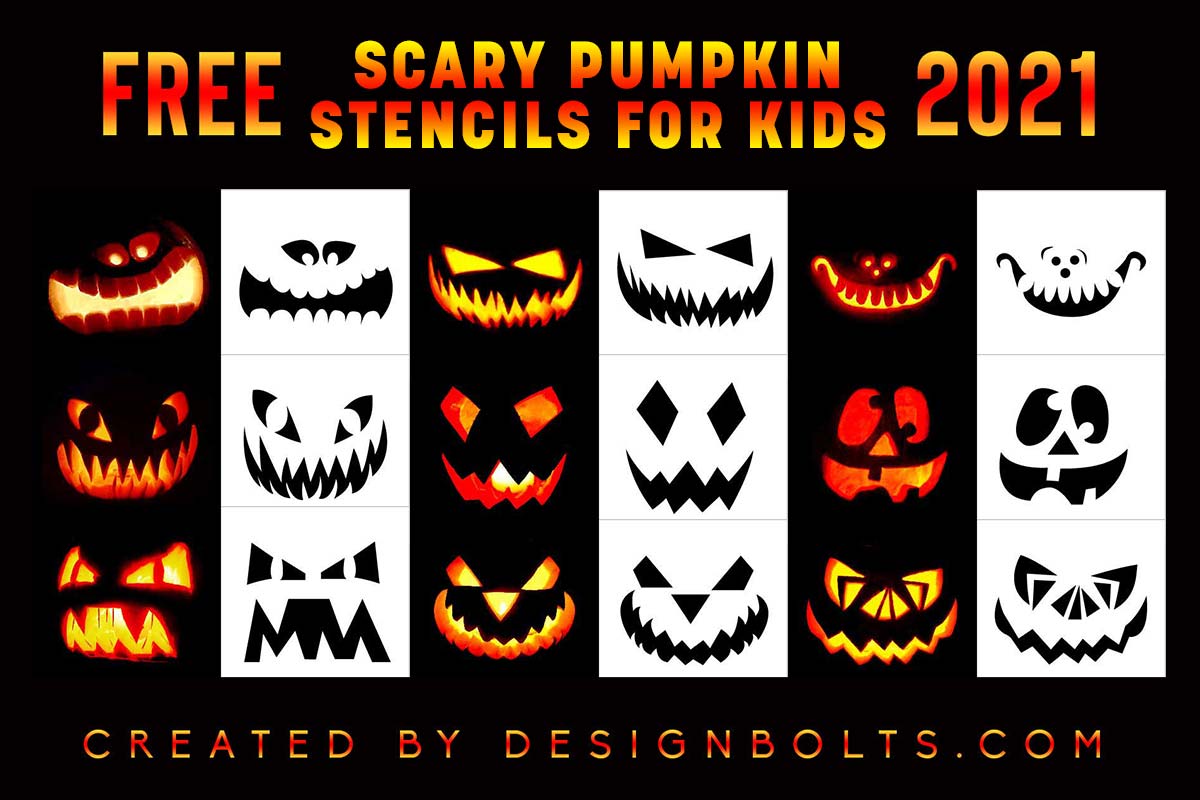 1. Free Unique Pumpkin Carving Stencil 2021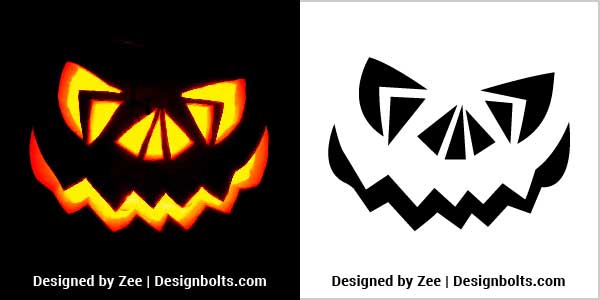 Download Stencil 1
2. Free Pumpkin Face Carving Stencil 2021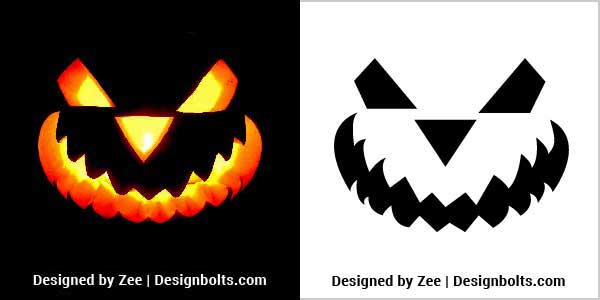 Download Stencil 2
3. Free Zip-up Pumpkin Carving Stencil 2021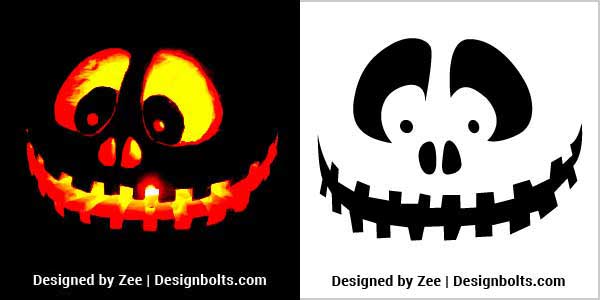 Download Stencil 3
4. Free Angry Simple Pumpkin Carving Stencil 2021 For Kids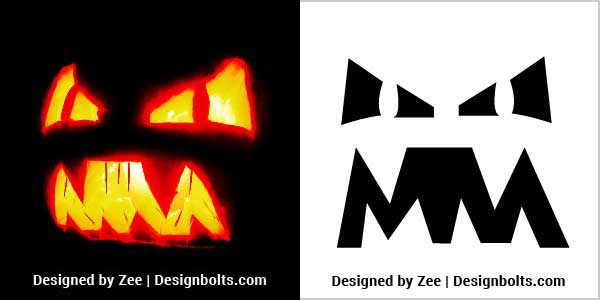 Download Stencil 4
5. Free SpookyPumpkin Carving Stencil 2021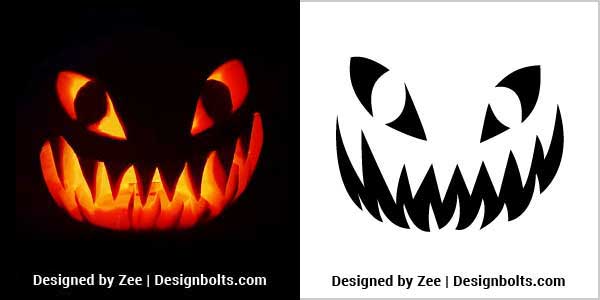 Download Stencil 5
6. Free Easy Pumpkin Carving Stencil 2021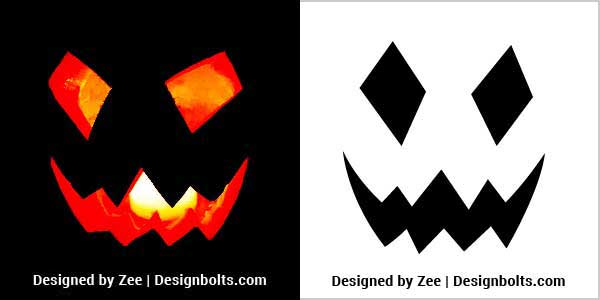 Download Stencil 6
7. Free Scary Pumpkin Carving Template 2021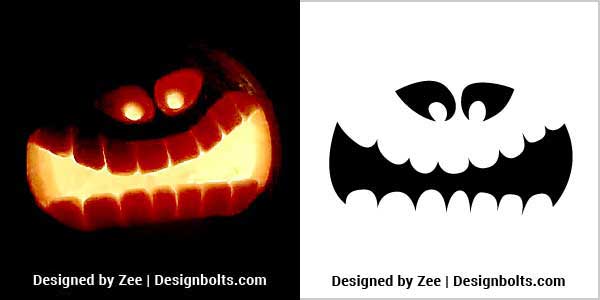 Download Stencil 7
8. Free Scary Pumpkin Stencil 2021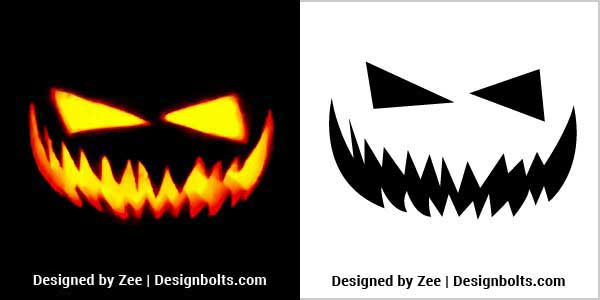 Download Stencil 8
9. Free Simple Pumpkin Carving Stencil 2021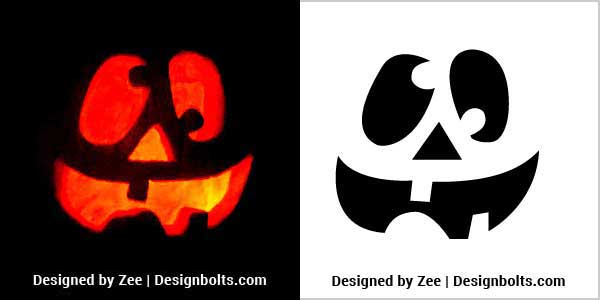 Download Stencil 9
10. Free Creative Pumpkin Carving Stencil 2021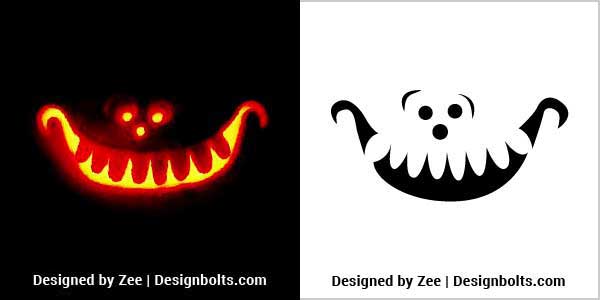 Download Stencil 10
Latest Halloween Pumpkin Carving Stencils 2022, 2021, 2020, 2019, 2018, 2017, 2016, 2015, 2014, 2013, 2012 to Carve: